Apple's latest iPhone 7 ad is all about auto-created Memories in the Photos app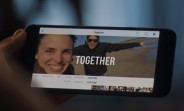 Apple's newest ad for the iPhone 7 has been posted to YouTube today. This one isn't specifically about the phone, however - it's all about Memories (with a capital M). That's the name of a tab inside the Photos app that comes preinstalled on the company's smartphones.
When you go to the Memories tab in Photos, what you'll find are automatically created movies out of the photos and videos sitting in your camera roll. These will be generated based on date, location, and the content of the photos you have. So you'll get a Memory about your last trip, but also one of your children growing up, for example.
The videos created inside Memories come with a soundtrack too - and if all of this feels incredibly familiar, it's because Google Photos basically does the same thing. The ad embedded above looks at a process that happens automatically on your iPhone and delivers the answer to the question: "but what if a person would manually do all that?".
Apple has also posted a quick video guide telling you how to access (or "play") Memories on the iPhone 7, and as you can see it's a very simple procedure.
?
So deep and meaningful. Emotions of past memories, and the emotion of losing all of these memories over getting locked out of your account and all of your data being inaccessible or deleted.
D
Nice ads as usual, but I hate the "Practically Magic" tagline that's been going on at the end of recent ads from Apple. Does Apple think iPhone user's don't know how basic things work? If auto-creating memories from your collection is "magic", ...
m
and Samsung is also good in making ads that compare their phone to apple.. how dumb .. hahaha..