Canaccord: Apple's share of smartphone industry profits now stands at 94%
In Q3 2015, of the total smartphone industry profits, Apple's share stood at a whopping 94%, according to a latest report by market research firm Canaccord Genuity. That's up from 92% last quarter and 85% a year ago.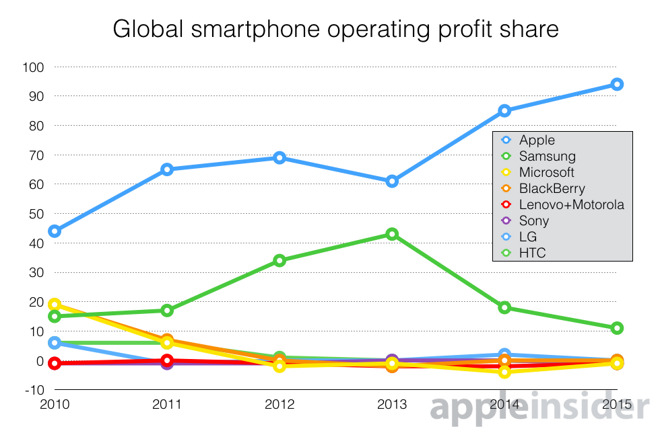 While Apple's share speaks for itself, what makes it even more remarkable is the fact that the Cupertino-based company's contribution to the smartphone market stood at just 14.5% (48 million units). FYI, the average selling price of iPhones in Q3 this year was $670, which translates into a 37% operating margin.
Samsung, which shipped a total of 81 million smartphone units in Q3 (24.5% of the total units shipped in the quarter), was a distant second with 11% share of the total profits. The average selling price of the South Korean company's phones was just $180 in the quarter.
While the combined profit share of Apple and Samsung exceeds 100%, the net figure comes back to 100% considering the losses reported by other major players - including HTC, BlackBerry, Sony, and Lenovo - in the high-end smartphone segment, the report notes.
D
No I was being sarcastic. Display mate would tell you Samsung has the best screens that are better than the iphones crappy LCD (that they only use because they're cheap, soon they'll have to switch to oled) in every regard, efficiency, colour reprodu...
D
yes has great camera and accurate display (in my opinion accurate colour means great display, for cheapo android oem vibrant colours and unrealistic display means great display lol lot of cheapo chinese android oem has your definiton of 'great' displ...
D
Yes, that's why the iPhone has such a great camera and display right? LOL. And thanks again for showing bow ignorant you are about both iOS and android. Not bothered to correct you because of how long it would take. Use Google, but if that's ag...