Apple's Smart Keyboard for the iPad Pro undergoes teardown, is impossible to repair
Last week the folks over at iFixit did one of their famous teardowns for the Apple Pencil stylus, and the result was not good if you've been thinking of how repairable that is. It got only a 1/10 repairability score, where 10 means easiest to repair.
Now iFixit has put the other accessory Apple custom designed for the iPad Pro through the teardown treatment. We're talking about the Smart Keyboard, and this one is record-breaking.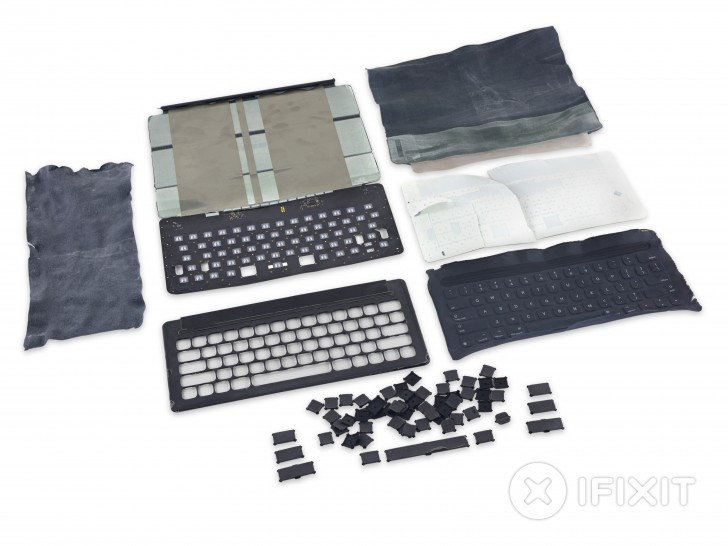 But maybe not in a manner you'd expect it to. The Smart Keyboard incredibly managed to achieve a 0/10 repairability score, which means it's pretty much impossible to fix once it's broken. If you open it up, you'll damage it, there's simply no way around that. No internal components can be replaced without destroying the keyboard. To make the Smart Keyboard water and stain resistant, Apple's "encapsulated the entire accessory inside some high tech fabric". And this needs to be cut in order to take the keyboard apart.
On the flip side, the accessory is said to be quite durable. So it's pretty clear that Apple is simply going to replace your Smart Keyboard if anything goes wrong with it, yet that is unlikely to happen too often.
H
Its like a cake. The inner core is burnt so you want to take it out. You cut the cake and remove the burnt part. Then, there is no way of assembling it back together again. Apple product, literally half-baked.
H
Surface keyboard are replaceable. Its cheap too. About $119 for Touch Cover. I don't think it will ever break, especially the Touch Cover Keyboard. Microsoft stated it ia spill-resistant and serviceable. The system is printed electronics. Its only 3m...
?
some people logic : "apple are greedy their product aren't repairable , better get surface , far more better" Yeah , let see if their surface keyboard broke , they gonna repair it ~