Summer is coming and so is the next generation of iPhone. That sounds like a good reason for Apple and AT&T to get rid of the old iPhones and make some room for the new batch. And indeed, they are about to do so.
Reportedly, as of next week you will be able to grab a contract-free iPhone 3G or 3GS straight from the Apple Store. Here comes the bad news: they will be neither cheap… nor unlocked?!
It's this time of the year again. Exactly a year ago Apple and AT&T started offering the iPhone 3G 8GB commitment-free for 599 US dollars and the 16GB version for 699 US dollars.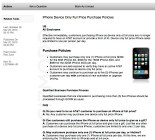 AT&T to offer iPhone 3G and 3GS at full price
This year those same prices are valid for the recent 3GS generation. A price tag of 599 US dollars gets you an iPhone 3GS 16GB, while the 32GB variety runs for 699 US dollars. You can still get an iPhone 3G 8GB as well for about 499 US dollars, which is kinda steep.
However, unlike last year's iPhones, this year the commitment-free iPhones are still locked to AT&T network. But unlike last year's - you no longer have to be an AT&T customer to score the deal.
Oh, and only one per person per day. And there's a lifetime limit of 10 per person. Sorry!
?
here are the real rumors about the new iphone. the i phone 4g is ,supposed to be a little bit longer, HD resolution, capable of playing HD video, has a faster processer, and you can multi task(which is kinda late, cause most phone had that 10 years a...
J
From the horses mouth (the horse being GSMArena team -RE: SE X10 review).... "...the iPhone 3GS. Its processor isn't that fast, there is no multi-tasking, the display doesn't measure 4 inches and is of lower resolution. The camera is a jo...
i
yes you say it right "people with poor mobile knowledge are the main buyers of iPhone" ,
ADVERTISEMENTS