Stock gallery and Google Photos
The Archos 50 Diamond comes with the old stock Android gallery, prior to Photos. It's aptly named Gallery and is a simple collection of all your photos, grouped into Albums, Locations, Times, People and Tags.
It also incorporates an editor that offers filters and editing like crop, straighten, exposure, vignetting, contrast, shadows, highlights and vibrance.
Photos integrates with Google backup and offers a very powerful editor. It organizes images by photos, stories, albums, photos of you and incorporates videos too. The Auto Awesome can brighten your photos automatically for you and upload them to Google+ if you so desire. Like Picasa before it, Photos shows your online albums as well.
Google Play Music with Snapdragon Audio
Google Play Music is the default music player. It features Listen Now feature, which tries to determine what you like and the sequence of your track-changing so that it can start offering you music you might like to play next.
Google Play Music also gives you the option to upload music onto the Google-branded cloud and stream it on your device via Wi-Fi or mobile data. There's also the nifty option of downloading the content onto the device if you want to have there for connection-less times.
Google Play Music uses the built-in equalizer which in this case is the Snapdragon Audio+. It packs a five-way equalizer with different presets like Rock or electronic along with Bass Boost and Virtual Surround dials. You can also set up the sound to your liking.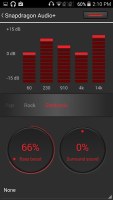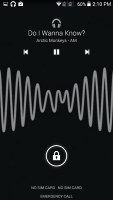 Equalizer • Lockscreen album art
Plugging in a pair of headphones enables the FM radio. It can find stations for you and save them. You can also blast through the speaker but the headphones need to remain attached as an antenna.
Archos Video player
The multimedia package is completed by the Archos Video app. Its default screen can show you movies, TV shows and all videos as well as video content from external sources like SMB, UPnP and FTP. Archos Video can find movie information online and fill it in for your own content, similarly to Sony's Movies and other such apps.
The player itself has a very powerful interface. It has on-screen sliders for both sound volume and brightness and can also find subtitles from the built-in storage and online from OpenSubtitles.
In terms of codec support the Archos 50 Diamond was a mixed situation. Videos that use the AC-3 sound codec all failed to play and some with the AAC sound were a no-go as well.
No WMV files were able to play as well and 2K and 4K videos were too much for the Archos to handle. The usual DivX, AVI and Xvid files weren't an issue as long as they didn't use the AC-3 codec and all the MKV files we tested came out smooth and issue-free.
Audio quality
We couldn't give a reading on the audio quality as we had some issues with the equalizer on the Archos 50 Diamond. We're looking into the issue.