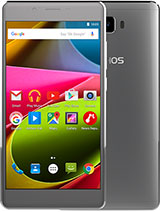 O
Since the battery is non-removable, what do you do in case it drops in water?
R
I have bought two of these now and had to return them both as neigther would operate Google maps had issues with both of them connecting to the nextwork. Nice phone but just won't work correctly.
B
Is this phone upgradable to Android Marshmallow? Anyone can confirm?
R
Have to check if have a gyroscope, I think no gyroscope in this model in EU...
E
Actually the price is 169,95€ which isn't that bad. Of course you could have 1080p screen etc, but 720 is still OK.
?
5.5 inch hd screen is nowadays pretty bad when you could have phone with fhd screen and 13mp camera which only shoots 720p is still pretty bad because you could shoot 1080p. So if this phone is going to be something like 300 € upon it's release; don't buy it. You can get so much more for the same price.
Total of 7 user reviews and opinions for Archos 55 Cobalt Plus.