French tech company Archos just released a new rugged phone - the Saphir 50X. That sentence does, however, require some clarification. When we say "released", we really mean commissioned from Logos Instrument, since Archos doesn't really manufacture most of its products. That's not the odd bit here - curiously, the Saphir 50X is a new release, but it is actually a downgrade over last year's Archos 50 Saphir.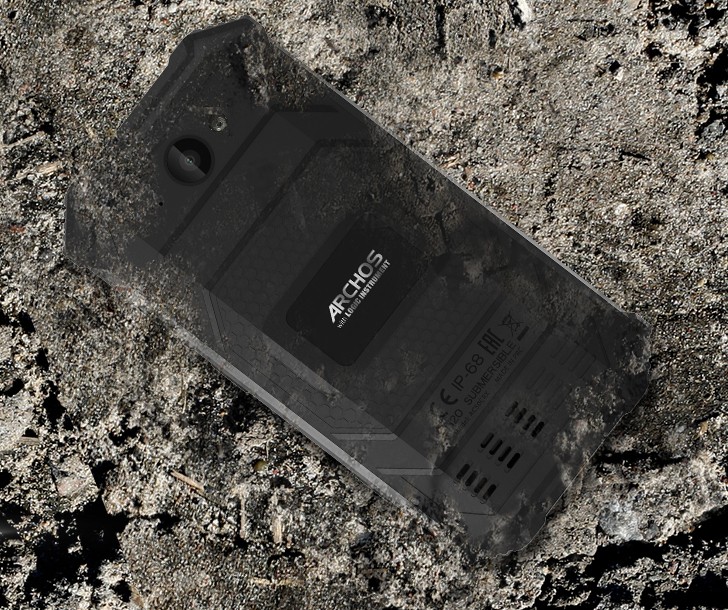 The two phones share the exact same rugged and rough body, measuring 146.6 x 76 x 13 mm. They have the same IP68 ingress certification rating and also share a 5-inch HD LCD, covered by a Gorilla Glass 4 protective layer. The camera setup is identical as well - an 8MP main snapper, interpolated up to 13MP and a 2MP selfie, interpolated to 5MP.
On the inside, the similarities continue - same Mediatek MT6737 chipset with quad-core CPU, 2GB of RAM and 16GB of expandable storage. Same exact connectivity options, including Dual SIM support, Bluetooth 4.0, GPS, Wi-Fi b/g/n, and FM radio and a microUSB 2.0 port.
The sole difference between the two is that the Saphir 50X has a 4,000 mAh battery, downgraded from 5,000 mAh in the original Archos 50 Saphir. That also made the overall package a bit more manageable at 210 grams, but it's still far from what we would consider light.
The Android version has been bumped up from Marshmallow to 7.0 Nougat. The fact that the ROM would require next to no modifications to run on the old Saphir 50 might hint that Archos will upgrade that one as well. Or it might just be wishful thinking on our side.
The Saphir 50X also comes with a reduced price - €179.99, down from the €229.99 Archos was asking for the original. Pre-orders are open now and units should start shipping out in a few days.
V
Hi guys Bought a Archos 50 x saphir all good till I fell from the table and screen broke Archos are not able to repair the fone or even change the screen if i was you do no buy any archos product this is mickey mousse company or offer 25% for ...
D
Would much rather buy a rugged phone directly from China and not a rebranded Chinese phone
M
Years ago I had to go to Archos in Paris for a proposed joint project... pretty sure "joint" was the key word in that whole mess. Neither company really knew what they were trying to accomplish, nor had the resources to make what ever happen. ...
ADVERTISEMENT