In partnership with MediaTek Archos has outed its Titanium line of Android-powered smartphones, each featuring Dual-SIM capabilities, expandable storage, dual-core MediaTek 6572 dual-core chipset and a low price to boot. Specific availability is yet to be announced.
The biggest handset is the 53 Titanium, featuring a 5.3" FWVGA (854 x 480) display, ample 2,500 mAh battery. It weighs 200 g and measures 10.05 mm of thickness. It comes with a price tag of €159.99.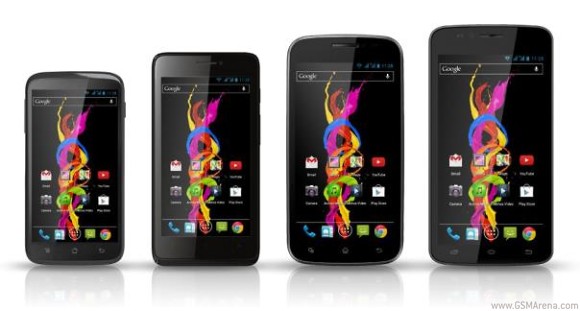 The 50 Titanium has a 5" IPS display of qHD (960 x 540 pixels) resolution and 2,100 mAh battery. It weighs 160 g and is 9.9 mm thick and will retail for €149.99.
The 45 and 40 Titanium will have a 4.5" FWVGA and 4" WVGA screens respectively. Their batteries have 1,680 or 1,500 mAh capacities. The Titanium 40 is the slimmest of the new bunch at 8.5 mm and costs €99.99, while , while the Titanium 45 has a 10mm profile and will retail for €129.99.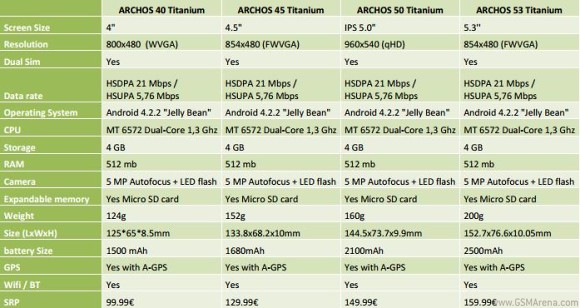 The other specs of the new quartet include 5 MP autofocus snappers, 512 MB of RAM, 4 gigs of built-in storage, Android 4.2.2 Jelly Bean and 21 Mbps HSPA connectivity with Wi-Fi and Bluetooth.
Thanks to everyone who sent this in!
w
I was tablet archos perfect I hope handy to will be perfect ....and can get in all eiropa ....
P
1/2GIG RAM does not go very well with Android.