Archos unveils its IFA lineup early: Android phones and tablets galore

Archos unveiled its IFA lineup a few days early – the new additions include many tablets and smartphones, all powered by pure, unskinned Android.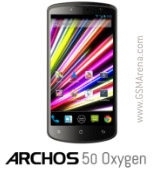 The company is introducing a new line, Oxygen. The Archos 50 Oxygen features a FullHD screen, 13MP main camera and 5MP secondary camera, quad-core 1.5GHz processor running Android 4.2 and 16GB of storage.
The new phones in the Titanium range will start at €99 with a 4" screen, dual-SIM connectivity, 5MP main camera, dual-core processor running Android 4.2. The Platinum range will see new phones too, but Archos will unveil the full details for them and its other new phones at IFA.
The Archos 97b Platinum tablet is an iPad 4 competitor with aluminum body, a 9.7" screen with 2048 x 1536 pixel resolution. The French company is also kicking off its Gen11 tablets with the Archos 101xs2 with HD IPS screen, stereo speakers on the front and a magnetically attached keyboard. Both have quad-core processors and run Android 4.2.

The Xenon line will see 3 new tablets with HD screens, 3G and 3G+ (whatever that means) connectivity, quad-core processors and Android 4.2. There will be a sequel to the Archos GamePad too (a tablet with built in game controls), but detail will only be made available at IFA.

Finally, there will be a couple of kid-oriented ChildPad tablets with Android 4.2 and Play Store filtered for kid-friendly content. There will be an 8" and a 10.1" tablets and the bigger one will be able to use "magnetic figurines" for more tangible play.
Source (PDF)
D
I bought a tablet through TabletSprint which has a nice selections and answered several questions I had quickly
J
One other tablet to launch this month which is comparable to the new Archos 10 is Pipo Electronic's Pipo M9 Pro-- with its biggest advantage being price, which retails for $285 USD - the new Pipo M9 Pro offers a 10.1" 1900X1200 display that uses...
D
they are branded Archos but are also sold as ..Chuwi..0nda..Pipo..Teclast..Ramos..Aoson..Vido..Cube.. and then s0me