ARM announced a trio of high-end components, which are bound to be part of the next generation of mobile chipsets. The brand-new ARM Cortex-A72 CPU, Mali T-880GPU, and the CoreLink CCI-500 interconnect will feature in top-shelf mobile devices in 2016.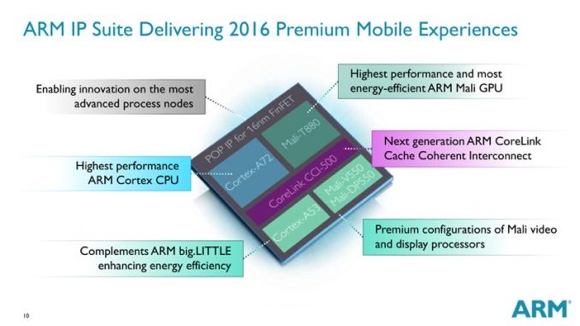 The 64-bit ARM Cortex-A72 CPU is going to be the successor of the Cortex-A57. The newcomer is 3.5x faster than the Cortex-A15 generation, yet it consumes the same amount of energy. Cortex-A72 will use 75% less power than 2014 Cortex-A15 devices under similar workload.
In order to ease the implementation of the new chip, ARM has made its compatible with the latest TSMC 16nm FinFET+ process. The CPU will offer extended performance and efficiency when combined with Cortex-A53 CPU in ARM big.LITTLE setup.
The Mali T-880 GPU on the other hand, will offer 1.8x the performance of the currently available Mali T-760, yet it will consume 40% less energy. The GPU is developed with premium 4K content in mind
The CoreLink CCI-500 interconnect will enable power-sipping big.LITTLE processing thanks to an integrated snoop filter. The component will offer twice the peak memory system bandwidth with 30% increase in processor memory performance over the CCI-400 it is bound to replace.
ARM has already teamed up with a number of partners, which will utilize the new components. They include MediaTek, HiSilicon, and Rockchip among others.
?
Lenovo a7000 having T760 gpu
H
Taipan was cancelled ages ago. Because- it was 32-bit only and manufacturers thought (i don't know rightly or wrongly) that 64-bit is unignorable. Hence, because of pressure Qualcomm cancelled the successor to Krait and now we will directly get Taipa...
D
3.5x faster than A15, lets see then, 3.5 x 0 = 0. So we have another design that is great for benchmarks but cant even run simple games without dropped frames, im so impressed... Just read about all those who got fooled by Galaxy Tab S, or bett...