ARM has a problem – Cortex-A9 is old and the new Cortex-A15 cores just can't seem to make it to the market (the Exynos 5 Octa and Tegra 4 both have issues getting on shipping devices). The company just announced an interim solution, the Cortex-A12.
It offers a 40% performance increase over the A9 and should bring some power saving to the table too. It supports big.LITTLE configurations so it can be paired with Cortex-A7 to improve power efficiency even further (whether it will work or not is another matter, the A15/A7 pairing doesn't do too well).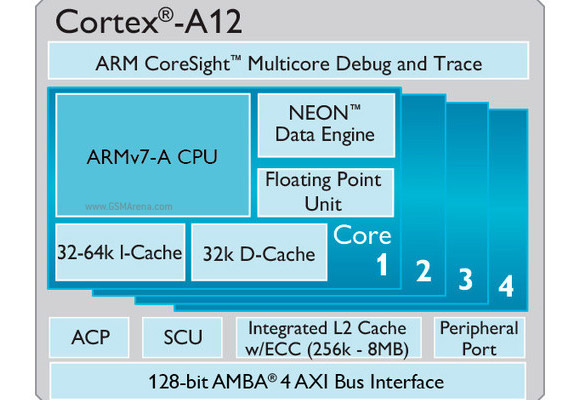 ARM's GPU line is in a similar spot – the new Mali-600 series really only shipped on the Google Nexus 10, most current chipsets rely either on a PowerVR GPU or an Adreno. So, here comes the Mali-622, a mid-range GPU to go with Cortex-A12.
It's an OpenGL ES 3.0, DirectX 11 and OpenCL 1.1 enabled GPU that promises 50% power-saving over the 604.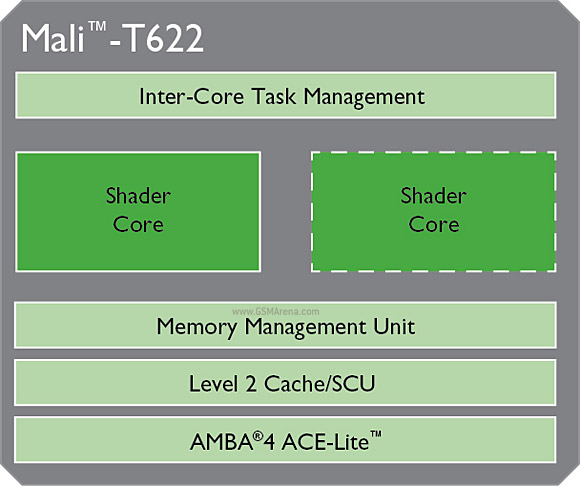 A new video core was also introduced, the Mali-V500 can encode 1080p video at 60fps and decode 4K at 120fps given enough cores.
Devices using the new generation mid-range chipsets using the Cortex-A12 and Mali-622 are expected in mid-2014.
D
Performance is in this order ARM7 < ARM9 < ARM11 < ARM Cortex A5 < ARM Cortex A7 < ARM Cortex A8 < ARM Cortex A9 < ARM Cortex A12 < ARM Cortex A15. All the current generation of processors are based on 'Cortex' series.
j
When I compare Cortex A12 with my home-PC CPU, Core2Duo, I see few same specs and most of them better than my CPU. OFC, PC CPUs will always be more reliable with less bugs and slowdowns (process overload, regardless to No of cores), but as I can see,...
D
even my dual core A9 with sgx540 are serving my purpose well.. butter smooth n 1080p video decoding and encoding. .. gaming also lag free... seems A9 aren't that bad after all.. A15 are crap in power management... Kraits are good in this department...
ADVERTISEMENTS