Benchmarks of the HTC One (M8) have surfaced out of China, and have revealed a bit more about the performance of the Asian HTC One (M8). Running on the AC variant of the MSM8974 Snapdragon 801 processor, the Asian model comes with a 200MHz faster processor, but initial results are very similar performance to the AB model which is available in the US and EMEA regions.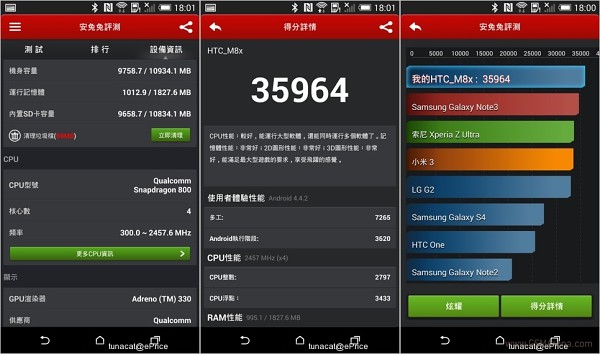 Our own testing gave us a result of 37009 on the AnTutu benchmark, which is very close to the numbers given out of China, despite the higher CPU clock speeds (2.5GHz vs. 2.3GHz). Here's how they stack up to the top devices currently available.
AnTuTu 4
Higher is better
HTC One (M8)- US/EMEA
37009
HTC One (M8) - Asia
35964
LG G Flex
35831
LG G2
35444
Sony Xperia Z1 Compact
34527
Samsung Galaxy Note 3 Neo
32162
Samsung Galaxy Note 3
31109
Sony Xperia Z1
30850
LG G Pro 2
29603
Sony Xperia Z Ultra
29185
Samsung Galaxy S4
27613
HTC One
26389
LG Nexus 5
25097
LG Optimus G Pro
20056
One plausible explanation could be a non-final testing unit used in Asia, while yet another could be the different type of RAM and storage used (usually not specified by manufacturers), which could be inferior in the Asian model. Either way, the jury's still out regarding which model is better, but chances are there won't be much between them.
o
How do you detect the Asian Model of HTC one M8?
?
Will the asian variant work worldwide?
t
isn't the AC the slower variant?