Asus Zenwatch 3 hands-on
The Zenwatch 3 was the centerpiece of the Asus IFA presentation, at least as far as we're concerned. With the new smartwatch, the Taiwanese have abandoned the rectangular designs of the previous two generations and gone with a more traditional-looking circular shape, though leaving it at that would be unfair to the designers.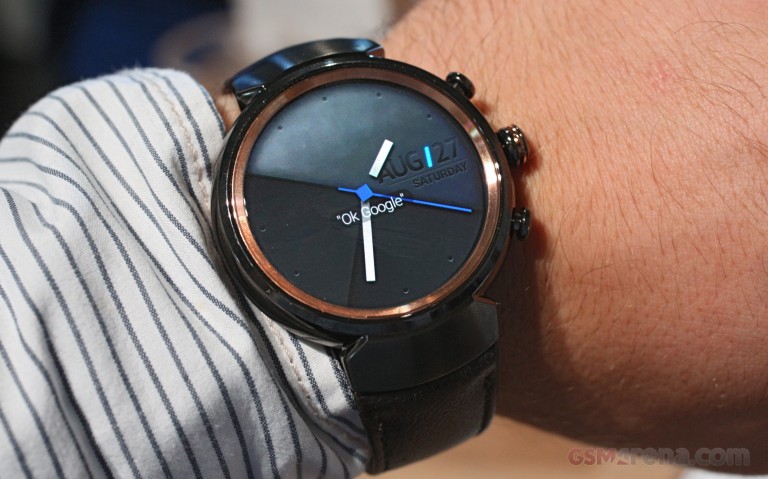 But before we elaborate on that, let's do a quick roundup of the Zenwatch 3's key features.
Asus Zenwatch 3 at a glance:
Chassis: 316L stainless steel; IP67 water and dust proof
Bands: Leather/rubber
Display: 1.39" circular, 400x400px, AMOLED
Chipset: Snapdragon Wear 2100, 512MB RAM, 4GB storage
Platform: Android Wear
Battery: 341mAh, up to 2 days of uptime, HyperCharge fast charging - 0 to 60% in 15 minutes
The Zenwatch 3's case is made of grade 316L stainless steel, the same material is used in stainless steel jewelry and traditional analog watches. That lends the Zenwatch 3 an exquisite feel and one that elevates it above its pay grade. In terms of weight, it's still lighter that you would expect from a similarly sized conventional watch, but it's close.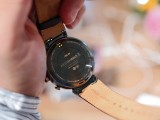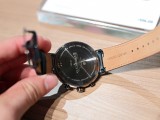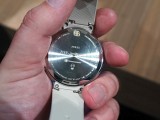 Case made of 316L grade stainless steel
The Zenwatch 3 can be had in one of three case colors - gunmetal, silver and rose gold. We only got to see the first two of those, the rose gold option was nowhere to be found. There's a piece of it in all three paintjobs, though - the ring around the display (or watch face, if you prefer) is finished in rose gold, regardless of the main body color. That may be the one objectionable aspect of the Zenwatch 3's design, or it could be the best thing about it, depending on who you ask.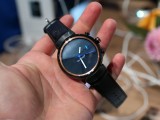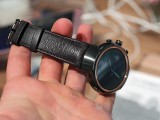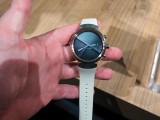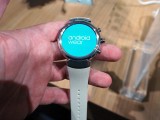 Zenwatch 3 in gunmetal/leather • Zenwatch 3 in silver/rubber
And if the usual chronograph comes with a crown and a couple of buttons, the usual Android Wear smartwatch typically has just a single button. Not so on the Zenwatch 3, where you get the former configuration as another throwback to simpler, mechanical times. They should bring added functionality, and while in our brief experience they do indeed (top one is used for shortcuts), it's certainly not indispensable from a usability standpoint. They do look good, though.
The lugs are quite unique themselves too. They are angled downwards to naturally wrap around your wrist, but that fluidity is deliberately broken by a notch on either side so they don't appear massive.
You can have leather or rubber as strap options - there is no stainless steel bracelet variant for the time being. The leather strap we tried on was nicely soft and comfortable, and certainly didn't feel like it would need months of wear to mold around your wrist. The rubber one was good too, though we've seen even better from other manufacturers. No fancy buckles here.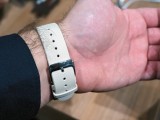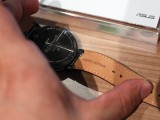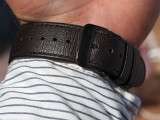 Rubber strap • Genuine leather strap
The display is a 1.4-inch (or 1.39" if Asus insists) AMOLED of 400 x 400 pixels resolution and, for all we know it could be the same one as on the Huawei Watch, or at least very similar. It's distinctly larger than the one on the old Gear S2 (1.2"). The 2nd-gen Moto 360 42mm is marginally smaller at 1.37", but there are no unsightly flat tires on the Zenwatch, obviously.
There are four dozen pre-installed watch faces, so you won't be left without options, plus you can always download more. The display looks nice and sharp, though the venue floor is never a good place to judge its merits.
We did get to handle the Zenfone 3 range too. On the next couple of pages, we share our early impressions with a number of Zenfone 3 models: vanilla, Deluxe, Ultra, Laser, and Max.