ASUS is preparing to officially launch the Padfone mini at a dedicated event in Taiwan on December 11. While the PadFone Infinity boasts a 10.1" tablet and a 5.0" smartphone, the Padfone mini is rumored to consist of a more compact 4.3" smartphone that slides into a 7" slate.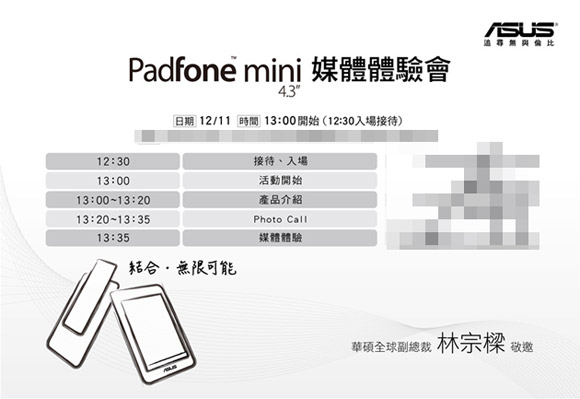 The resolution of the displays won't be as high as one could hope - the 4.3" display of the smartphone will feature have 960 x 540 pixels, with the tablet's 7" screen rocking 720p resolution. Further rumored specifications include a Qualcomm Snapdragon 400 chipset and possibly 1GB of RAM.
As far as other specs go, no information is currently available. The Padfone family members have always boasted great displays and battery life. However, with specifications like this, we're inclined to believe ASUS is seeking a lower price point, hoping to entice a wider number of customers.
It seems ASUS is pleased with the sales performance of its unique Padfone line-up and is eager to develop it further. We'll find out if the Padfone mini will be able to stand on its own thanks to some unique features or if it'll get lost in the shadow of its bigger brother.
Source
|
Via
N
i dont think asus is bad as that. coz as a user of asus google nexus 7 2013 device is kinda good. i got my update always. maybe just the other device. dunno :D
N
No update & software support. very slow updates. since most users change phone every 2 years or so anyway why bother buy this?
q
software update on other padfones was pretty frequent.