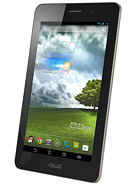 N
Anonymous, 28 Feb 2013 single core?! no thxbut it's a powerful core. and it supports hyper-threading so it acts like a dual core
D
a great book reader with accessories. optimum resolution. please let it be available in market unlike nexus 7.
s
if its not priced double like nexus 7 in India then i shall buy this definitely
?
for tablet phone,1GB RAM memory is on the lower size
cuz wider screen lagging on playing any HD games.
Total of 950 user reviews and opinions for Asus Fonepad.