Talk-worthy
Asus Fonepad 7 FE375CXG review: Talk-worthy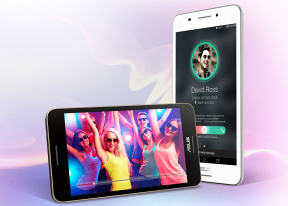 Display
The Asus Fonepad 7 FE375CXG packs a 7" IPS display of 1280 x 800px resolution for a pretty average 216ppi.
We've grabbed a picture of the display matrix under a microscope and it revealed a standard RGB arrangement, not that we expected something else.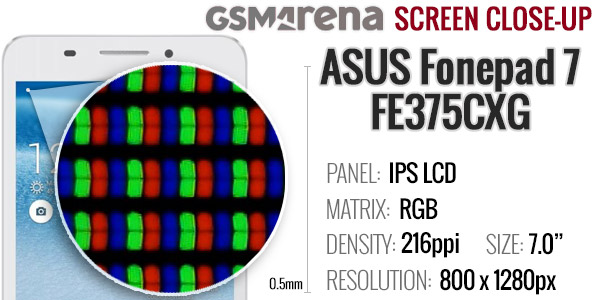 In our display test, the Fonepad 7 FE375CXG posted surprisingly good contrast numbers for its class. Blacks were fairly deep at 50% brightness, and retained their low level at 100%. The whites' illumination was low at both levels, however, but that still resulted in adequate contrast numbers.
Display test
50% brightness
100% brightness
Black, cd/m2
White, cd/m2
Contrast ratio
Black, cd/m2
White, cd/m2
Contrast ratio
Asus Fonepad 7 FE375CXG
0.1
83
835
0.36
348
973
Asus Memo Pad 7 ME572C
0.15
155
1023
0.6
668
1114
Xiaomi Mi Pad 7.9
0.13
126
974
0.53
502
955
Apple iPad mini
0.25
208
838
0.51
458
812
Apple iPad mini 2
0.2
167
835
0.56
450
804
LG G Pad 7.0
0.1
98
946
0.45
404
898
Asus Google Nexus 7
0.25
244
954
0.36
327
908
Samsung Galaxy Tab S 8.4
0
221
∞
0
398
∞
Unfortunately, the good contrast was spoiled by the highly reflective screen of the Fonepad 7 FE375CXG. With a sunlight ratio of just below 1.2, the screen of the Fonepad 7 is near illegible outdoors even at maximum screen brightness. It also tends to get easily smudged, which doesn't help either.
The highly reflective screen can potentially be an issue even indoors. Screen looks pretty washed out under artificial light as well. You won't get to enjoy the otherwise excellent contrast even in a moderately lit home or office. Disappointing indeed.
Battery life
The battery in the Fonepad 7 FE375CXG is the same 3950mAh unit as in the previous Fonepad models and Memo Pad 7 slates.
The Fonepad 7 showed excellent longevity in the web browsing routine lasting 12 hours and it managed to last 17 hours and then some on 3G talks. Video playback turned out more taxing on the battery, but a hair short of 10 hours is a very respectable score nonetheless.
Unfortunately, the dual-SIM 3G standby was a real sucker on the battery juice - the Fonepad 7 wouldn't last a day on standby with a full battery. Then we popped out one SIM card and the Fonepad 7 managed to live for two and a half days on 3G standby. This is probably some issue with the software optimization as it is nowhere near the promised 316 hours. Hopefully Asus releases a fix soon.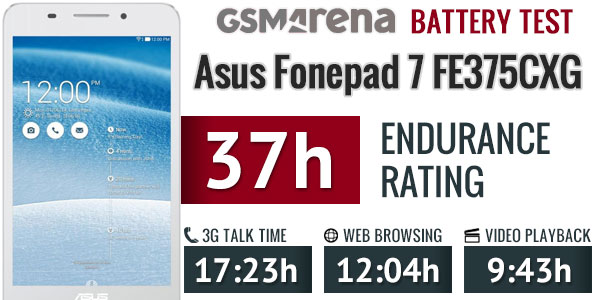 So, with just one SIM card the Fonepad 7 achieved a total endurance rating of 37 hours, which means you can count day and a half if you do an hour each of calling, web browsing and video playback daily.
Disappointing indeed.
Our proprietary score also includes a standby battery draw test, which is not featured in our battery test scorecard but is calculated in the total endurance rating.
Our battery testing procedure is described in detail in case you want to learn more about it.
Connectivity
The dual-SIM (dual standby) Asus Fonepad 7 FE375CXG has quad-band GSM and 3G support. Download speeds can potentially go up to 42.2Mbps with upload of up to 5.76Mbps over a 3G network.
There is also Wi-Fi 802.11 b/g/n with Wi-Fi hotspot, as well as Bluetooth 4.0 with A2DP.
The device has an on-board GPS/GLONASS chip.
The microUSB port has USB On-The-Go support, so you can plug USB flash drives and connect a mouse or keyboard. There's DLNA TV output and a dedicated app but no wired TV-out.
The Fonepad 7 has pre-intalled apps too for quick file and media sharing, including pairing with a PC or laptop and quick exchange of files with simple drag and drop. There is no IR blaster and NFC support though.