Google Plus, Messenger and Currents
The Google Plus app is preinstalled on the Nexus 7, perhaps as a way to bolster the user numbers of Google's social network.
The default screen shows the "What's hot" feed - a vertical list with big, beautiful images of interesting posts from around the Plus network. You can use the dropdown menu to switch to feeds from your various circles.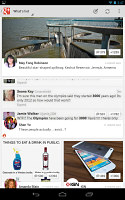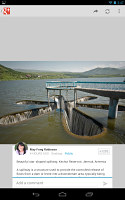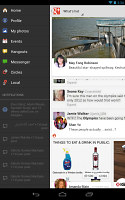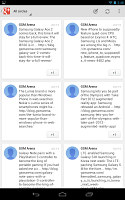 Browsing what's hot on Google Plus • Posts from your circles
A split-screen interface is used to let you navigate more than just posts. It shows up on the left and displays your notifications plus shortcuts to other Plus features. From here you can access hangouts and events.
Events - in case you missed Google's impressive presentation - lets you send out an invite (complete with a cool looped animation that describes what type of event you have in mind). All people who use Google Plus and join the event can snap photos, which will be merged into a common timeline, a cool unique feature.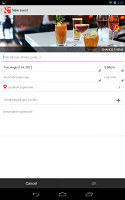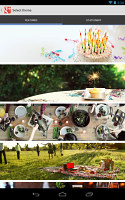 Creating an event and picking an image to set the mood
Messenger complements the Google Talk app and lets you send messages to your Google Plus contacts. The interface is straightforward - it shows a list of all people in your circles, with the ones you've communicated recently on top.
Each message has small open letter icon that shows when the other person has read it. You can also easily snap a photo or pick one from the gallery to send to your friend or you can invite them to a video chat with the Hangouts button.
Google Currents is a beautiful news aggregator, similar to Flipboard. It follows the Holo UI design with flat graphics and sideway swipes. The Currents library starts off with several magazines but you can check out the trending news or quickly add more magazines.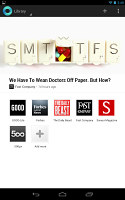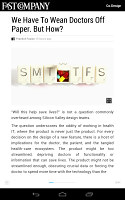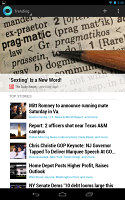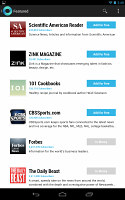 Google Currents is a beautiful way to read the news
When you hit the Add more button, Currents shows you categories you can pick from. Featured and Recommended should get you started, but there's also Curators (which lists Google+ accounts of interesting people) and Google Reader (RSS feeds from various sites).
Note that most of the subscriptions are free - actually, we didn't see any paid ones, but that's likely to change in the future.
Google Maps and Google Earth two for one sale
The Nexus 7 features a built-in GPS receiver that got a lock in under a minute. You can use A-GPS to speed that up or go for Cell-ID and Wi-Fi positioning for a rough lock (all three options however require an Internet connection).
Google Maps is an extensive mapping solution with everything from voice-guided navigation (in certain countries), through local search and the ever popular Street view.
3D buildings are shown for some of the bigger cities and you can use two-finger camera tilt and rotate to get a better view of the area.
Google Maps switched to data-efficient vector maps a while back. This allowed for caching whole areas of the map for offline usage. It used to be a Labs feature, but now it's enabled by default (and you can cache a bigger area).
You just choose "Make available offline from the menu" and pan/zoom around until the desired area is in view (there's an indicator showing how much storage caching that area will take). You can later view cached areas and delete ones you no longer need.
Note that there's a limit to the size of the area you can cache - you can't just make all of Europe available offline, not even a whole country. We managed to fit New York and some surrounding area before Maps told us the area is too big. Also, there's no address search in the cached maps and you can only cache map data in supported regions of the world.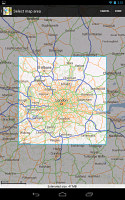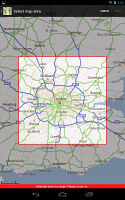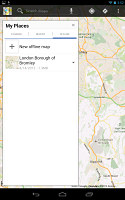 Making an area of the map available for offline usage is very easy
Google Earth came preinstalled on the Nexus 7. It's like a 3D version of Google Maps (well, except for the navigation bits). People interested in geography will appreciate Earth as it's much better at showing terrain, but it's not very useful for getting around a city like Maps is (e.g. finding a nearby cafe or navigating to an address).
Play Store for apps, multimedia and more
The Play Store has several scrollable tabs - categories, featured, top paid, top free, top grossing, top new paid, top new free and trending.
When downloading an application, you get useful info on the app, like rating and comments along with the info, screenshots and demo videos by the developers. Before confirming the download, the Market will show you a screen of permissions required by the application.
Starting with Jelly Bean, paid apps can be encrypted to prevent piracy. Google switched that off for now, as it turned out that this causes issues with many apps. It will probably be enabled again eventually.
The Play Store is not just a renamed Android Market though - you can also buy (or rent) movies, TV shows, magazines and books. You can even charge those to your phone bill rather than your credit card (it works only on some operators in some countries).
Oh, and before we forget - each Nexus 7 comes with a $25 credit you can spend in the Play Store to get you hooked (note that this is a limited time offer).