The magnificent seven
Asus Google Nexus 7 (2013) review: The magnificent seven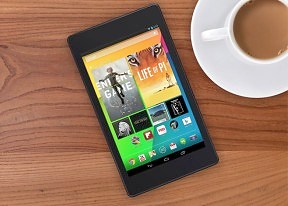 The People app is at your service
While the Wi-Fi version of the Nexus 7 can't connect to a cell network for either voice or data, it still features the familiar Android 'People' app which displays the contacts from your Google account. If you have other communication applications such as Skype installed, it will display the contacts from them as well.
Using the menu on the left, you can switch between All contacts, Groups, and Favorites.
The interface is split into two - the list of contacts on the left and individual contact details on the right. In case the contact has a Google Plus account, their updates will be posted in a third column on the right (it's visible only in landscape mode, but not in portrait).
There's a permanent scroll bar available that you can grab and drag to jump straight to contacts starting with a certain letter. There's a regular search feature, too.
When viewing a contact, a click on any of the contact details will open up the relevant application - an email address opens up the email or Gmail app, a Google+ IM opens up the contact in the installed Google+ messenger, and even pressing on a phone number can open up a relevant application for dialing phone numbers over the web, such as Skype (if you have it installed).
While editing a contact, you can add new fields of different types to fill in more info for the contact. You can link contacts too, if you've added the same person on multiple services.
Your Groups are listed by service (e.g. your Gmail account), while Favorites are a listed as a grid of large contact photos, which is really thumbable.
Email and instant messaging
The Gmail app enjoyed yet another major overhaul recently. A new email sorting format was introduced, which separates your incoming messages into three different inboxes. The most important one is dubbed Primary. The other two are called Social and Promotion - they handle your SNS messages, as well as the promo emails you receive.
We found the new Gmail functionality to work like a charm. Sorting through multiple text messages is now easier than ever.
There is also a generic email app for all your other email accounts and it can handle multiple POP or IMAP inboxes. You have access to the messages in the original folders that are created online, side by side with the standard local ones such as inbox, drafts and sent items.
Unlike its Gmail counterpart, this app supports a combined inbox view. It color codes the inboxes so you can easily tell where each message came from. Unfortunately, there's no moving between messages with sideways swipes here.
Instant messaging duties have been taken over by Google Hangouts, which replaced Google Talk in Android 4.3. The new messenger features a polished UI, and handles instant messages, as well as video calls.
Images can be sent and received as well. With the updated stock IM app, Google is trying to offer a viable alternative to the popular services out there such as WhatsApp and Viber.
Text input
Android 4.3 Jelly Bean on the Nexus 7 tablet comes with a standard looking Android keyboard. Typing on the tablet's display is an easy task in both portrait and landscape mode.
It's very good at guessing what it is you're trying to type and a feature can be enabled that keeps a floating label above your finger with the current guess.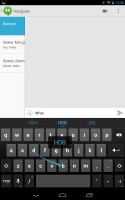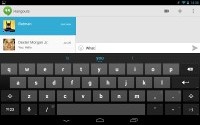 Gesture typing and suggestions
But you can go further and "type" hands-free too - Google has baked the voice recognition algorithms needed to run it into Android itself. Not only does this make Voice typing faster, but also eliminates the need for an internet connection.
Currently, you can download up to 15 localized language packs for offline voice typing, although we imagine that Google is working on adding more. The language packs are quite small in size (the default English (US) pack comes in at just 22 MB), so you don't need to worry about them using up your precious storage.
With Jelly Bean, the Android keyboard's nuts and bolts got updated as well. It now features smarter dictionary and learning algorithms, so the more you type, the better it can predict what you're trying to say. It resembles Swiftkey's smart dictionary system, but only time will tell if it performs as well.