The magnificent seven
Asus Google Nexus 7 (2013) review: The magnificent seven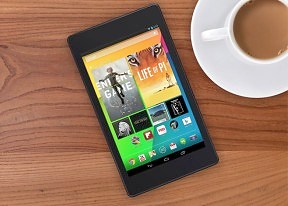 Cloud-focused office editor out of the box
The default office editor on the new Nexus 7 is Google Drive. It handles popular document formats with ease and it is free. Data connection is required to sync documents, though offline editing can also be enabled. Once you go back online, Google Drive will update your progress accordingly.
Naturally, you can always find a third-party office editor in the Google Play Store. There are plenty of capable ones available, but they are not free.
The stock calendar on the Nexus 7 has four views - Daily, Weekly, Monthly and Agenda. The Calendar makes good use of the bigger screen - daily and weekly views for example dedicate the top part of the screen to the day/week, while the bottom is taken up by a small monthly calendar, so you can quickly jump between dates. Similarly, the Agenda view uses a split-screen interface.
The app can easily handle several online calendars as well as the local calendar. You can add multiple reminders for each event and search all events.
The Clock app defaults to desk clock mode that might be of some use if you have a dock for your Nexus 10, other than that it's just a drain of battery power.
The usual alarm functionality is still present - you can set multiple alarms, each with its own repeat time, ringtone and label. A timer and stopwatch functions are also available.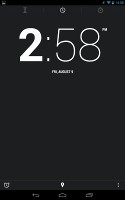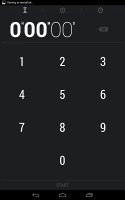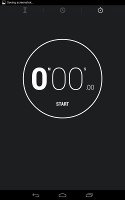 The Clock app is simple and effective
The calculator holds no surprises. It has both basic and more advanced functions.
The Google Plus app is preinstalled on the Nexus 7. Google is committed to growing its own social network, and the app keeps improving.
Google Currents is a beautiful news aggregator, similar to Flipboard. It follows the Holo UI design with flat graphics and sideway swipes. The Currents library starts off with several magazines but you can check out the trending news or quickly add more magazines.
Google Maps
Google Maps is a standard part of the Android package and we've covered it many times before. It offers voice-guided navigation in certain countries and falls back to a list of instructions elsewhere.
3D buildings are shown for some of the bigger cities and you can use two-finger camera tilt and rotate to get a better view of the area.
You can also plan routes, search for nearby POI and go into the always cool Street View. The app will re-route you if you go off-course, even without a data connection.
Google Maps uses vector maps, which are very data efficient. The latest version has an easy to use interface for caching maps - you just choose "Make available offline" from the menu and pan/zoom around until the desired area is in view (there's an indicator showing how much storage caching that area will take). You can later view cached areas and delete ones you no longer need.
Note that there's a limit to the size of the area you can cache - you can't just make all of Europe available offline, not even a whole country. We managed to cache New York and some surrounding regions before Maps told us the area is too big. Also, there's no address search in the cached maps and you can only cache map data in supported regions of the world.
Google Play Store now has a tablet section
The Play Store has several scrollable tabs - categories, featured, top paid, top free, top grossing, top new paid, top new free and trending. It hooks into your Google Plus info and will recommend apps based on what your friends like, but also based on what other people like, even if they're not in your circles, but have installed the same apps as you.
There's also a dedicated section for optimized slate apps called Tablet 101.
When downloading an application, you get useful info on the app, like rating and comments along with the info, screenshots and demo videos by the developers. Before confirming the download, the Market will show you a list of permissions required.
The Play Store features much more than apps - you can also buy (or rent) movies, TV shows, magazines, books, as well as textbooks. You can even charge those to your phone bill rather than your credit card (it works only on some operators, in some countries).