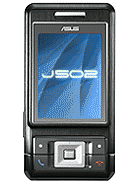 M
I need information on how to change language from chinese to english on Asus J502 cell phone. If anyone know how, please reply to me at mckor2004@yahoo.com. I appreciate it if you can also send me a pdf copy of english verion of Asus J502 Manual.
?
Anonymous, 10 Sep 2007How much does it cost in the market today?£2,000,000
s
guys i don't want to be a spoiler..but I am currently using a Asus J208. bought it 2006. generally the phone is okay. the problem is the flex cable always breaks down. mine broke down 3 times already in a span of every six months. and when that happens the phone would hang. the bigger problem is parts supply is minimal or none at all. i've been waiting for about a month already...
?
are u sure it's in greenhi8lls na? is it in the tiangge or virramall area?
?
Hi Denise-Kirk!
Are you really sure that this unit is now available in Greenhills? Can u guarantee the unit price of php 5.6K? I reside in Cebu but as of
this time I hardly find this model..I've inquire all cell dealers in all major Malls here since August, but until this time they can't give specific dates when it would be possible for market availability.
Will you give me ur contact #, by da way im also giving u my cell # to keep in touch w/ me.. 0927-6244528! Thnx & happy holidays!

Alvin
d
this is already available in Greenhills, brand new costs around 5.6K only...i think you can still haggle.
e
is this really touch screen? as stated on the specification. coz i have read on other info that its not.
O
I am very eager too in waiting for the availability of ASUS mobile phone model J502 in the philippine market today.Currently we were inform by the ASUS sales center that they are still waiting if this will be available in the philippines but only in TAIWAN...So please share the exciteminet of your products worldwide......tnx, Owen.
a
Attention ASUS management, until this time, i'm still waiting for this unit be available in the philippine market? hope you won't fail me... i look forward the launching before November! Thnx...
j
it's been one of the great phone in the market today, oh boy it's really a value for money, just try this.. one of the features i love most it has an exclusive security data when lost or stolen, and only Asus has that..
Total of 13 user reviews and opinions for Asus J502.