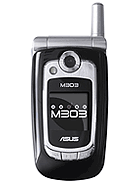 a
i have a problem with my mobile asus m303, i did to upgrade my memory card up to 2GB, but still unlock. please help me what to do so that i may use my 2GB memory
p
u know i love the quality of asus m303 but the problem is...... its very hard for me to look for the charger and extra battery. please help me to find this... thank you
?
even if its a music i just cant understand why asus make without bluetooth or usb how can you download music without any of these connection types
K
Pros: u have an option to view pictures with a clear screen (no dates & stuff like that) as well as your wallpaper... screen is very clear...u can transfer pictures & music as well as text messages from phone to PC & vice versa very easily & fast... comes with a 256MB Memory card
Cons: Battery drains fast if u use mp3 or take a lot of pictures or even when u view a lot of pictures with a bright screen... hard to text... incoming text message comes in one tone that is very low although it has a louder reminder tone.
Pretty phone but I don't like the protruding external antena.

?
i got the m303i it's ok got better spec's than the m303, but i just have main one problem when a number is store in the phone and that person call me the caller id just show the area code and number not the name like other phone..can any one help me. or that is how it is..
H
At last asus is being recognised.can do better..

and brand cald fly is also good..bt vry new
Total of 11 user reviews and opinions for Asus M303.