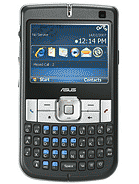 B
This is a GREAT phone. A lot of consumers are not familiar with ASUS when it comes to mobile units, but I must say it does give companies such as HTC,SAMSUNG,DOPOD,BLACKBERRY,and MOTO a run for its money.

Equipped with a 2MP camera/with flash, WIFI b/g, 3G, and a lot of other goodies. This phone beats MOTO Q and SAMSUNG BLACKJACK2 hands down. As for the battery life, I dont agree with waht others here have posted. If you keep the phone of 3G, it will save you battery life.

Only flaw is that it resembles a scientific calculator. Otherwise, an excellent choice and one for those who are seriously business oriented.
J
What i have seen around the internet the ASUS M530w has a micro SD card slot and not a mini SD card slot as said here on the site.

Wondering if it is a good phone? Been thinking about buying for a while now. Any thoughs?
P
Can anyone pls let me know the following about Asus M530w:

1. How can I set multiple alarms in this phone
2. Is there application lock facility in this phone if yes how can I lock?
3. Is there miss call and unread message reminder facility in this phone, if yes how to activate it?
4. Company claims that this phone has world clock feature but I could not find it.


P
Hi, I have recently purchased Asus M530W, its really good phone but battery backup is really bad. Company claims battery has 5 hours talk time but I am even not getting more than one hour talk time.

p
auto macro helps the phone decide the distance of the object from the camera and focuses on it automatically.theres a minor difference between auto focus and auto macro.
P
1. Battery backup is really really bad...Company claims 5 hours talk time but it is not more than even 1 hour.
2. We can't set multiple alarms in this phone.
3. No reminder for missed calls and message.
k
despite the absent of touchscreen, this is amazing phone :) 2nd in the row after super HP in the same line with touchscreen :)
Total of 91 user reviews and opinions for Asus M530w.