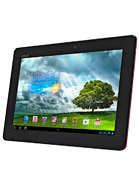 A
Got one a fortnight ago and it was became unresponsive to touch after resume from standby on day one. Wait 30 minutes later, it might respond. Sent to their service center last week and still not ready after a week. No one-to-one exchange. Bad luck out-of-the box. :-(

t
This tablet is an amazing deal, it is standard microUSB and miniHDMI port, and microSD slot. It's not easy getting a tablet at this price with all the standard ports, this can be used as an HTPC. With the hardware its fast enough for all the tasks.

I was at the store considering it, but I went with the Nexus7 for now due to the developers community it has, but this one is to watch out for if it get CyanogenMod.
Total of 24 user reviews and opinions for Asus Memo Pad Smart 10.