Windows Mobile goes a long way
The Asus P750 offers the standard Windows Mobile user interface without the 6.1 upgrades. Asus P750 doesn't have a touch-optimized homescreen like HTC's TouchFLO either. In fact, Eten, Gigabyte and Asus have only just recently announced their proprietary thumbable homescreens, which are obviously not to be expected in previously announced handsets. However we suppose the new Asus homescreen called Asus Glide will be available to all P750 users to download. More about it can be found on the Asus website.
For now the P750 is stuck with the default Windows Mobile Home screen. Here's a quick walkthrough for anybody new to Windows Mobile Pro. The Start menu is in the top left corner and gives you access to some customizable shortcuts and frequently used programs. The Programs item that appears on this Start menu takes you to a list of all applications installed on your PocketPC. The Settings item launches a menu in charge of most system settings.
Oh, and one more thing - unlike the desktop Windows, pressing the X button in the top right corner of an application window doesn't usually terminate it but sends it running in the background instead. Theoretically, that way the app should resume much faster the next time you need it. In practice however, those background applications tend to build up and consume all your system resources (which are usually rather limited on a handheld).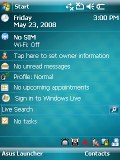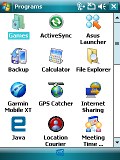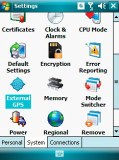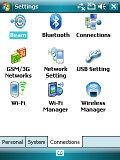 Windows Mobile Today screen • Programs menu • Settings menu
Now, let's get back to the Home screen (or Today screen in the PocketPC lingo). The right soft key by default opens the Contacts application, while the left one starts the Asus Launcher. It gives you quick access to some of the most used features on the handset (as seen by Asus). The nice thing about it is that it resembles a lot a regular feature phone interface and it's touch optimized (to an extent). Experienced Windows Mobile users however will most probably find it redundant and would rarely use it.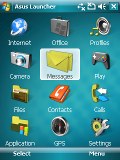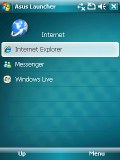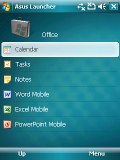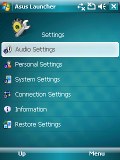 The Asus Launcher application may seem redundant to some
Instead of it, Asus could have preinstalled some sort of a user friendly Task manager. A capable and readily accessible task manager is probably the single most important thing that Windows Mobile lacks. HTC have addressed that and they ship their latest handsets with a custom Task Manager.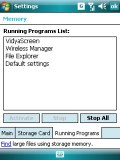 The default Windows Mobile Task Manager is buried deep in the Settings menu
Asus however have preinstalled a handy quick status app that gives you a single-glance overview of CPU mode, USB mode, Brightness, Battery, Memory, and Storage. The CPU mode mentioned on top of that list doesn't really give you the actual MHz reading, but shows the CPU Frequency mode instead: Automatic, Turbo, Standard or Power Saving. The USB mode shows whether the handset is in Card Reader or ActiveSync mode.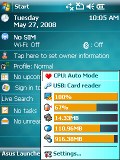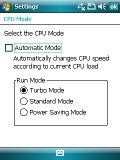 Asus Status application • available CPU modes
Another useful system application is the Auto Cleaner, which gives you control over what happens when you press the X button on any given application - whether it keeps on running in the background or is terminated.
The next system application provided by Asus is the Mode Switcher. By default it activates when you press the Mode Switcher key on the hardware keypad (the big one the left with the recycle-like icon). The default behavior of this Mode Switcher key is to bring up a row of four shortcuts to some customizable features (changing screen orientation and returning to the Home screen are among them). The key can supposedly be also set to start a Running Tasks switcher instead, but strangely that setting never worked.
And finally, the last system app on Asus P750 is Backup. It allows full backup of your PocketPC, which can later be restored if needed.
Phonebook is typically excellent
Windows Mobile PocketPCs have an unlimited contact list with a plethora of available fields for each entry. Synchronization with MS Outlook is textbook.
There is a very practical additional field to each contact - the "Last call". It displays the number and the time the contact in question was last called. A full log is available of calls to and from numbers belonging to this contact, as well as call duration and time of call.
The Asus Call Filter app allows you to quickly filter incoming calls based on reject or accept lists.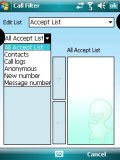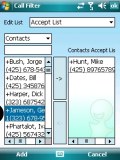 The Asus Call Filter application is versatile enough
Loudspeaker test
When it comes to loudspeaker performance, the Asus P750 won a place in the middle with a Good mark. You can see how it ranks to some other Windows Mobile devices, that we've reviewed.You can find more info on the test itself and the other tested handsets here.
| | | | | |
| --- | --- | --- | --- | --- |
| Speakerphone test | Voice, dB | Pink noise/ Music, dB | Ringing phone, dB | Overal score |
| Samsung i780 | 66.3 | 64.6 | 66.7 | Below Average |
| LG KS20 | 66.1 | 70.6 | 64.9 | Average |
| Asus P750 | 75.7 | 69.5 | 66.5 | Good |
| HTC Touch Cruise | 68.8 | 66.6 | 74.2 | Good |
| HTC TyTN II | 76.0 | 75.7 | 82.7 | Excellent |
Messaging is also versatile
Sending and receiving messages is done through the centralized Inbox. It has separate folders for SMS, MMS and email. SMS length is virtually unlimited, as well as the storage of received and sent messages. Inside the multimedia editor you will find the useful option to create multi-page messages containing more than one melody, image or text.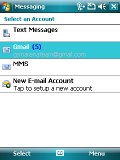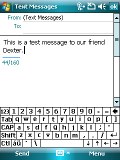 Messaging department • typing a message with the virtual QWERTY keyboard
The Outlook Mobile email client supports POP3 and IMAP accounts. You can have multiple accounts and you can set the client to automatically check mail at regular time intervals. It has full support for sending and receiving attachments.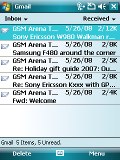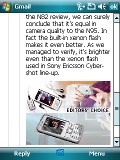 Email Inbox • reading an email
There is also Direct Push support. What it means is, instead of checking mail at regular intervals, your messages are delivered to you immediately once they are received by the mail server. The only condition is that the pairing Microsoft Exchange server supports Direct Push. With Windows Mobile 6.0 Professional you have search via preinstalled software, plus support for HTML email.
There are several text input methods with the Asus P750. You can use the multi-tap hardware keypad, which is most natural and doesn't require use of both hands. Predictive input is courtesy of the XT9 system. Of course, if you are willing to use the stylus, you an also make use of the virtual on-screen keyboards and the handwriting recognition system.