Organizer is good as always
Windows Mobile offers several time-management features and all of them are easily syncable with MS Outlook. The Calendar in Windows Mobile 6.0 allows searching for events to come. It offers daily, weekly and monthly view. You can have the week start on either Monday or Sunday. You can also hide weekends form the Calendar if you use it for business strictly.
The To-Do list allows you to add tasks and assign them priority. The Notes also come in handy, as you can either type or directly write the text down on the screen. The Voice recorder and Calculator go without saying.
The Alarm clock has three alarm slots. Each Alarm can have its own repeat pattern. As a frequently used feature, Microsoft should have put more effort into making the alarm clock easily accessible. Instead, it's buried deep down in the Settings menu. Alongside, you will also find the dual-zone clock. It's good that Asus have preinstalled a custom Alarm application called Ur Time.
The Ur Time app displays the clock and calendar on a single screen and allows for quick access to custom alarm settings and a world clock.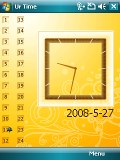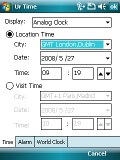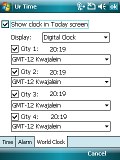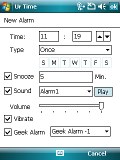 Asus Ur Time application: default screen • dual-zone clock • world clock • alarm settings
Asus have also added the Meeting Time planner, which is a handy app and, as the name suggests, it allows you to create a rather detailed Meeting schedule - you have your free slots at a quick glance. The software can work with several time zones simultaneously, good enough for frequent travelers.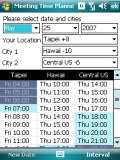 Asus Meeting Time Planner application
Then, there's the My Secrets app allowing you to store sensitive information with password protection.
And finally, you have the WorldCard Mobile app that scans business cards, does character recognition and imports the data to the Contacts list.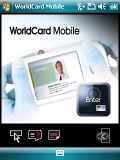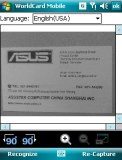 Asus WorldCard Mobile application
Mobile Office on-the-go
Among the other WM core applications is the Office Mobile package featuring support for viewing and editing Word, Excel, and PowerPoint office files.
Another application is the rather handy Search software, capable of searching throughout the whole file system and applications. You can set filters, so that the application searches only in the places you need.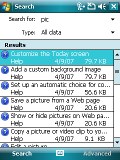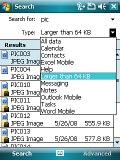 The Windows Mobile system-wide Search application
GPS and navigation around
Before we start on the actual performance of the Asus P750 GPS receiver, we'll have a quick glance at some of the software that Asus have preinstalled for us.
First off, we should mention that there is no full-featured navigation software that you can use - you should buy that separately. There is a trial version of Garmin Mobile XT, but it's… you know, trial. That's ok though, since even HTC don't ship their devices with full-featured GPS navigation software.
As the P750 GPS receiver has A-GPS functionality, the GPS Catcher app is there to download the latest satellite positioning data on scheduled intervals or manually. Data charges may apply to downloads - but generally, the amount of transferred data is low enough.
The next GPS-centered application is the Travelog - it's a GPS logging app, that stores GPS coordinates while you move around. It draws a basic route based on the directions you've taken, but it's of no use by itself. Where it really counts is that you can export its log and import it to Google Earth for example, so your route appears on the map.
And finally, the last app to come preinstalled on the P750 is the Location Courier - an application with rather limited functionality - at least to us. Its sole purpose is to send messages with your current GPS coordinates to some predefined GSM numbers at regular intervals. Conspiracy theorists are free to disagree.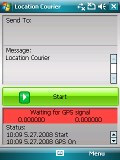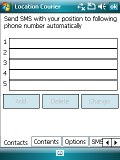 Asus Location Courier application
The Asus P750 SiRF Star III GPS receiver worked like a charm - we installed third-party GPS navigation software (iGo) and went for a drive around the city. Satellite lock speed was delightful and positioning was always accurate - even in the narrow and dense city streets. Buildings standing tall around didn't bother it at all.
We also ran a dedicated GPS battery test to see how the SirfStar III chipset fares compared to the Qualcomm units used in HTC TyTN II and HTC Touch Cruise. The test was concluded on a freshly charged battery in a still position and a satellite lock at all time.
In the same test both HTC PocketPCs lasted about 3.5 - 4 hours. The Asus P750 managed to outshine them by a good margin - it kept going for 6 hours straight on. Bear in mind that those figures will be lower when you are constantly moving in a vehicle.
Tweaks and Modding
Windows Mobile PocketPCs have long been exposed to custom modding, patching and tweaking. HTC for one have an especially wide and busy fan base that seems to be constantly poking and prodding for a new twist to their gear.
Some keen users found out that the Asus P750 ships with a hardware VGA screen that simply runs in QVGA mode. So a new modded firmware is up for grabs, which unlocks the dormant VGA resolution. Many users report successful tests of the new firmware, so if you are savvy enough to follow the simple flashing procedure you might consider the VGA display a revision of the ASUS P750 specs sheet.
You should bear in mind though that VGA resolution is incompatible with some applications, as it's not nearly as popular as QVGA. Another thing to consider is that the VGA mode drains the battery more quickly. The latest modded firmware allows toggling between QVGA and VGA with a simple soft reset, so that gives you maximum flexibility.
That new firmware accounts for the latest Windows Mobile 6.1, so you are not stuck with the pre-installed version 6.0. And best of all, most of these soft mods don't void your warranty. The next mod however will surely do.
Users report that you can upgrade the 64MB of RAM to 128MB by replacing the original BGA memory chip with an aftermarket one. It will void your warranty and you will probably need to use a qualified service for the fitting of the new chip. But then you can flash the Asus P750 with the same modded firmware so the device can make use of the increased RAM capacity. Some users report that the P750 is more stable when you choose a firmware which limits its available memory to 112MB, while others have successfully utilized the whole 128MB chip.
Those firmware mods can fix a lot of nuisance too - for example they can make the camera start upon a press-and-hold of the shortcut key, instead of the default short press. Or they can override the system prompt for scanning for new photos every time you insert a memory card. Those are minor things but worth the one-time extra effort. In case you are interested, a good place to start researching is here.
Final words
Asus P750 is an excellent handset and a fast performer in almost every aspect. There are downsides of course such as the relatively large body, relatively small display, the low amount of RAM and the hopeless camera (that still might be a unit-specific issue). On the other hand, the P750 offers commendable build quality, nice choice of materials and excellent ergonomics.
Asus have not taken care of the not-so-thumbable Windows Mobile interface, but it's a flexible platform and some third-party customizations will sure allow more touch-centric operation (as opposed to stylus based). Once that's been taken care of, you will enjoy the capable hardware, which simply blows competing HTC products such as Touch Cruise and TyTN II away.
Our final conclusion is that the Asus P750 is a must-consider when you're shopping for your next PocketPC. You can hardly go wrong choosing it as your next Windows Mobile handset.