Feature-rich 13MP camera
The Asus Padfone 2 features a 13MP auto-focus camera, which shoots stills of up to 4160 x 3120 pixels in 4:3 mode. There's also a 16:9 mode available, which produces shots with a resolution of up to 3360x1890. It's also capable of shooting 1080p videos at 30fps, as well as 720p at both 30fps and 60fps.
The available camera settings are laid out across two sidebars. The left one holds a button to switch between video and image shooting and four shortcuts - camera mode selection, camera effects, resolution and exposure. The last, fifth, button is for the camera settings menu.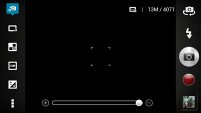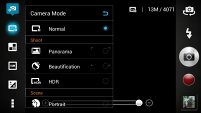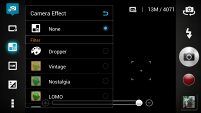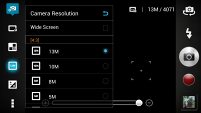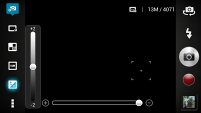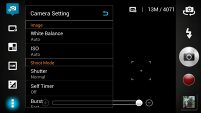 Asus Padfone 2 camera interface
At the bottom of the screen there's a zoom slider, which is handy for quickly zooming in and out without having to access additional menus. The right half of the camera UI holds the front/rear camera toggle, flash settings, shutter and camcorder keys, as well as a gallery shortcut to see the last photo taken. Mind you, Asus has enabled the volume rocker to act as a shutter button.
The sensor sitting behind the camera protection glass is a Sony-made BSI with a 5-element lens and f/2.4 aperture. There's also a dedicated LED flash which is helpful in low light. There's also a dedicated image signal processor which helps the Padfone 2 shoot up to 100 continuous shots in burst mode thanks to the zero-lag shutter.
The camera of the Padfone 2 also offers an array of features and modes including Panorama, portrait and HDR. Asus has added an additional mode dubbed Beautification. Besides face detection, it's an advanced sort of facial recognition and lets you have some fun with eye enlargement effects as well as ski shine and post-process cheek blushing.
The image quality of the shots produced with the Padfone 2 was pretty good with plenty of resolved detail and nicely accurate colors. Noise levels were also pretty low, making this one of the better cameras out there. Alas, we didn't enjoy the best of weather these days, so the samples aren't as good as they could have been, but they still hint at the good potential the smartphone's camera has.
Solid video recording
The Asus Padfone 2 records 1080p and 720p videos at 30fps, as well as 720p at 60fps. It can also snap photos during video recording.
Videos are stored as .mp4 using the h.264 (Baseline Level 3 for 720p, Baseline Level 4 for 1080p) and records stereo audio at 160kbps, 48KHz.
Continuous auto-focus is available here as well, but you can switch to Smart-AF, allowing you to set a single point using the touchscreen.
The Padfone 2 managed to produce nicely detailed movies with accurate colors and next to no noise. Framerate was consistently high too, and if it wasn't for the unwillingness of weather gods to cooperate you would have certainly seen some of the best footage we have posted.
Here's the untouched 1080p video sample (0:30s, 71.5MB) video sample taken directly from the Asus Padfone 2. You can also download an untouched 720p video sample shot at 60 fps (0:03s, 15.7MB).