Connectivity
As the top dog in the Asus' hand-held portfolio, the Padfone 2 features a wide array of connectivity options. Starting off with the basics, the phone packs a quad-band GSM/GPRS/EDGE and penta-band 3G. The latter is backed by HSPA (42Mbps downlink, 5.76Mbps uplink). There's also support for 100 Mbps LTE if you are lucky enough to get that in your area.
The Wi-Fi support covers a/b/g/n, with both 2.4GHz and 5GHz band compatibility. Wi-Fi Direct and DLNA are part of the package, of course. Wi-Fi Direct is a technology, which enables devices to connect to each other without the need for a Wi-Fi hotspot. The beauty of it is that only one device has to be Wi-Fi Direct-ready for the magic to happen.
Using this technology, two (or up to eight) devices can share files in a more advanced, fast and secure way, paving the road to an eventual Bluetooth demise.
NFC is also on board with support for Android Beam. With NFC you can share contacts, URLs, memos, messages, calendar events or even a call request to another NFC-enabled device or a tag.
The Padfone 2 also comes with a built-in A-GPS receiver that can rely on a digital compass and a barometer too (this helps get faster GPS locks).
For wired connections, the Padfone 2 utilizes its special, 13-pin USB port. Sadly, it doesn't come with support for mass storage, but it does support MTP, which is second best.
Thankfully, the Padfone 2 comes with USB on-the-go too, so You can hook up a USB flash drive and browse its contents. Pairing with a keyboard and a mouse isn't a problem, either. There's MHL support as well, allowing you to hook it up to an HDTV and is perfect for playing movies on the big screen.
Stock Android web browser is still great
The stock ICS browser has a streamlined interface, incognito browsing and other cool features. Since the Padfone 2 runs Jelly Bean, you can't sideload Flash support onto it. We weren't able to get YouTube videos to play in-page, and Flash games were a no-go as well.
The browser UI is quite minimalistic; all you get is the URL bar with a tabs shortcut. Hitting the Menu key you get more options - Refresh, Forward, Save to bookmarks, Share page, Find on page, full settings and a couple of more - Request desktop site (no more hunting for that "Desktop" option buried at the bottom of the site) and Save for offline reading. There's also a scrollbar on the right, which makes for going up and down easy, as well as quickly zooming to the top or bottom of the page.
The full settings menu includes some really interesting options. For example, you can set your search engine to Yahoo or Bing, you can adjust text size and the level of which double tap will zoom in.
The browser borrows several features from its desktop counterpart. For example, when searching for something, if the browser is confident you'll click on a certain search result, it will start preloading that page right away so that it opens faster if you do click it. You can set this feature to work over Wi-Fi only to preserve data.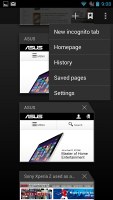 The other trick is Incognito mode - there's no global setting, but you can open Incognito tabs.
Speaking of tabs, the tab switching interface looks exactly like the Recent apps list. You can even close tabs by swiping them off the screen.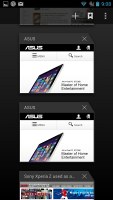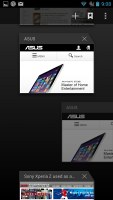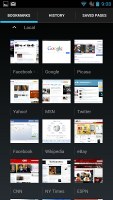 Switching tabs works the same way as switching apps does
Quick controls (available from the Labs settings) reveal five controls (New tab, Tabs, URL, Bookmarks, More) when you slide your finger in from the left or right. Another cool feature from Labs is Full screen, which squeezes in a little more screen real estate by hiding the status bar.