A different transformer
Asus Padfone 2 hands-on: A different transformer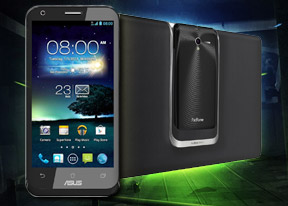 Asus just announced their new Padfone in Milan and we were on the scene to cover it live. The Asus Padfone 2 is an Android phone with the rather unique ability to become the heart of a tablet, just like the original Padfone.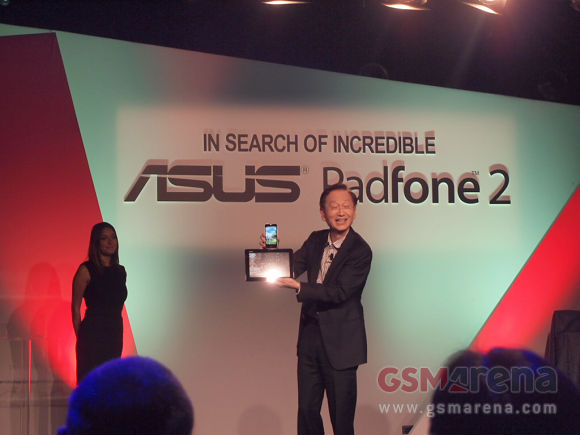 The specs have been upped and the new Padfone can go toe to toe with the best upcoming droid flagships. It has a 4.7" 720p Super IPS+ LCD screen, 13MP camera and a Qualcomm Snapdragon S4 Pro APQ8064 - you know, the one with the quad-core Krait processor and Adreno 320 GPU.
If you're thinking that this would make it one of the most powerful tablets around too, you'd be right. Just how does the Asus Padfone 2 turn into a tablet? With the tablet accessory, of course, called Padfone Station.
The tablet adds the two key ingredients that separate the Padfone from tablets - a big screen and a big battery. You get a 10.1" WXGA IPS screen and a 5,000mAh battery (in addition to the 2,140mAh battery in the phone itself). That's a bit less than the original, which had a 6,600mAh battery in the tablet.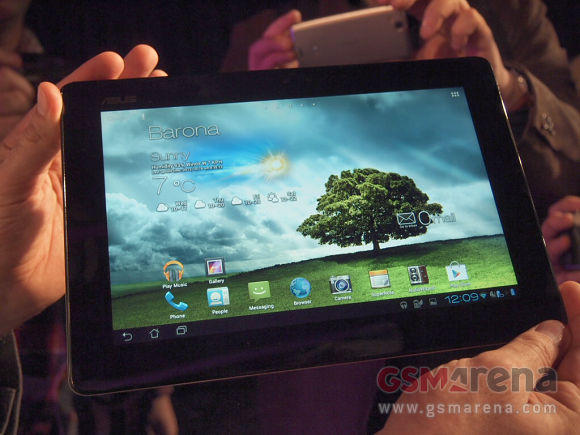 Still, there's an upside - the phone + tablet combo weighs only 649g (the Padfone 2 is responsible for 135g of the total weight).
The Padfone Station doesn't contribute much else, but the Padfone 2 has enough features for the both of them, including Android 4.0 Ice Cream Sandwich (JB coming soon), LTE, NFC and 720p video capture at 60fps.
Jump over to the next page for our hands-on impressions of the Padfone 2. On the page after that are some benchmarks and camera samples too.
A
Well they should have placed the cable plug for the tablet/station at the short sides, so you can charge it in wide/writing format while using it. Turn it around can work but not optimal because of the placement of the phone. Also the cable is short....
D
guys, does it support usb otg?
?
why it does't avilabe yet,