A different transformer
Asus Padfone 2 hands-on: A different transformer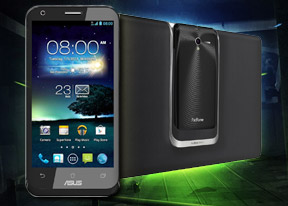 Camera
We snapped a few camera samples with the Asus Padfone 2 and while the lighting conditions weren't perfect and we didn't have time to get things just right (there were many people waiting their turn to test the Padfone 2), the 13MP shots are still interesting.
We also tried out the burst shot mode and it is indeed impressively fast. You press and hold the virtual shutter key and the phone will keep snapping photos until you release it. After, you can pick which shots you want to keep or just hit save all and review them later.
Synthetic benchmarks
The Asus Padfone 2 packs one of the most powerful ARM chipset available at the moment. With four Krait CPU cores clocked at 1.5GHz, 2GB of RAM and an Adreno 320, there's little that can stand in its way. The OS version is a bit of a letdown - Android 4.0.4 Ice Cream Sandwich - but Asus is working on an update. We expect to see a jump in performance after the update (especially from the web browser) and as usual, keep in mind that the Padfone 2 we tested might not run the final version of the software.
Even so, the Asus Padfone 2 aced the Benchmark Pi and Linpack tests, beating the LG Optimus G, which uses the same chipset and runs 4.1 Jelly Bean already.
Benchmark Pi
Lower is better
Asus Padfone 2
269
LG Optimus G
285
Samsung Galaxy Note II
305
HTC One X (Tegra 3)
330
LG Optimus 4X HD
350
Samsung Galaxy S III
359
Meizu MX 4-core
362
Linpack
Higher is better
Asus Padfone 2
653
LG Optimus G
608
Samsung Galaxy Note II
214.3
Meizu MX 4-core
189.1
Samsung Galaxy S III
175.5
HTC One X (Tegra 3)
160.9
LG Optimus 4X HD
141.5
The Padfone 2 scored pretty well in AnTuTu, especially considering that the benchmark isn't very kind to the S4 Pro chipset for some reason (it puts the Optimus G at the bottom).
AnTuTu
Higher is better
Samsung Galaxy Note II
13562
Asus Padfone 2
13262
Samsung Galaxy S III
12288
Meizu MX 4-core
11820
LG Optimus 4X HD
11735
HTC One X (Tegra 3)
11633
LG Optimus G
11206
We also managed to squeeze in a JavaScript test, because Asus made a point to brag about it. And we're not impressed - even though Jelly Bean will speed things up, the result should have been better. But the other S4 Pro phone doesn't do too hot here, so maybe it's a matter of time to optimize the JavaScript engine for this chipset.
SunSpider
Lower is better
Apple iPhone 5
915
Samsung Galaxy Note II
972
Motorola RAZR i XT890
1059
Samsung Galaxy S III
1192
Meizu MX 4-core
1312
LG Optimus G
1353
Asus Padfone 2
1437
LG Optimus 4X HD
1446
HTC One X (Tegra 3)
1468
First impressions
Asus is trying hard to break away from the traditional designs. The Padfone in particular is a sort of wild idea, but most people have probably thought about it. When you see a tablet teardown, usually you see smartphone components (same chipsets, same wireless radios and so on), attached to a big screen and battery. So, do you really need to pay for the same things twice if you want both a phone and a tablet?
The Asus Padfone 2 solves just that problem - you buy the common components once, then just pay extra for the bigger screen and battery. And the processing power of a smartphone is well enough to power a tablet.
Asus has already announced the pricing of the Padfone 2 and it might seem steep at first. But when you think about it, the Padfone 2 has the specs of a next-gen Android flagship and the specs of a high-end tablet all at the same time.
And the execution by Asus is excellent - the screen is great, the chipset is well ahead of current quad-cores (let down by the software, which isn't on the level yet) and the build quality left us with a positive impression. So, in the long run you actually save some cash - but more importantly, unless you absolutely need to use your phone and your tablet at the same time, you get a chance to join in on the future.