ASUS has sent out "save the date" notes for the launch of its Padfone 2 hybrid device. The second generation of the quirky smartphone with a tablet suit will break cover on October 16 at events in Taipei, Taiwan and Milano, Italy.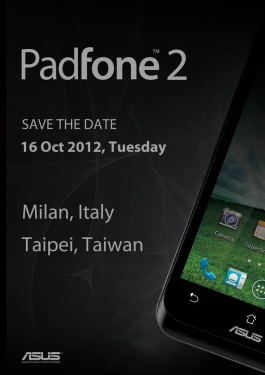 The specifications of the upcoming device are yet to be known. Rumor has it that the newcomer will pack a quad-core Qualcomm Snapdragon S4 Pro chipset, 2GB of RAM and Android 4.0 Ice Cream Sandwich - a significant boost over the hardware of the original.
While the ASUS Padfone 2's chipset is likely spot-on in the rumors, we doubt that we'll see the device launch with Android 4.0. Given that ASUS is the maker of the Google Nexus 7, it will be a surprise not to see Android 4.1 Jelly Bean on the company's upcoming flagship.
J
I don't think it's a stupid idea, because Asus has been pioneered this idea, who likes like, who doesn't too bad. If they decide launch Padphone 2, I sell my and buy this. The innovative concept is furthermore are providing a better device characteri...
Y
If Padfone 1 was only a test drive and because of that wasn't offered in many countries. Then I hope that the Padfone 2 will be the real thing (much more polished). I really like the Padfone "idea" And I like that companies are explor...
C
A 7" Phablet would be THE device for me Yes, a smaller one is good while I'm jogging but a laptop replacement for banking, web browsing, etc would be highly valuable to me
ADVERTISEMENTS