The Asus PadFone X features a 13MP auto-focus camera, which shoots stills of up to 4160 x 3120 pixels in 4:3 ratio. There's also a 16:9 mode available, which produces shots with a resolution of up to 3360x1890.
The camera interface consists of still and video capture buttons on the right and options on the left. There is a burst toggle on/off right on top of the still camera button.
The camera of the PadFone X features a number of shooting modes, including HDR, panorama, night, and GIF animation. When in auto mode, users also get a prompt when another shooting mode is more appropriate.
The images produced by the Asus PadFone X camera have a nice level of detail, accurate colors and good contrast. The noise is a bit high but it's nothing too bad. The processing is relatively sparing but at 1:1 magnification, the image is not as natural as we would have liked. That is especially noticeable with foliage. Of course, that may be just nitpicking. For most practical purposes, the PadFone X has an excellent camera.
Unfortunately, the much touted Low light mode is not very usable when handheld due to the really low shutter speeds it uses, but as long as you prop the phone on a sturdy surface it does fine with brightening otherwise completely dark scenes.


Asus PadFone X low light camera sample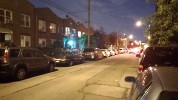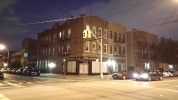 Asus PadFone X low light mode: Off/On • Off/On





Asus PadFone X HDR samples: Off/On • Off/On
Video camera
The video camera interface is the same as that of the still camera. It holds no surprises.
The 1080p videos have a bitrate of 17Mbps and the stereo audio stream is encoded with a bitrate of 96Kbps. The 1080p videos are recorded with a variable framerate with an average of 24fps and they seem fluid enough. The level of resolved detail is nice and the colors and contrast are good.
The 2160p videos have a bitrate of 46Mbps and the stereo audio stream is encoded with the same bitrate of 96Kbps. Unfortunately, these videos were not a smooth as the 1080p ones. The framerate was varying and quite often it went down below the average of 17fps. In the best possible conditions it maxed out at 25fps. The level of resolved detail is noticeably higher than the 1080p videos even when you watch them at a 1080p screen - there's just more clarity to them. However, we are not quite sure whether the compromise with the framerate is worth the extra resolution.
You can see a 4K video sample capture with the device below. Don't forget to change the video quality setting in order to see the full resolution.
And here goes a 1080p video sample.
If you'd like to check out what the uncompressed videos look like, you can download this 2160p@17fps sample (10s, 58MB), as well as this 1080p@30fps sample (15s, 32MB).