ROG UI
The Republic of Gamers brand has always logically had a certain "gamery" aesthetic attached to it. Buyers seem to appreciate and even expect a certain amount of aggressive lines, every conceivable shade of red, lots of mechanical, geometric and alien visuals. Even though there is a clear trend of toning-down the really "out-there" aspects of the ROG Phone line, especially with the new ROG Phone 5, it still delivers plenty of gamer "chic" out of the box. Massive-looking motion animations, glowing effects, flames, reactors. You get the gist.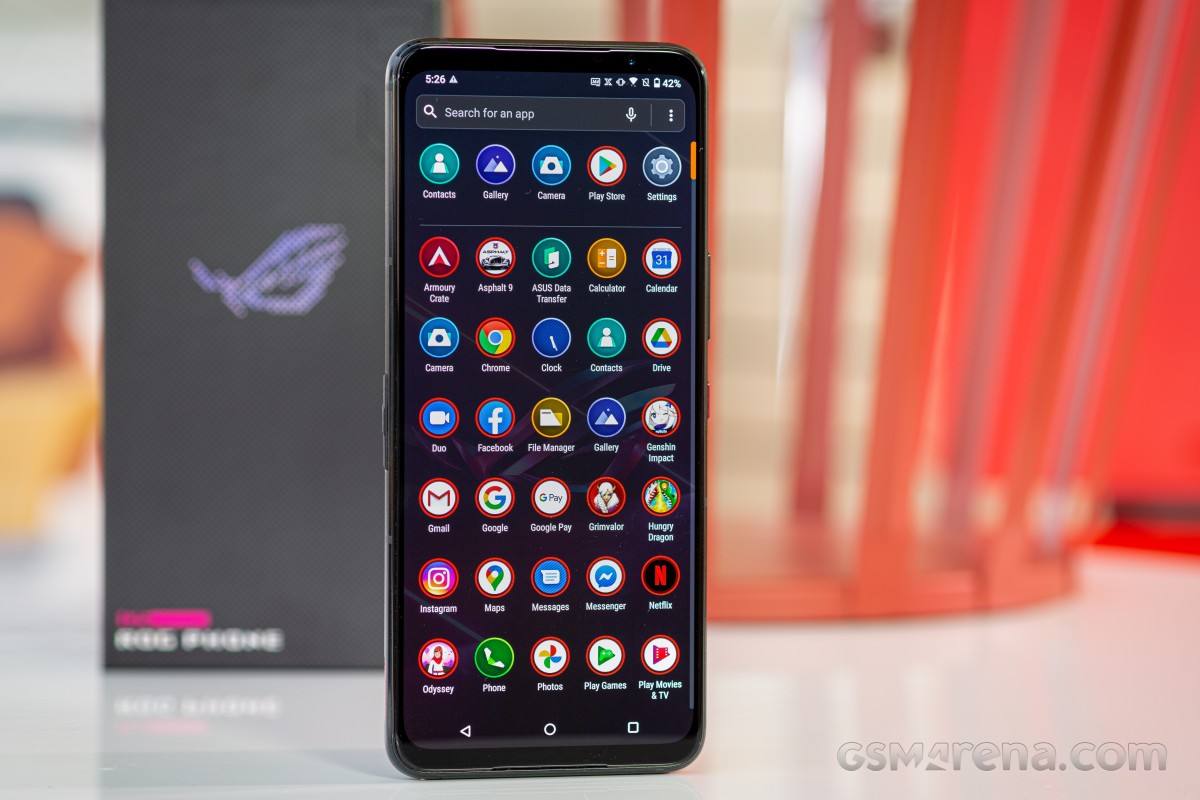 Not that much has changed visually since the ROG Phone 3 and, in fact, the ROG Phone II, as well. There are still plenty of upgrades under the hood, though, with the ROG Phone 5 rocking Google's current Android 11 out of the box. So, it's not a case of Asus just being lazy and rehashing old software. On the contrary, it's another example of clear priorities and deliberate actions.
The ROG Phone 5 is chock-full of all sorts of advanced options, toggles and menus all over the place. One swipe down for the quick toggles with the default ROG theme, and you might just feel like you are operating a nuclear reactor. The number of options you are expected to want to "quick access" is a bit staggering.
The first thing you absolutely need to try out is pressing the X Mode toggle. That kick-starts an impressive sequence that would fit right in a Transformers movie. An animation on the default wallpapers gets initiated, symbols start shifting, glowing borders start shining around icons. If set up accordingly, the RGB logo on the backfires up, as well as any compatible Aura Sync logo on attached ROG accessories.
Just in case this all gets a bit too much for you or simply isn't your cup of tea, Asus still includes a clean, almost AOSP-like theme as an option.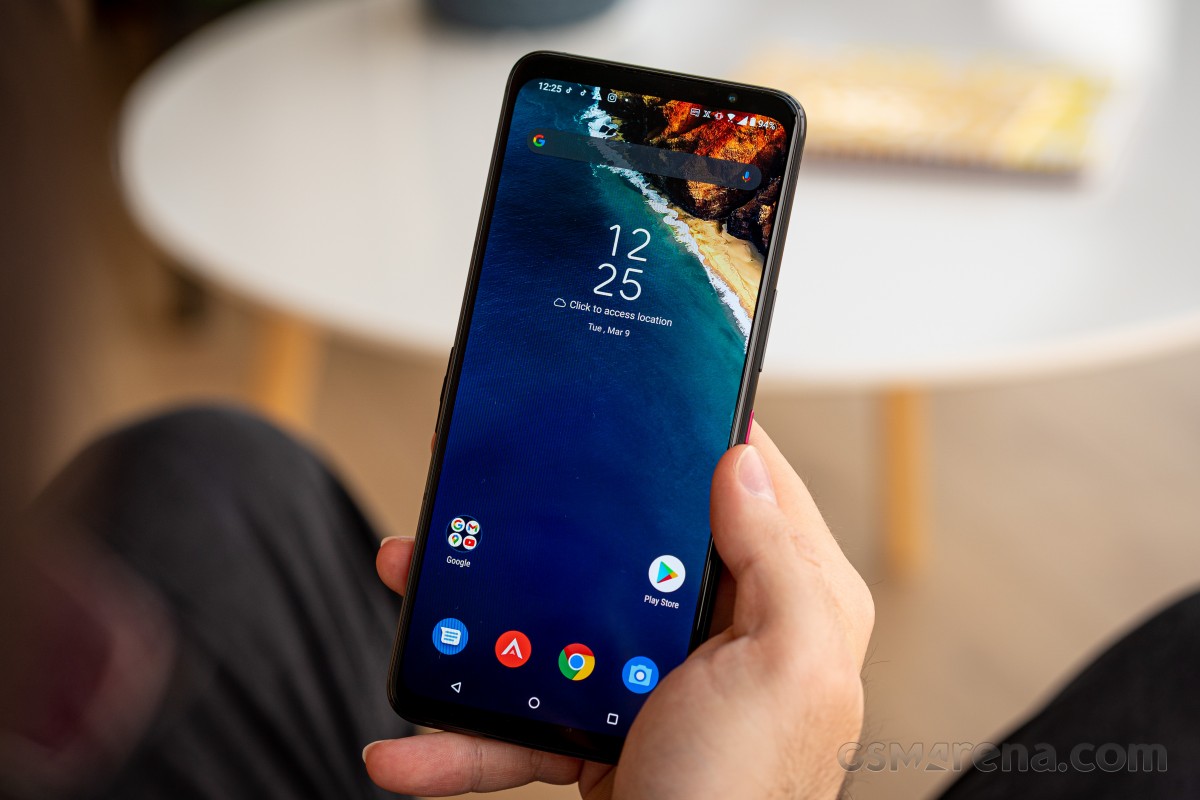 Now that the ROG Phone 5 has toned-down the actual physical gamer aesthetics even further than the ROG Phone 3, rocking the vanilla look on it sounds even more justifiable.
What you get is an Android AOSP experience. It's frankly a bit eerie. We imagine it almost feels like what a Boss key should open when you catch your kid playing games instead of studying on the computer. It's almost too clean, is what we're getting at.
In fact, the phone even complained when we initially enabled the basic ZenUI theme, adamantly warning us that we would be missing out on animated wallpapers that respond to X Mode. Joking aside, the theme engine in ROG UI is potent and includes a vibrant online repository with plenty of full theme and wallpaper options to explore. Both with and without a gamer spin to their look.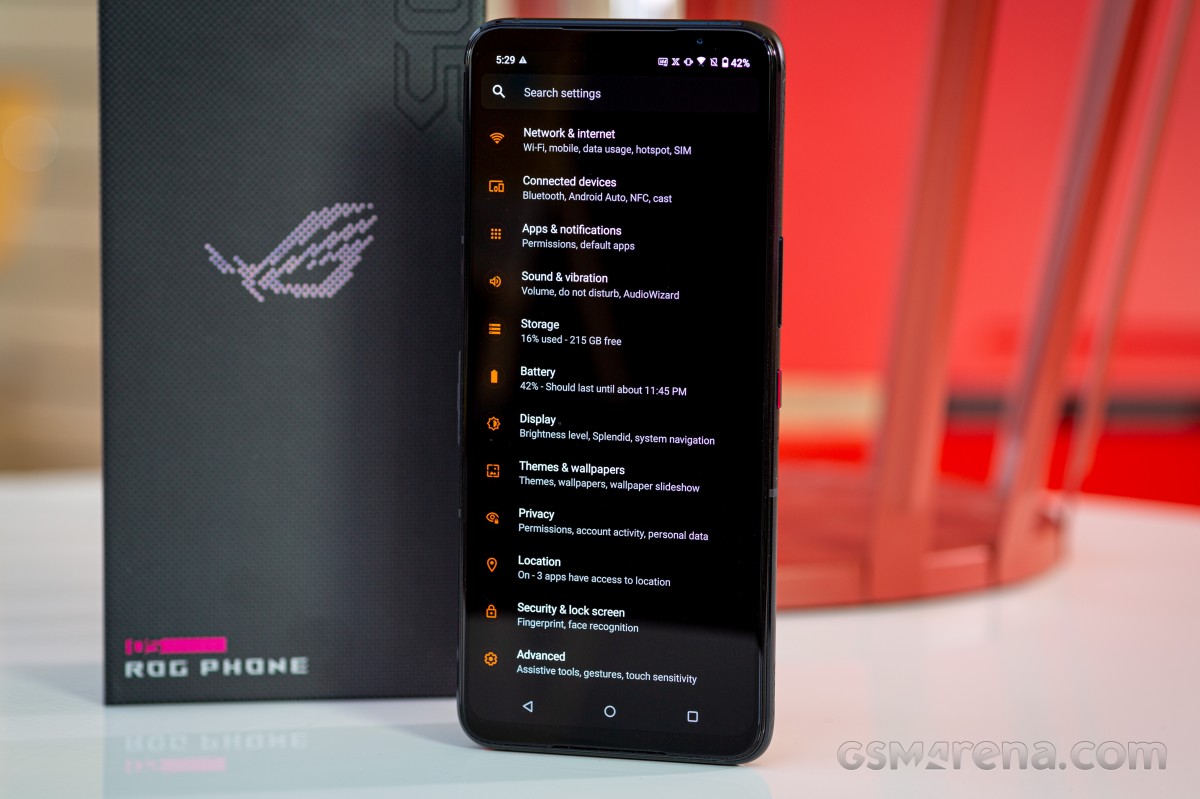 Speaking of options, the ROG Phone 5 has quite a few. To be fair, though, none that we would actually consider bloat. Every advanced feature included makes sense and is typically slotted and well-organized within a sub-menu or an app. Options are abundant but not chaotic.
The battery menu, for instance, has a few interesting gems hidden away. The PowerMaster menu from the ROG Phone 3 seems to be missing, but it's more of an organizational change than a loss of options. You can still adjust battery modes and their behavior, only now these are more closely tied to general phone modes and the X Mode interface.
The Battery care menu is also available, and so is the per-app autostart manager. Since the ROG Phone 5 is tuned for optimal performance, it makes sense that by default apps are prevented from autostarting until told otherwise.
We already discussed just how far Asus has come in terms of battery savings, controlled charging, and longevity options. Battery modes are now merged with the overall System modes. You can tweak the behavior and options of the three default modes and go more in-depth with the Advanced mode. There is no longer an option to create more modes beyond these, but we were never left actually missing that feature.
Asus has a solid set of Battery care features. They are easily on par with what Qnovo offers. Slow charging, max charging limits, and scheduled charging, now complete with intelligent auto-scheduling, make for a powerful set of tools. The platform even tracks your past charging cycles and warns you of sub-optimal behavior. Such care for battery longevity is a rare sight on the current smartphone scene and nothing short of a commendable effort.
Even though the ROG Phone 5 has plenty of subtleties in its display behavior, the corresponding settings menu remains clean and well-organized. Even without fully grasping what each option does, most users will likely find their way around it just fine.
If you missed our deep-dive into how the ROG Phone 5 handles a high refresh rate and the color reproduction options it offers, you can jump back to the display section for the detailed info.
The Advanced settings menu houses pretty much all the other system-wide additional goodies ROG, and Asus added on top of the Android 11 core.
Mobile manager is a unified interface for handling phone maintenance tasks beyond battery ones. Things like memory and storage cleanup, permission and security as well as data caps and usage.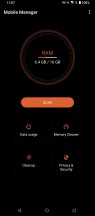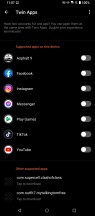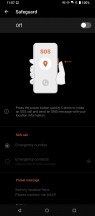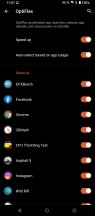 Mobile Manager • Twin Apps • Safeguard • OptiFlex
Thin Apps is fairly self-explanatory. It does require support from the app itself to work through. For convenience, there is a nifty list of apps you can download in alphabetical order. Neat! Safeguard offers SOS emergency contact options. And OptiFlex is a proprietary app launch optimizer that works in the usual way - caching certain resources, oftentimes in RAM, so that they can remain easily accessible to the most-used apps.
Gestures are aplenty on the ROG Phone 3. Quite in-depth, as well, including options for writing out virtual letters on the display and actions based on double-taps and motion.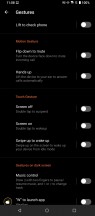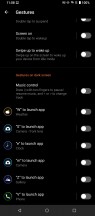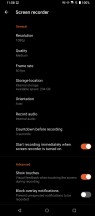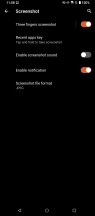 Gestures • Gestures • Screen recorder • Screenshot
There are in-depth controls dealing with both Screen recording and Screen capture in the advanced menu as well. Things like resolution, orientation, whether or not to record sound and touch inputs are all configurable. A small touch, but one that shows Asus is really keen on catering to their streamer and content-creator audience.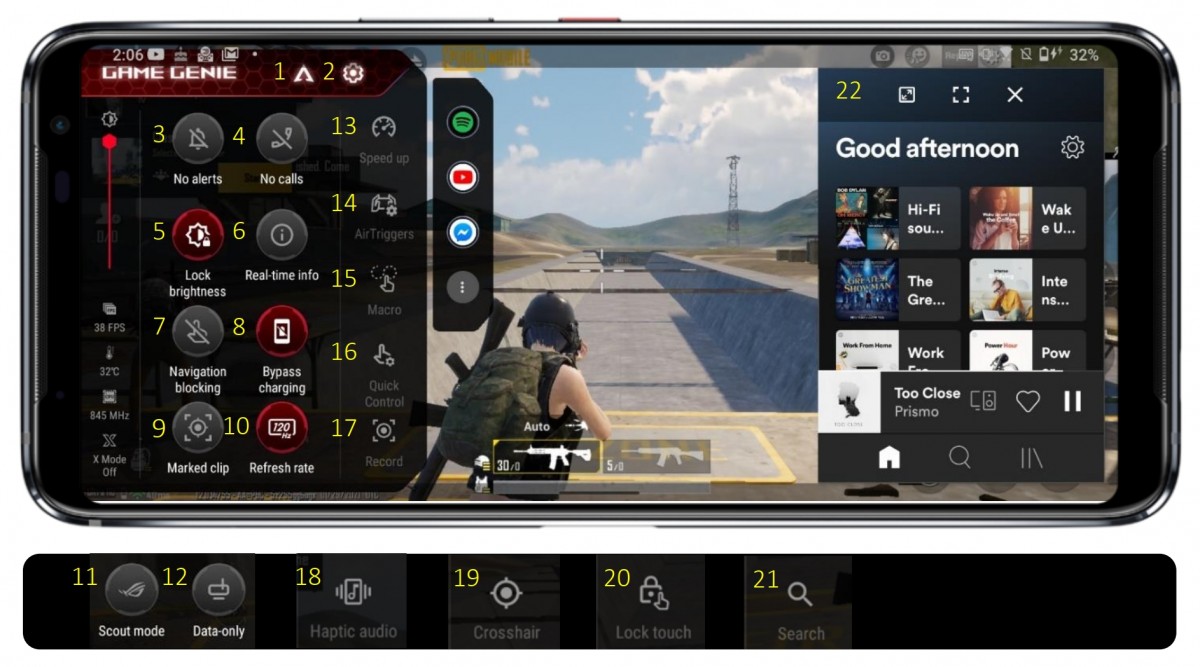 System-wide optimizations and tools are good and all, but Asus has made sure to invest the bulk of its effort into software laser-focused on improving the gaming experience in particular. Most of it was present on the ROG Phone 3 and the ROG Phone II, before that and is inherited from them, but also incrementally enhanced.
We'll start with Game Genie first, before going in-depth with Armoury Crate, since the two are technically separate entities. Even though they are very tightly-knit.
Game genie is essentially an in-game overlay that gets automatically enabled for games but is supported for any other app, as per your desired settings. A swipe from the left side of the screen brings it up, and its main goal is to offer convenient access to gaming-relevant features.
Most of the options are easily self-explanatory, like the toggles to disable calls and notifications, lock the brightness or cycle between the current display refresh rate. There are a few less obvious or alternatively, more-involved features here as well. Floating window is a nifty one. Once you set up your preferred apps in the settings menu, they appear as little icons on the right side of the Game Genie interface. Beyond that, the feature is pretty straight-forward.
The ability to get a real-time performance overlay is a nifty, albeit not entirely new ROG trick. CPU and GPU load, temperature, battery level and fps count are all available in the Game toolbar, which can be freely dragged and positioned over the game. There is even an experimental feature that tries its best to estimate how much game time you have based on your current load with the battery charge remaining in the phone. A new addition to the mix is also a simpler timer interface.
Some of the more-powerful goodies are those arranged vertically on the right end of the Game Genie interface. Speed up simply triggers a background app cleaner task. Nothing too special, but still convenient to have in reach.
The Air Triggers menu holds a lot of potential. This is where you go to set-up basic mapping for on-screen controls to the AirTrigger 5 ultrasonic buttons, as well as the newly-expanded motion control gesture on the ROG Phone 5. If you have the Pro or Ultimate version or you have the AeroActive Cooler 5 attached, the respective additional controls will be available for mapping here as well. There are more extensive menus to dig through for these features within Armoury Crate, but this menu has the benefit of being simple and intuitive to use.
Macros are equally easy to record via the Game Genie option. You just play out the actions once and then review and correct as needed. You can have multiple macros for a single game, and those can even be mapped to controls, like AirTrigger 5 or other third-party accessories.
If that sounds a bit like cheating to you, wait until you hear about Key Mapping. In our books, it is probably the single greatest gaming-geared software tool Asus has brought to the table with the ROG Phone family. It's an incredibly in-depth interface for mapping on-screen controls to physical ones. Directional pads, buttons, sliders all work and do so really well.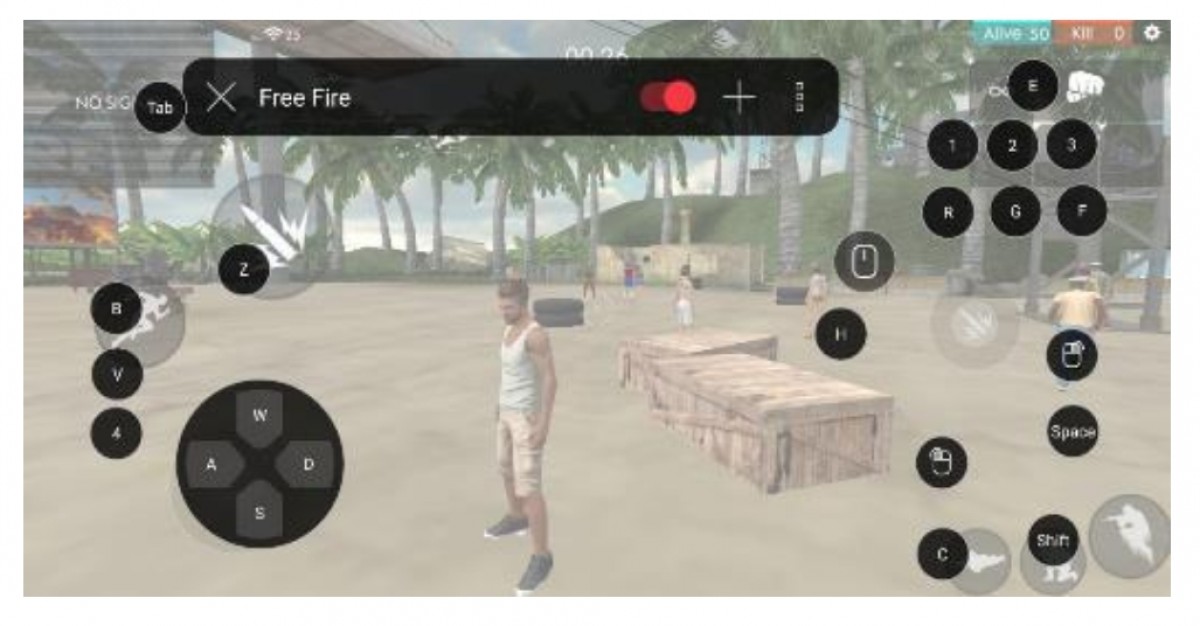 So, the real fun begins when you connect the ROG Phone 5 to a compatible accessory, like the ROG Kunai 3 Gamepad. Every button on that controller can then be mapped to an on-screen control, effectively giving you console-grade physical controls inside a game meant to be played on touch screens.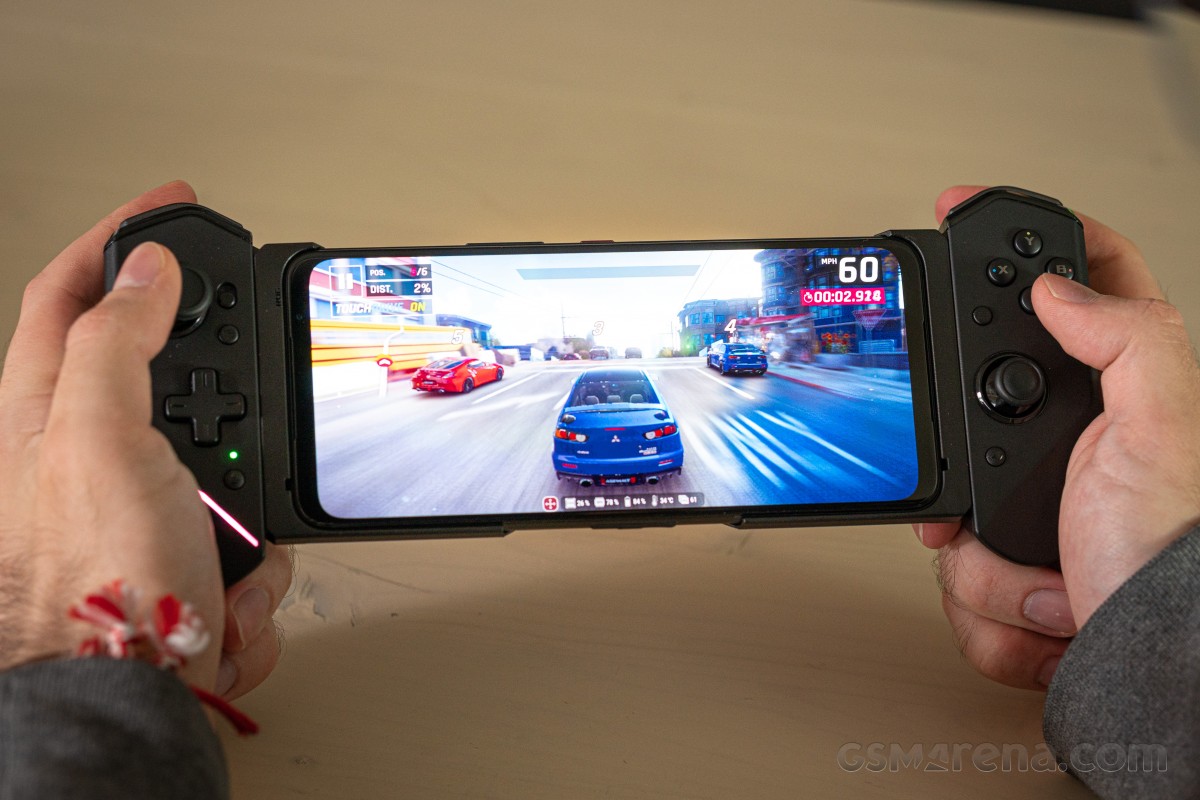 This is a good place to note that the Kunai 3 Gamepad, introduced with the ROG Phone 3 does, indeed work with the ROG Phone 5.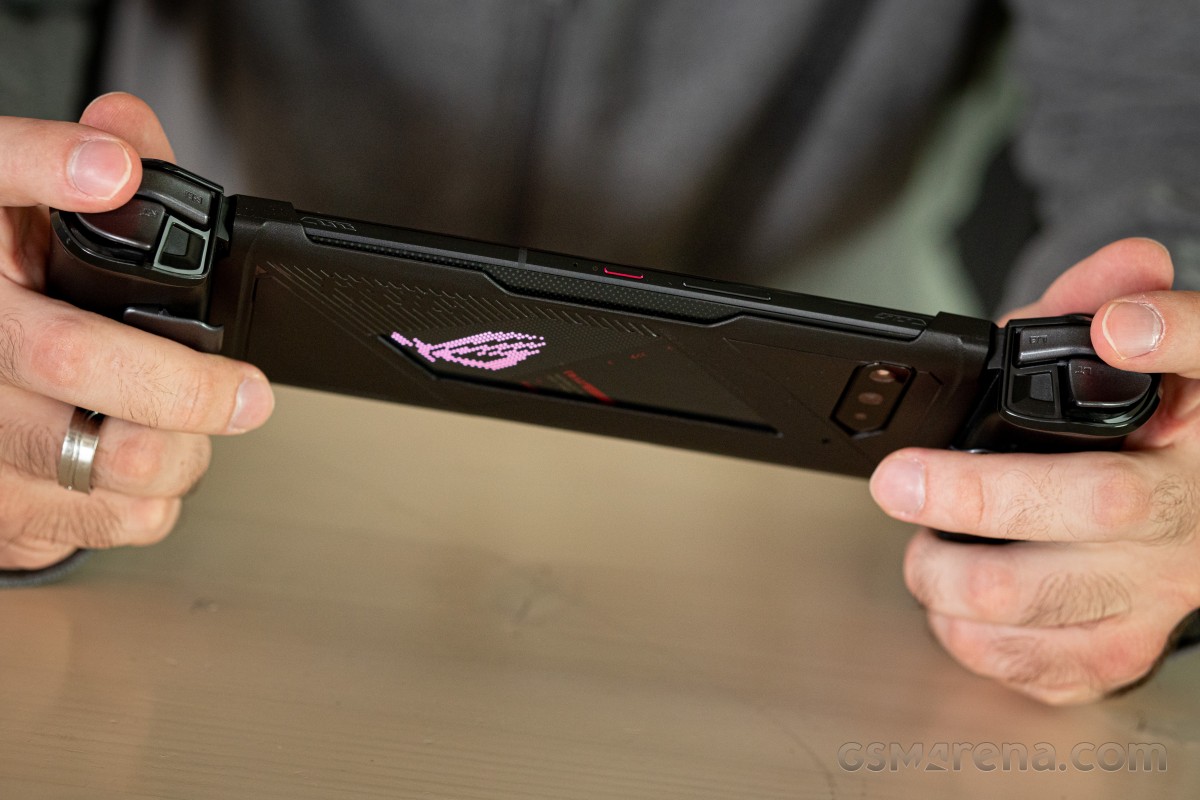 However, with an important caveat - in order to use it in wired mode, you need to either get the new release, now sold alongside the ROG Phone 5, or if you have one of the original models, you need to reach out to Asus support to get a replacement middle frame. A slightly larger one to accommodate the extra length of the ROG Phone 5.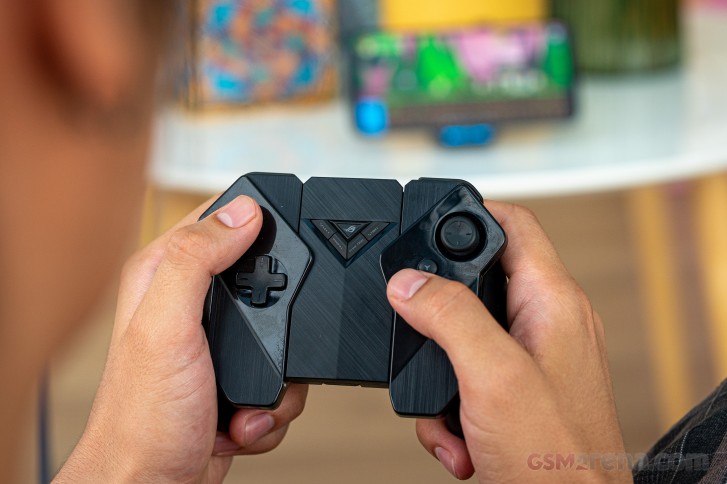 You can read more about the ROG Kunai 3 Gamepad in our dedicated Asus ROG accessory review.
Back to control mapping on the ROG Phone 5, things get even better when you connect it to a mouse and keyboard combo and map those to on-screen controls. While other similar solutions to achieve this level of frankly cheating in mobile games do exist (most notable Octopus), Asus' offer is unique in its depth and low-level method of operation.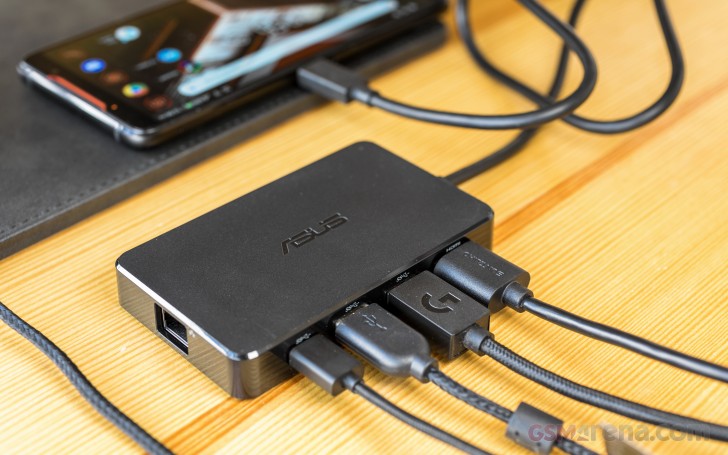 Unfortunately, Asus did break compatibility with the ROG Mobile Desktop Dock with the ROG Phone 5. To get a keyboard and mouse working, you can still rely on the lass-fancy and KVM-less ASUS Professional Dock. You can read more about both in our ROG Phone 3 review.
Marked clip. It is a configurable quick-capture feature that is meant to instantly save a short gameplay moment while in action.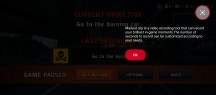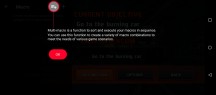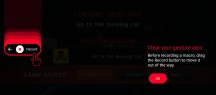 Marked clip • Macro recording and management
Most of the features within the Game Genie interface and their order can be adjusted. The same goes for the Game toolbar. This can be done from a few menus, including one inside Armoury Crate and another in the general Settings menu of the ROG Phone 5.
Asus Armoury Crate - Gaming portal
Armoury Crate has become a staple of the ROG Phone experience. Not changed in any major way, but with plenty of visual tweaks and small, yet often crucial improvements in behavior and organization.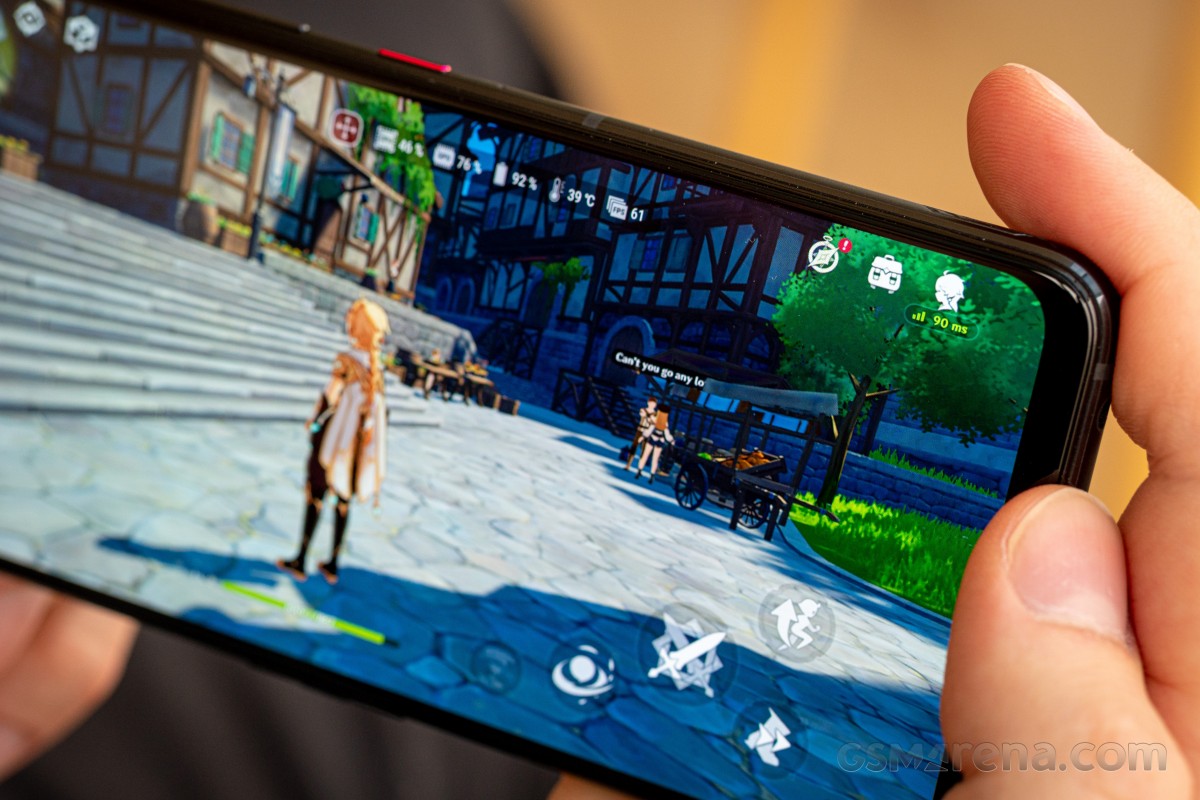 Armoury Crate UI has been refreshed quite a bit this year and in many ways features a more "toned-down" gamer aesthetic, to go along nicely with the cleaner exterior of the ROG phone 5 itself.
We'll start the tour from the first tab - Game Library and by first noting that crucially, unlike with previous version of Armoury Crate, you are no longer locked to landscape mode within the app! This was a major annoyance, and we are glad to see it go.
From the main ASUS Armoury Crate interface, you get a few options. The most obvious one being your game card interface (or benchmark and any app you would like to run with a custom performance profile). Each entry gets its own "crate", as the Asus terminology goes. And each crate has its own Game Profile. Custom covers are now supported, and you get a few sorting and display options.
Profiles, now dubbed Scenario Profiles 4.0, are a set of settings for different aspects of the ROG Phone 5 that get automatically applied when the game/app is launched. You don't even have to launch said apps through Armoury Crate to have the settings apply.
This set of menus has gotten a bit of a redesign this year and is now arguably simpler to navigate. The first screen houses tweaks to the Touch behavior, like sensitivity for tapping and sliding as well as precision. Then there is the Display tab, which allows for per-app refresh rate settings, as well as actual graphics quality manipulation.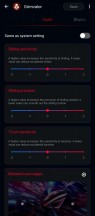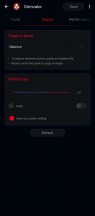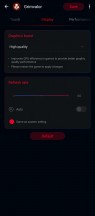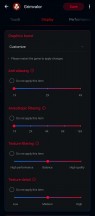 Touch settings • Display settings
You could simply go for one of the two graphics quality presets - Balanced and High Quality. Alternatively, you can go for an advanced approach and customize Anti-aliasing, anisotropic filtering, texture filtering and texture detail on individual sliders.
This is the kind of PC-like, driver-level tweaking that Asus excels at, and that's very rare to find as an out-of-the-box experience with any of its competitors.
Things get even more-impressively in-depth in the next Performance tab. In a bit of an odd choice, this interface still uses the older-style ROG Phone performance level notation, as opposed to the new and simpler X mode system. To be fair, the two are closely connected, and you can just choose to follow the current system setting, but beyond that, you still get a choice between L1, L2 and L3 performance levels.
You can then go down another level of granularity by choosing Customize, which unlocks individual Temperature control, CPU performance, GPU performance and RAM performance sliders. Like we already mentioned in the performance section of the review, these are not truly "overclocking" options in the traditional sense, but rather offer an ability to adjust limiters.
Beyond that still, there is an Advanced Hardcore Tuning menu underneath. This is what really separates the ROG Phone line and Asus from the rest. You get a very, very lengthy menu of actual system-level values and offsets for various modules and parts of the phone's internals. Values lifted straight from the /sys/ folder, which you normally can't even get to without rooting your device.
Messing with these can, naturally, be detrimental to your experience. You are unlikely to damage the phone's hardware in the process, and there is a button to restore the default values, but you should still only tamper here if you know what you are doing. If that is the case, some amazing things can actually be pulled off.
For instance, if you are familiar with the performance characteristics of a given game you play and just happen to know that it does not rely heavily on the clock rate of the biggest and most powerful core, but rather tends to spread-out its load among smaller cores, you can tune-down the primary core on the Snapdragon 888 and save on battery, produce less heat and get a smoother experience, delaying thermal-throttling for longer.
The Network tab has only a couple of toggles, but both potentially vital. One limits all background sync activity while playing a given game, which can be the difference between a smooth experience and a sudden ping-spike. The same goes for automatically switching between Wi-Fi and a network data connection. While in most cases, the ROG Phone 5 is smart enough only to do this when it would be beneficial, there are special cases. Some particular games might even drop your connection if you just suddenly change your IP address.
Air Triggers, Key Mapping and Macros all get their own separate tabs in the Scenario Profiles interface. These actually show a list of all your various mapping profiles and macros, as set up for the given game, complete with convenient screenshots for the mapping overlay. These menus are mostly meant to be a convenient central location for managing your collection. Also, Armoury Crate includes a nifty feature to fetch mappings, triggers, and macros for popular games from an online repository.
You can also neatly package all of your Scenario Profiles settings, or a subset via the share interface and upload them online. That can also include any Advanced Hardcore performance tuning tweaks you might have painstakingly discovered and now want to contribute. The makings of a great community.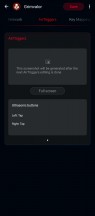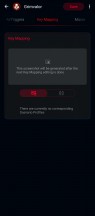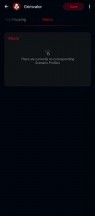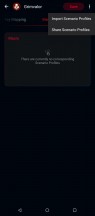 AirTriggers • Key Mapping • Macros • Profile importing and exporting
Moving on to the Console tab. Unlike profiles, the options here apply on a system-wide level. This is also where you can find nifty charts and graphs, representing your current profile choices and some readouts for hardware load and temperatures.
The current System mode is of course center stage in this interface. Asus decided to simplify the options here a bit, shying away from the older-style L1, L2 and L3 performance levels and instead going for a selection of Dynamic and X Mode, as the default and "performance" profile, also mixing in Ultra-durable, as the battery-saving mode. It makes a bit more sense this way.
You can tweak individual settings within every one of these System modes to make them your own. Alternatively, there is an Advanced mode, which offers a wider selection of tweaks still.
In another great bid for extra simplicity, X Mode+ is an additional special System mode that shows up automatically and replaces the regular X Mode when the AeroActive Cooler 5 is attached to the ROG Phone 5. Turning On the accessory also unlocks the Fan speed settings section. You get to either manually choose between four speed levels for the fan or an automatic option.
The System lighting menu and its options are mostly unchanged and familiar from the ROG Phone 5, with just one major new addition - a second color slider, since the ROG phone 5 now has two RGB LED lights within its ROG logo for even more impressive effects and strobes.
In terms of other options, you can pretty much tweak the ROG logo's behavior to your heart's content. Not only for simply animations and effects purely for the sake of looks, but also for much more functional means, like indication notifications and charging.
If you get either the ROG Phone 5 Pro or Ultimate versions, you get the ROG Vision display on the back of the phone instead of the ROG logo and, with that - a corresponding management interface.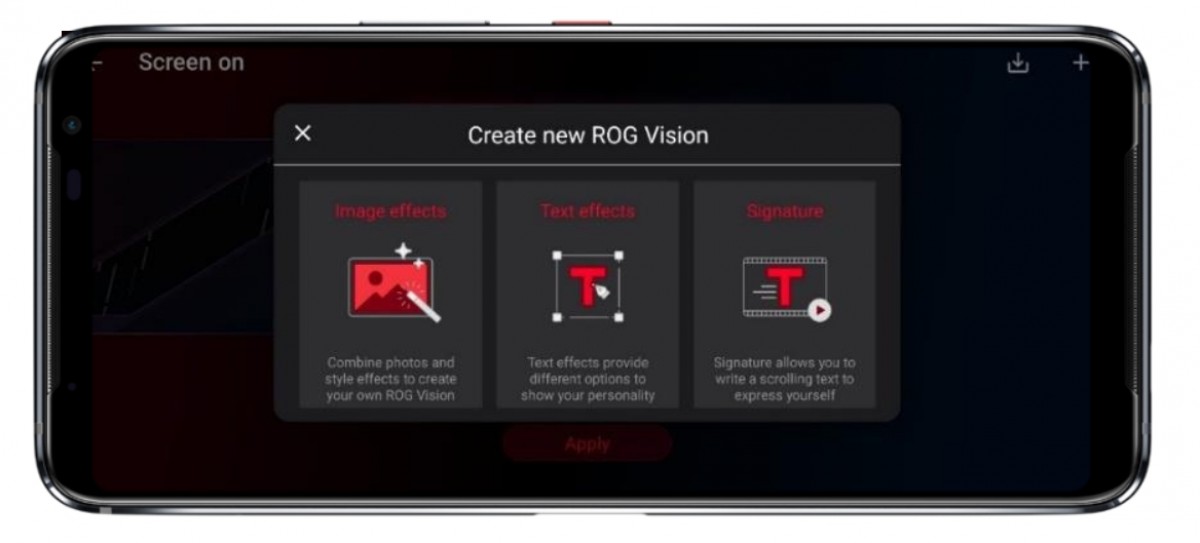 The display can handle anything from simple text and static images to fancy animations. There is a built-in editor, as well as an online repository for designs.
The Game Genie section houses a per-app list that determines which games and apps Game Genie will be active for. Also, a menu for editing the order of some of the features within the UI overlay.
Then there is the Air Trigger setup screen. This is where you can adjust sensitivity, trigger speed and distance, multi-button separation, and other behavioral aspects. Actual mapping is elsewhere within the Game Genie interface. On the ROG Phone 5, in particular, there are more behavioral tweaks to potentially do than even, with the introduction of its extended set or recognized motions.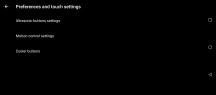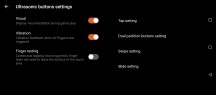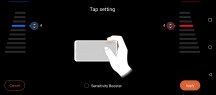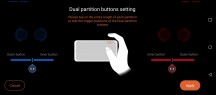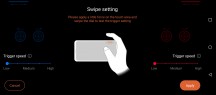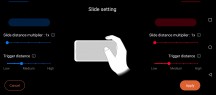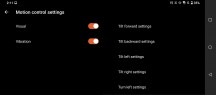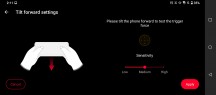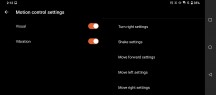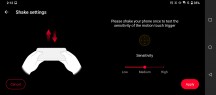 Air Trigger and motion gesture tweaking
Finding games that can make proper use of certain aspects of the ROG Phone 5 experience, like the high refresh rate or those that lend themselves well to mapping to Air Triggers or have native gamepad support can be a daunting task. Asus has its Featured tab, with corresponding curated lists of games. There can be the occasional mislabeled title in there, but overall, the Asus team is putting a good bit of effort into cherry-picking titles.
The Connect tab offers quick access to Asus ROG phone forums and the corresponding community. This is a great place for obtaining control maps and Scenario Profiles for particular games, among other things.
Finally, closing the software section off, we have to mention the new addition of a specific Esports Mode on the ROG Phone 5. It is a single, easy-to-enable option that puts the phone and all of its subtle aspects in a predefined state, approved for use in esports events.
A great little quality of life extra for both players and event organizers, which more than anything else lets the actual target demographic Asus has and has always had with the ROG Phone lineup shine through. The ROG Phone 5 is a pro-grade tool first and a general, end-user product second.