Asus ROG Phone II to be the first phone to ship with the Snapdragon 855 Plus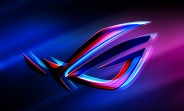 Asus has announced that its upcoming ROG Phone II will be the first smartphone running Qualcomm's newly announced Snapdragon 855 Plus chipset.
The new 855 Plus chipset is largely identical to the company's previous flagship, the Snapdragon 855, but features higher clocks, with the CPU now running at 2.96GHz instead of 2.84GHz. This results in about 4.2% improvement in CPU performance.

More relevant to the ROG Phone II, the Adreno 640 GPU in the Snapdragon 855 Plus has also been clocked higher and now promises an improvement of 15% compared to the standard Snapdragon 855.
This announcement may seem similar to the launch of the original ROG Phone, which features a specially binned version of the Snapdragon 845 that ran at slightly higher clocks. However, the difference this time is that while the original ROG Phone was the only device to feature that particular chipset, the Snapdragon 855 Plus will be available to all OEMs, with Asus just being the first to adopt it.
The ROG Phone II is expected launching next week on July 23.
V
It's actually a 120 hertz display, not 120 megahertz, extra refresh rate adds to fluidity overall, some games do offer 90 Hz refresh rates though
s
there are actually a few mobile games that can go up to 120fps. i know refresh rate is different from fps, but they of course are relative. i have used the razer phone 1 and 2 for almost a year now, and you can indeed see the difference in fluidity o...
ADVERTISEMENTS