Full throttle
ASUS Transformer Pad TF701T review: Full throttle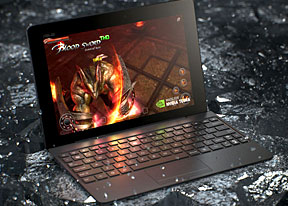 Mobile dock
The ASUS Transformer Pad's mobile dock accessory is an integral part of the Transformer line experience. It's been around since the inception of the slate and turns the 10.1" tablet into an Android-powered ultrabook.
It sports a full-size QWERTY keyboard, additional connectivity ports and its own power source. The dock itself is made entirely out of plastic, which may not feel as premium as the slate, but it's still solidly made.



The ASUS Transformer Pad docked to the Mobile dock
The keyboard itself is of the Chiclet variety and is quite comfortable to type on, albeit a bit cramped. That's understandable, though, considering the little space ASUS had to work with. The keys are square, with reasonable spacing. Keys have low stroke but more than decent feedback. The only thing that might be a problem is the keyboard size (in laptop terms), but given the available space Asus actually did an excellent job here. And once you get used to it, you'll enjoy very decent typing speed.
However, as we found out, the dock does give in a bit in the center when you apply pressure. It's not the end of the world by any means, but it takes away some of the high-end vibe of the whole package.


The full QWERTY keyboard on the Mobile dock is excellent
Anyway, below the keyboard, there's a not too-small trackpad with no mouse buttons. It's slightly recessed from the surrounding surface, to provide proper touch orientation.
A two-finger tap acts as a right-click. Other gestures include two finger top and side scrolling as well as pinch-to-zoom. Those are more comfortable on the large 10.1" touchscreen, but it's nice of ASUS to double them on the trackpad as well.
The docking latch protrudes a tiny bit at the back of the dock. It's very strong; closing and opening it feels sturdy and solidly put together. The latch has two hooks that hold the tablet into place quite firmly. In fact, they hold the Transformer Pad so securely, that even turning it upside down isn't a problem as it almost feels glued to the docking station. It's actually locked and you need to undo the clamp to release the tablet from the keyboard.
At the bottom of the Mobile dock there are four tiny rubber feet to make sure it doesn't slip. On the right hand side we find a full-size USB 3.0 port and an SD Card reader.
The left side holds only the ASUS proprietary 36-pin connector port used for charging and data transfers.
Display
The ASUS Transformer Pad TF701T flaunts an excellent 10.1" IGZO IPS LCD display. The company has partnered with Sharp who supply their IGZO panel for the Transformer Pad. Thanks to the IGZO technology, the slate boasts a resolution of 2560 x 1600 pixels resulting in a pixel density of 300ppi.


The 10.1" IPS LCD display of the ASUS Transformer Pad
Simply put - it's a screen to behold. The Transformer Pad is among the very few tablets that rock a resolution this high. Everything looks extremely sharp and crisp, while colors are vivid. CONTRAST
Display test
50% brightness
100% brightness
Black, cd/m2
White, cd/m2
Contrast ratio
Black, cd/m2
White, cd/m2
Contrast ratio
ASUS Transformer Pad TF701T
0.40
450
1125
0.71
755
1119
Samsung Galaxy Note 10.1 2014
0.27
221
831
0.53
440
821
Google Nexus 10
0.26
223
859
0.50
443
878
Sony Xperia Tablet Z
-
-
-
0.53
531
996
Sony Xperia Tablet S
0.35
334
947
0.67
526
783
Samsung Galaxy Note 3
0
149
∞
0
379
∞
Apple iPad mini
0.25
208
838
0.51
458
812
Apple iPad 3
0.21
167
809
0.6
477
779
Apple iPad 4
0.21
163
797
0.63
476
762
Samsung Galaxy Tab 7.7
0
200
∞
0
328
∞
Asus Google Nexus 7
0.25
244
954
0.36
327
908
Samsung Galaxy Note 10.1
0.27
223
832
0.49
406
821
Samsung Galaxy Tab 10.1
0.31
257
826
0.55
502
915
Samsung Galaxy Tab 7.0 Plus
0.17
196
1141
0.34
424
1236
There's very little color and contrast loss when the slate is viewed from extreme angles. However, it's quite bright at 400 nits, which shows when you get the tablet outside the comfort of the living room. On a bright and sunny day you won't experience any issues working with the Transformer Pad.
Here's the Transformer Pad's display matrix up close: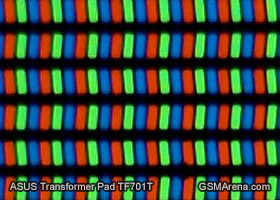 You can find all about our display testing routines here
Battery
The ASUS Transformer Pad TF701T is equipped with a 7820mAh Li-Po battery. By ASUS estimates, the tablet is expected to last up to 13 hours of continuous usage. Add the dock to the equation and ASUS reckons a total of 17 hours.
We ran our traditional battery tests on the Transformer Pad and we got a total of 10:07 hours of movie watching and 9:43 hours of web browsing. That's pretty impressive compared to the Galaxy Note 10.1 2014 edition, which got 9:02 hours of movie playing and just 7:39 hours of web browsing.
Web browsing
ASUS Transformer Pad w/ Dock
13:48
Acer Liquid E2
12:39
LG G2
11:22
Sony Xperia ZR
11:20
Samsung Galaxy S4 mini duos
10:10
BlackBerry Q5
10:04
HTC One
9:58
Apple iPhone 5s
9:58
Apple iPhone 5
9:56
Samsung Galaxy S4 mini
9:47
Motorola RAZR MAXX (ICS)
9:12
Apple iPad mini
9:05
Apple iPhone 5c
9:05
Samsung Galaxy Note 3
9:04
ASUS Nexus 7 (2013)
9:03
ASUS Transformer Pad TF701T
9:02
Samsung Galaxy S4 zoom
8:51
Samsung Galaxy Note II N7100
8:48
BlackBerry Q10
8:42
Nokia Lumia 810
8:20
Asus Padfone 2
8:20
Moto X
8:17
Huawei Ascend Mate
8:17
Samsung Galaxy Mega 6.3
8:17
HTC One mini
8:12
Nokia Lumia 610
8:01
HTC One X+
7:56
Sony Xperia E dual
7:42
Galaxy Note 10.1 2014 Edition
7:39
Samsung Galaxy S III mini
7:38
Nokia Lumia 720
7:37
Samsung Galaxy S4 Active
7:35
Samsung Galaxy S4 (S600)
7:24
Huawei MediaPad 7 Vogue
7:23
Motorola DROID RAZR MAXX
7:23
HTC Radar
7:17
Nokia Lumia 520
7:15
Samsung Galaxy S4 GPE
7:13
LG Optimus GJ
7:11
Gigabyte GSmart Maya M1 v2
7:10
Samsung Galaxy Grand Duos
7:09
Samsung Galaxy Express
7:09
Nokia Lumia 625
7:07
Motorola RAZR i
7:06
Samsung Galaxy S4 (Octa)
6:58
Apple iPhone 4S
6:56
Samsung I8262 Galaxy Core
6:54
HTC One V
6:49
LG Optimus G Pro
6:40
Samsung I9105 Galaxy S II Plus
6:40
Sony Xperia L
6:40
HTC Droid DNA
6:40
Samsung Galaxy Premier
6:40
Motorola Atrix HD
6:40
BlackBerry Curve 9380
6:40
Sony Xperia Z
6:37
Samsung Galaxy Xcover 2
6:35
HTC Desire 600 dual sim
6:34
HTC Desire 500
6:31
Huawei Ascend P6
6:30
BlackBerry Z10
6:27
Samsung I9300 Galaxy S III (JB)
6:27
HTC Butterfly
6:24
Sony Xperia SP
6:18
Samsung i937 Focus S
6:15
Nokia Lumia 510
6:13
Sony Xperia ZL
6:04
HTC Windows Phone 8X
6:01
Sony Xperia Z1
5:59
Sony Xperia ion LTE
5:56
Samsung Galaxy Fame
5:55
Samsung Rugby Smart I847
5:53
Pantech Burst
5:51
Nokia Lumia 1020
5:50
Samsung Galaxy S Blaze 4G
5:45
HTC Desire V
5:44
HTC Evo 4G LTE
5:41
Nokia Lumia 920
5:40
Samsung Wave 3 S8600
5:34
Oppo Find 5
5:33
Sony Xperia T
5:33
Samsung Captivate Glide
5:33
Samsung I8530 Galaxy Beam
5:28
Samsung Galaxy Note LTE
5:24
Sony Xperia Z Ultra
5:23
Samsung Galaxy S Duos
5:23
HTC Sensation XL
5:20
Meizu MX 4-core
5:19
Samsung I9300 Galaxy S III
5:17
Sony Xperia acro S
5:16
HTC Rezound
5:16
HTC Desire X
5:16
LG Optimus G
5:15
HTC Rhyme
5:08
Samsung I9103 Galaxy R
5:07
HTC One X (AT&T)
5:03
Sony Ericsson Xperia Pro
4:50
LG Optimus Vu
4:49
HTC Vivid
4:46
Samsung Galaxy Ace Duos
4:45
Meizu MX
4:35
Google Nexus 4
4:34
Nokia N9
4:33
Acer CloudMobile S500
4:32
Nokia Lumia 820
4:24
Samsung Galaxy S II
4:24
Sony Ericsson Xperia neo V
4:20
HTC One X
4:18
Nokia 808 PureView
4:14
LG Optimus 3D Max P720
4:10
Nokia Lumia 900 for AT&T
4:10
Nokia Lumia 800
4:07
HTC Titan II (LTE)
4:05
HTC One S
4:03
BlackBerry Bold 9790
4:02
LG Nitro HD
4:00
LG Optimus 4X HD
3:59
Sony Xperia P
3:59
Nokia Lumia 710
3:51
Nokia Lumia 620
3:50
Samsung Galaxy Pocket
3:47
Samsung Galaxy Note
3:35
Huawei Ascend P1
3:23
Samsung Galaxy Nexus
3:01
Video playback
Motorola RAZR MAXX (ICS)
16:35
ASUS Transformer Pad w/ Dock
15:29
Motorola DROID RAZR MAXX
14:17
Samsung Galaxy Note 3
13:32
Nokia Lumia 1020
13:12
Samsung Galaxy S4 mini
13:12
Samsung Galaxy S4 mini duos
12:52
Apple iPad mini
12:51
Samsung Galaxy Premier
12:51
Samsung Galaxy S4 GPE
12:32
Samsung Galaxy S4 (S600)
12:30
BlackBerry Q5
12:28
Huawei Ascend Mate
12:18
LG G2
11:51
Samsung Galaxy S4 (Octa)
11:29
Samsung Galaxy Note II N7100
11:27
BlackBerry Q10
11:15
Apple iPhone 5s
10:31
Apple iPhone 5
10:12
ASUS Transformer Pad TF701T
10:07
HTC One
10:02
Moto X
10:01
Samsung Galaxy Express
10:00
Samsung I9105 Galaxy S II Plus
10:00
Nokia 808 PureView
9:53
Samsung I8530 Galaxy Beam
9:42
Samsung Rugby Smart I847
9:34
Samsung Galaxy S4 zoom
9:30
HTC One S
9:28
Samsung I9300 Galaxy S III (JB)
9:27
Apple iPhone 4S
9:24
HTC Evo 4G LTE
9:07
Galaxy Note 10.1 2014 Edition
9:02
Sony Xperia Z Ultra
8:45
BlackBerry Z10
8:44
LG Optimus G Pro
8:40
Nokia N9
8:40
Samsung Galaxy Mega 6.3
8:34
HTC Butterfly
8:28
Samsung Galaxy Note
8:25
LG Optimus GJ
8:15
Samsung Galaxy Grand Duos
8:11
HTC One X+
8:11
Motorola RAZR i
8:11
Samsung Galaxy S II
8:00
Samsung i937 Focus S
7:55
Samsung Wave 3 S8600
7:52
HTC Desire 500
7:50
Samsung Galaxy S III mini
7:46
Sony Ericsson Xperia neo V
7:45
Apple iPhone 5c
7:41
Asus Padfone 2
7:38
Huawei Ascend P1
7:38
Samsung Galaxy S Blaze 4G
7:33
Acer Liquid E2
7:30
Samsung I8262 Galaxy Core
7:30
Sony Xperia ZR
7:30
HTC Droid DNA
7:30
Samsung Galaxy Note LTE
7:30
Samsung Galaxy Xcover 2
7:30
Sony Xperia SP
7:27
HTC One mini
7:23
Nokia Lumia 610
7:23
LG Optimus G
7:16
Samsung Galaxy S4 Active
7:03
ASUS Nexus 7 (2013)
7:03
Huawei Ascend P6
6:55
HTC Desire 600 dual sim
6:49
Nokia Lumia 720
6:43
Huawei MediaPad 7 Vogue
6:40
Meizu MX 4-core
6:33
Nokia Lumia 620
6:32
Nokia Lumia 625
6:29
HTC Windows Phone 8X
6:27
Sony Xperia E dual
6:27
Nokia Lumia 810
6:27
HTC Desire V
6:26
HTC One X (AT&T)
6:26
Nokia Lumia 820
6:25
Samsung Galaxy Ace Duos
6:25
Gigabyte GSmart Maya M1 v2
6:24
Nokia Lumia 510
6:23
LG Optimus Vu
6:23
Samsung I9103 Galaxy R
6:21
Nokia Lumia 920
6:19
Sony Xperia Z1
6:12
HTC Sensation XL
6:12
Samsung Galaxy Pocket
6:06
Samsung Captivate Glide
6:04
Sony Xperia ion LTE
6:03
Samsung Galaxy Nexus
6:02
Sony Xperia T
6:01
Motorola Atrix HD
6:01
HTC Vivid
6:00
HTC Radar
5:54
Nokia Lumia 800
5:52
Nokia Lumia 520
5:50
HTC Titan II
5:50
BlackBerry Bold 9790
5:47
HTC One X
5:45
Sony Ericsson Xperia Pro
5:44
Sony Xperia Z
5:39
Sony Xperia acro S
5:38
HTC Desire X
5:38
Pantech Burst
5:38
Sony Xperia ZL
5:28
Meizu MX
5:27
HTC Rhyme
5:23
HTC One V
5:20
Acer CloudMobile S500
5:18
Oppo Find 5
5:18
Nokia Lumia 900 for AT&T
5:18
BlackBerry Curve 9380
5:09
HTC Rezound
5:03
Samsung Galaxy Fame
5:02
Google Nexus 4
4:55
Sony Xperia L
4:44
Samsung Galaxy S Duos
4:30
Sony Xperia P
4:30
LG Nitro HD
4:17
LG Optimus 4X HD
4:14
LG Optimus 3D Max P720
3:28
Nokia Lumia 710
3:27