Full throttle
ASUS Transformer Pad TF701T review: Full throttle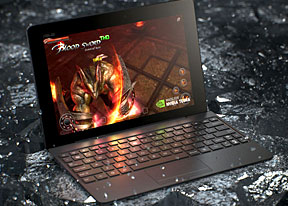 Android 4.2.2 Jelly Bean runs the show
The Asus Transformer Pad comes equipped with Android 4.2 Jelly Bean out of box. Right after we booted the tablet up we got prompted to update to Android 4.2.2 Jelly Bean, which was a nice surprise. Whether ASUS is planning an update to Android 4.3 or the soon-to-be-announced Android 4.4 KitKat is too early to tell, but history shows the company is taking good care of its flagship devices.
Jelly Bean means the Transformer Pad enjoys the benefits of Project Butter, which keeps the framerate of animations at a constant 60 fps and delivers buttery smooth visuals. Combining the power of the four Cortex-A15 cores and the Nvidia mobile GPU, the Transformer Pad offers a virtually lag-free user experience.
As usual, we've prepared a video tour of tablet's user interface, including a video demo of the mobile dock. Check it out below.
Asus continues to rely on a nearly stock Android look and feel, keeping the launcher and most of the user interface untouched. Nevertheless, the company has provided some customizations here and there that enhance the experience, which we'll point out to you as we go along.
The lockscreen is a standard stock Android 4.2 Jelly Bean affair. There's a large dotted circle around the right-positioned unlock button. Dragging around the unlock icon in any direction unlock the tablet. There's no camera shortcut anywhere to be found, but we won't say that's a big deal on a tablet.
And if you need it you can take advantage of the option to add up to eight custom app shortcuts. They take the top half of the circle and are easy to select.
As this is Jelly Bean, the left side next to the unlock button gets treated with lockscreen widgets (one widget per a pane). You can view multiple of them by sliding the widget to the left. To add a new one, tap the plus icon to unveil all of the available widgets.
The Transformer Pad also rocks multi-user support. If you have more than one user set for the tablet, you'll see their images as circles at the bottom of the screen. This is a great way to share a tablet at home as everyone will get to use the Transformer Pad as they like - as long as you don't want to use it at the same time, of course.
You can tap a circle to switch to that user, which will also change everything from settings through what installed apps are installed to what files are accessible. So, if you snap a photo while signed into your account, it will only be accessible from that account. That works even when you hook up the tablet to a computer - you can't access files from another account.
Anyway, the default Jelly Bean homescreen has hardly changed from stock Android. There are still the usual five homescreen panes, with no option for added more, or removing unneeded ones. For that you'll need a custom launcher (many good ones are available for free on the Play Store).
A portion along the bottom of the display has been reserved for three on-screen buttons - Back, Home, Recent apps and Floating widgets (more on that later). These buttons, safe for the latter, are placed in the center, which on a 10.1" tablet in landscape orientation can be hard to reach.
Above them are eight customizable app shortcuts divided into two groups of four. In the middle, there's the app drawer icon.
Asus has been kind enough to include some custom widgets of their own including a task manager, number of unread emails, along with Weather and Battery widgets.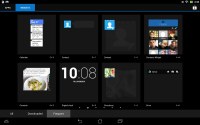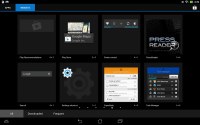 ASUS adds its own custom widgets
The notification center has been slightly revamped and looks a bit different from stock Android.
Quick toggles have been added , plus shortcuts to the settings menu and Wi-Fi networks. ASUS has included shortcuts to its special Asus Audio Wizard feature, screen and sharing settings. Below the quick toggles, there's a Brightness slider with an Auto option for quick screen adjustment.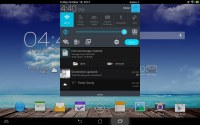 The notification drawer is quite functional
The quick toggle buttons themselves allow you to toggle Wi-Fi, Bluetooth, Mobile data (more can be added from the Settings menu). Notifications can be expanded and collapsed with a two-finger swipe, and the top one is expanded by default (if the app that put up the notification supports it, of course).
Folders in Jelly Bean haven't been changed since Ice Cream Sandwich. A folder is created by dropping a shortcut on top of another and can be renamed by tapping on the "Unnamed folder" label. Opening a folder expands it only by as much as is needed to fit the icons inside.
The app drawer on the Transformer Pad consists of five rows of icons and the usual Apps and Widgets tab at the bottom. ASUS has tweaked the drawer to allow for highly adjustable view modes. There are three tabs at the bottom that give you the option to see All apps or only the Downloaded or most Frequently used ones.
At the top right, there's an additional alphabetical sorting option. A cool addition is the App Lock feature, which allows you to lock an app and hide it from the app drawer. You can get access to it after you set a password, which you later use to gain access to the app "locker".
Once you get several apps running, you can use the task switcher to go back and forth between them. It's a Jelly Bean-style vertical list with a screenshot and a name for each app. A sideways swipe removes the app from the list.
One of the most prominent ASUS customizations to the user interface is the semi-circle menu that's revealed with a swipe up of the Home button. It's separated into two parts: the inner circle holds 5 predefined shortcuts - Voice search, Lockscreen, Google Now, App drawer and System settings. The outer part has up to 8 user-defined app shortcuts - they are the same ones as the lock-screen app shortcuts.
As we mentioned, Asus has added a fourth onscreen button - Floating widgets. Floating widgets are small, independent windows that are overlaid over anything else - the homescreen, regular full-screen apps, anything. You can fit two or three of those on the large 10.1" screen and they really improve the multitasking capabilities of the tablet.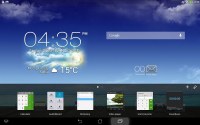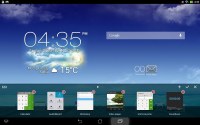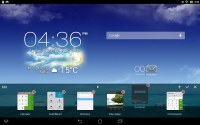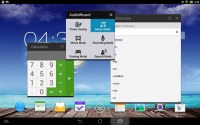 Floating widgets provide true multitasking
Available Floating widgets include a calculator, calendar, email, dictionary, Asus' BuddyBuzz and the AudioWizard. If you don't intend to use any of those apps, you can always hide them. Additionally, you can specify a custom Floating widget by selecting any of the available regular widgets. Then, it gets automatically made into a floating one.