Full throttle
ASUS Transformer Pad TF701T review: Full throttle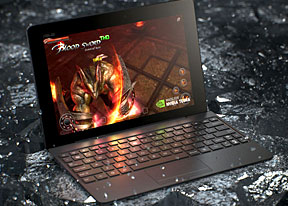 Gallery
The ASUS Transformer Pad Gallery app bears little change from its smartphone counterparts. The Default view of the gallery is Albums, which is what we're used to seeing - it lists all folders with photos in the phone. Rather than the familiar stacks, the app uses a grid of photos, two on a line.
Besides, Album view, you also get Locations (photos are grouped based on where they were taken), Times (grouped by when they were taken), People (if the photos have tagged faces in them) and Tags (these are general tags you can add manually).
A handy option is the 'Make available offline' feature - it lets you easily select multiple online albums and download them for offline viewing. The Gallery app supports online albums like Picasa (but not Facebook) and you can set it to sync photos only over Wi-Fi.
Inside an album, the photos are displayed in a rectangular grid, which is horizontally scrollable. When you try to scroll past the end, the photo thumbnails will tilt to let you know you can't get further.
The single photo view is updated too - above the photo there are several sharing shortcuts and a delete button, while below is a line of small thumbnails of all other photos in the album. You can tap those small thumbnails to move to other images or you can just swipe to the side.
The settings menu lets you do simple edits to a photo (rotate, crop) or go into a more capable editor with even more options. The editor can be accessed via a small icon in the bottom left-hand corner and offers light adjustments (so you can bring out the shadows or the highlights), effects, color styles, red eye correction, straightening a photo, sharpening and face glow (which detects faces automatically). Most of these options have a slider that lets you fine-tune the intensity of the effect.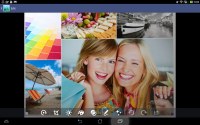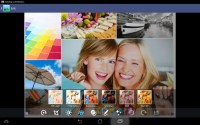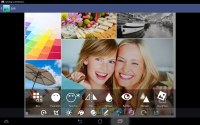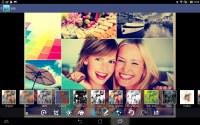 A more capable image editor is available too
An app called Movie Studio handles video editing and it's quite feature-rich. You can add multiple videos to the timeline and trim their start and end points. You can also include titles and effects (including transitions), add music, and there are multiple options available when you decide to export the video (resolution, quality, etc.).
It's a great app that can completely eliminates the need for a more powerful computer-based video editor for most people. The same goes for the image editor too.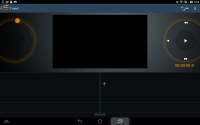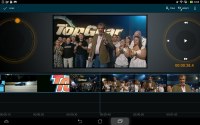 The Movie Studio app is a feature-full video editor
Music player
ASUS relies on Google's own Play Music player on the Transformer Pad TF701T. It features the Listen Now feature, which tries to determine what you like and the sequence of your track-changing so that it can start offering you music you might like to play next.
The Now Playing screen uses the song album art and gives you a quick shortcut to the rest of the artist's songs along with the play controls. You can also create playlists and Google will offer you to make a playlist of the most popular songs you play.
The Now playing interface features the album art with the track info and playback controls beside it. You can tap it to reveal more options - upvote/downvote the song, a scrubber and shuffle and repeat toggles.
From the Settings key you can get into the equalizer. It can be turned on and off and features several presets along with a user defined one. If you plug in a headset, you can also play with the Bass boost and 3D effect sliders.
Stock video player with choppy DivX playback
The video player hasn't got any attention from ASUS, albeit there being a dedicated videos app). The Asus Transformer Pads default video player offers very buggy support for either DivX codecs with playback being choppy. XviD is totally not supported.
The player is quite limited in what it can do - you get play/pause and a slider to scrub through the video but that's it. Support for subtitles and .WMV files is also still missing.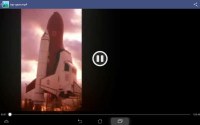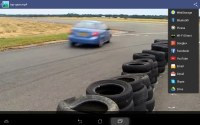 The video player is as bare as they get
What the Asus Transformer Pad plays very well, however, are .MP4 files. It didn't think twice about playing either 720p or 1080p full HD videos.
Ideally, you will be better off with one of the many alternative video players on the Google Play Store.
ASUS has also implemented wireless video sharing to a Wi-Fi-enabled TV. The feature relies on good ol' DLNA technology to connect and the Miracast protocol for streaming. It's another feature ASUS competitors have offered for a while and is nice to see ASUS offer similar functionality as well.
Audio quality disappoints
The Asus Transformer Pad TF701T didn't do particularly well in our audio output test. Its volume levels were pretty high, but so was distortion and frequency response left something to be desired.
Degradation when you plug in a pair of headphones was also fairly high as even more distortion crept in and stereo quality worsened by more than the average amount. We would have certainly expected better overall performance from a high-end device, let alone a tablet.
Check out the table and see for yourself.
| | | | | | | |
| --- | --- | --- | --- | --- | --- | --- |
| Test | Frequency response | Noise level | Dynamic range | THD | IMD + Noise | Stereo crosstalk |
| Asus Transformer Pad TF701T | +0.22, -3.36 | -90.6 | 91.2 | 0.142 | 0.940 | -83.0 |
| Asus Transformer Pad TF701T (headphones attached) | +0.71, -3.35 | -91.0 | 91.5 | 1.359 | 1.182 | -45.2 |
| Samsung Galaxy Note 10.1 2014 Edition | +0.01, -0.04 | -95.5 | 90.6 | 0.015 | 0.016 | -97.3 |
| Samsung Galaxy Note 10.1 2014 Edition (headphones attached) | +0.01, -0.05 | -95.2 | 90.5 | 0.0086 | 0.043 | -70.1 |
| Sony Xperia Tablet Z | +0.11, -0.10 | -87.0 | 89.2 | 0.033 | 0.030 | -87.8 |
| Sony Xperia Tablet Z (headphones attached) | +0.21, -0.36 | -86.6 | 88.8 | 0.114 | 0.233 | -45.4 |
| Apple iPad 4 | +0.04, -0.00 | -85.7 | 85.7 | 0.0019 | 0.0017 | -85.2 |
| Apple iPad 4 (headphones attached) | +0.00, -0.07 | -85.7 | 85.6 | 0.0027 | 0.093 | -81.0 |
| Google Nexus 10 | +0.03, -0.04 | -82.3 | 82.2 | 0.011 | 0.022 | -81.4 |
| Google Nexus 10 (headphones attached) | +0.09, -0.24 | -82.7 | 82.7 | 0.067 | 0.204 | -77.9 |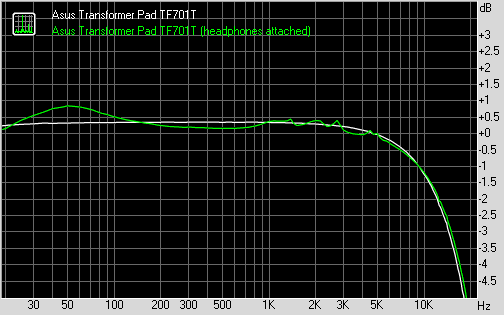 Asus Transformer Pad TF701T frequency response
You can learn more about the whole testing process here.