Asus India has sent out emails to fans, warning of a 'disruption in supply chain caused by the prevailing situation in Asia' that would lead to a temporary shortage of the ROG Phone II. It goes on to assure it's doing everything it can to restore the availability of the Phone II.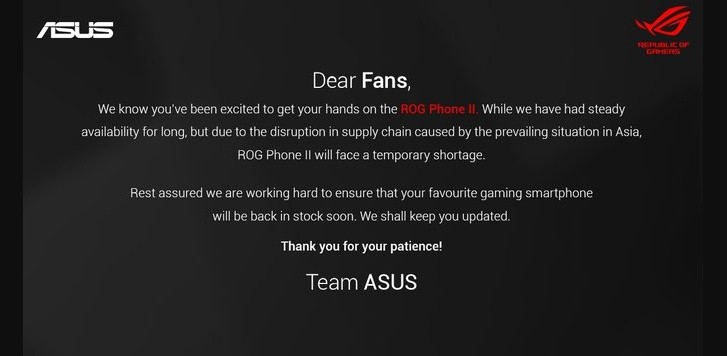 It's not made explicitly clear whether the disruption would affect the Phone II's India stock specifically, or we're looking at a global shortage.
Asus' statement comes amid a growing number of similar stories related to the coronavirus outbreak in China. Apple has just closed its stores in the country until February 9 while a few days ago Foxconn was quick to issue a press release refuting rumors that the Apple supply chain might be affected by the virus. Another report said it's not inconceivable that you wouldn't be able to find accessories for the upcoming Galaxy S20 phones due to the developments in China.
F
The RoG Phone 2 is one of the best technical experiences of my life! It makes me really happy! For all skeptics, I studied computer science, I'm not a noob!
Who are "we"? Did we ask you to be on behalf of us? It's just you, now excuse me I need to play some cod mobile games on my rog phone 2.
?
Yeah it's got faster charging(30% vs 50%) but then ROG 2 has 50% bigger battery. So while your phone shuts down coz of low battery, mine is still running. Not exactly smokes the ROG 2 in battery department.