Asus ZenBeam E1 is a palm-sized projector compatible with PCs, phones, and media streamers
Asus has announced a new projector that it says is capable of delivering up to 120-inch-diagonal projections. Dubbed ZenBeam E1, the pocket-sized device has an HDMI/MHL input, and is compatible with PCs, smartphones, as well as media streamers.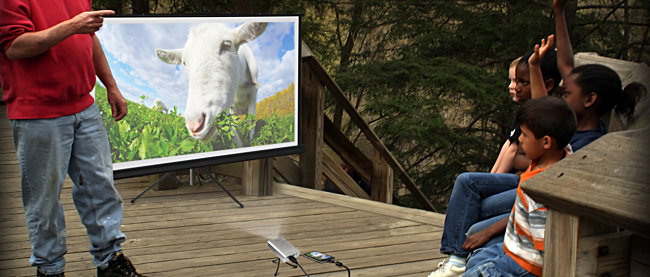 The ZenBeam E1 offers 150-lumen output with WVGA (854x480) resolution. It packs in a 6,000mAh rechargeable battery that the company claims delivers up to 5 hours of projection time. The projector also doubles as a power bank for mobile devices.
Measuring 83 x 29 x 110mm and weighs in at just 307g, the device carries a $249 price tag, and will be available for purchase soon.
C
How to project to a ceiling?
G
According to this research most people watching tv for about 3 hours everyday http://www.bls.gov/news.release/atus.nr0.htm So that's mean i just need to replace the laser diode for about every 2 years if i use it as a tv i don't i'll have probl...
G
Dude the Sony projector is smaller and lighter than Asus. Sony (77 x 13 x 149.5 mm) vs Asus (83 x 29 x 110mm) Sony (210 g) vs Asus (307g) I'm okay paying 50% extra money and get shorter battery life for better quality and extra features b...