Software and Performance
The Zenfone 3 Max ships with Android 6.0.1 Marshmallow with ZenUI 3.0. The thing with ZenUI is that it is well designed and has some genuinely useful features. Unfortunately, what ruins it is the number of pre-installed apps that it comes with, both from Asus and third-party developers such as Facebook.
What Asus really needs is restraint in this department. They should probably make most, if not all of these apps, optional so users can choose if they want to have them or not. It takes a while to uninstall, hide, and disable many of these apps and also some of the annoying features of ZenUI and only then does it become usable. Unfortunately, most people will never go through the trouble of doing this so their user experience will forever be marred by these unnecessary apps that add very little value to the phone.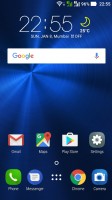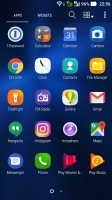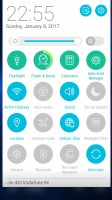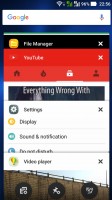 Asus Zenfone 3 Max user interface
In terms of performance, the Zenfone 3 Max performed respectably in daily use. Despite rocking only a Snapdragon 430, application performance was perfectly usable and many apps opened, closed, and scrolled smoothly. Even in Chrome, only the heaviest of web pages with a lot of ads would bog it down.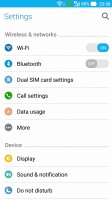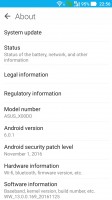 Asus Zenfone 3 Max UI settings
Unfortunately, the lack of performance is felt while gaming, where the Snapdragon 430 on the Zenfone 3 Max has nothing on the Snapdragon 650 on the Redmi Note 3. While the latter can play any of the modern 3D games just fine, the Zenfone 3 Max struggles in most of them, with only the most basic 2D games being playable.
The multimedia performance was also more or less satisfactory. The display is good enough for watching your movies and TV shows on the go and the headphone audio quality is also just fine. The loudspeaker sounds tinny and doesn't even get particularly loud but is fine in a pinch when you just want to watch a YouTube video in a quiet place.
GeekBench 4 (multi-core)
Higher is better
Asus Zenfone 3 ZE552KL
4053
Asus Zenfone 3 Max ZC553KL
2040
Lenovo K6 Note
2027
Xiaomi Redmi 3s Prime
1944
Motorola Moto G4 Plus
1822
GeekBench 4 (single-core)
Higher is better
Asus Zenfone 3 ZE552KL
843
Motorola Moto G4 Plus
669
Xiaomi Redmi 3s Prime
641
Asus Zenfone 3 Max ZC553KL
641
Lenovo K6 Note
635
AnTuTu 6
Higher is better
Xiaomi Redmi Note 3 (S650)
76186
Asus Zenfone 3 ZE552KL
63358
Samsung Galaxy J7 (2016)
49094
Motorola Moto G4 Plus
45190
Lenovo K6 Note
44972
Asus Zenfone 3 Max ZC553KL
43957
Xiaomi Redmi 3s Prime
43344
Xiaomi Redmi 3 Pro
34937
Oppo F1s
30657
Asus Zenfone Max ZC550KL
25778
Basemark OS 2.0
Higher is better
Xiaomi Redmi Note 3 (S650)
1426
Samsung Galaxy J7 (2016)
1007
Motorola Moto G4 Plus
799
Xiaomi Redmi 3s Prime
794
Asus Zenfone Max ZC550KL
624
Asus Zenfone 3 Max ZC553KL
295
Lenovo K6 Note
288
Oppo F1s
269
Xiaomi Redmi 3 Pro
262
Basemark X
Higher is better
Xiaomi Redmi Note 3 (S650)
14717
Xiaomi Redmi 3s Prime
7604
Asus Zenfone 3 Max ZC553KL
7510
Lenovo K6 Note
7480
Motorola Moto G4 Plus
6380
Xiaomi Redmi 3 Pro
5427
Samsung Galaxy J7 (2016)
5383
Asus Zenfone Max ZC550KL
1844
Oppo F1s
419
GFX 3.0 Manhattan (onscreen)
Higher is better
Xiaomi Redmi Note 3 (S650)
14
Xiaomi Redmi 3s Prime
14
Xiaomi Redmi 3 Pro
11
Oppo F1s
10
Asus Zenfone 3 ZE552KL
9.7
Samsung Galaxy J7 (2016)
9.5
Lenovo K6 Note
7
Asus Zenfone 3 Max ZC553KL
6.9
Motorola Moto G4 Plus
6.6
Asus Zenfone Max ZC550KL
3.9
GFX 3.1 Manhattan (onscreen)
Higher is better
Xiaomi Redmi 3s Prime
10
Xiaomi Redmi Note 3 (S650)
9
Asus Zenfone 3 ZE552KL
6.1
Oppo F1s
6
Lenovo K6 Note
4.4
Motorola Moto G4 Plus
4.4
Asus Zenfone 3 Max ZC553KL
4.4
Samsung Galaxy J7 (2016)
3.2