Software
The ZenFone 3 runs on the new Asus ZenUI 3.0 running on top of Android 6.0.1 Marshmallow. The software has traditionally been a weak point of Asus phones in the past, and things haven't changed much now.
Asus continues to load the device with as many unnecessary applications and features as they can. While other companies often pile on bloatware from third-party developers, Asus phones come loaded with first-party bloatware, and then some third-party one also to add further insult to injury.
The sheer number of applications and features thrown in your face when you start the phone for the first time is overwhelming even for us, and we can't even imagine what the average consumer goes through.
Some of it just seems to be added to the app drawer for no good reason. For example, Asus adds the already mentioned display calibration utility right there in the app drawer when the same can be found in the Settings menu. Same for the Software update option. There is also an icon for the flashlight when there is one already right there in the notifications.
What's worse, some of the installed apps also have a tendency to repeatedly push notifications at you until you disable the app itself, something an average user will never know how to do. One particular item just insisted on staying in the notification area and annoyed us to the point where we resorted to locating the app that was to blame and disabled it entirely.
Lastly, when you plug in the headphones, there is a persistent notification that tells you that yes, indeed there is a pair of headphones connected to the phone as if that's something you need to be informed of. And because there is no way to dismiss this notification, it even appears on the lockscreen so any music app you might be using cannot show full-screen artwork.
Now, yes, most of the annoyances here can be fixed by some prodding under the hood. After spending a good hour we finally managed to hide all the unnecessary apps from the app drawer, dug into individual app settings and disabled everything we could, and for things we couldn't disable, we disabled the entire app itself.
After this housekeeping, the phone genuinely became a pleasure to use. The problem is that this had to be done in the first place, and that precisely is the problem with the software on Asus phones. It reminds us of Samsung phones of yore that came with everything but the kitchen sink. Thankfully, Samsung finally saw the light and hopefully someday, so will Asus.
Battery Life
One advantage of going with the bigger Zenfone 3 ZE552KL is that you get a much larger 3000mAh battery. With an efficient processor and a relatively large battery, we expected the ZenFone 3 to have a good battery life, and it delivered. The phone consistently provided around 6 hours of screen-on time with two SIM cards and medium use. The phone easily gets through a full day of use and those using it sparingly could even get through two days on a single charge.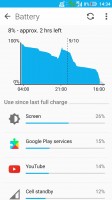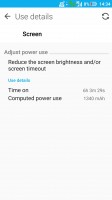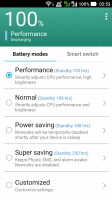 Standby time • Screen-on time • Battery settings
Unfortunately, Asus skimped out when it came to providing fast charging support. The phone ships with a 5V 2A charger, which amounts to an output power of 10W (essentially Qualcomm's Quick Charge 1.0) and there is no support for a faster charging solution. The fastest we managed to get it to go from 1% to 100% was just under two and a half hours. That's not a lot, but the rate of charging is more suited to overnight charging than a quick top-up when you are in a hurry.