Android Oreo 8.0 with ZenUI 5
The ZenFone 5z comes with the fifth major release of Asus' ZenUI based on Android Oreo. Unfortunately, it is still Android 8.0 and not the newer 8.1. The phone has received several updates since launch but none have changed the Android version number, so we are assuming it's not a priority for Asus and we will likely jump straight to 9.0, whenever that happens.
When it comes to features, Asus follows the same 'everything but the kitchen sink' approach to software that it does to the hardware. Sometimes, it's a good thing. Other times you wonder what is the point of having so many features when most of them are either never used or turned off.
It's hard to list all the features here as that would require its own separate article. But to just summarize, the launcher itself comes with a choice of 33 typefaces. These are not system-wide font choices, mind you - that is a different menu altogether - these are just for the text underneath the app icons, which, by the way, can also be any color you like.
That's just the beginning. The Settings app has a sub menu for some special features that includes some fifteen odd features in there, which includes everything from a mode that lets you record and live stream your games to one that applies a permanent beauty filter on your face in any live video streaming app of your choice even if that app doesn't have its own beauty mode.
We could go on but it would be a very long day. The point is, the phone comes with a ton of software features, many of which you will never use but they are there if anyone's interested. The good thing is that they can all be disabled and you never have to worry about them again if you are not interested.
What's less nice is the bit of bloatware the phone comes with. There are a bunch of Asus apps and several third-party apps that come pre-installed, which is usual for Asus phones. Unfortunately, while some of these can be uninstalled, others such as the Facebook apps (Facebook, Messenger, Instagram) cannot be uninstalled and permanently take up place on your phone.
Since the ZenFone 5z has a notch, it's worth talking about the software implementation. You can "disable" the notch, which just blacks it out but we have never found that solution ideal or even particularly sensible. Good thing is that Asus has pretty good level of customization available on a per app basis for notch settings. You can enable fullscreen access to the notch to every app of your choice, which is especially convenient for any app that can display images.
None of the apps so far can access the notch area automatically in fullscreen mode, which creates some issues on some devices but on the ZenFone 5z you can manually grant them access, which makes the apps behave as you'd expect.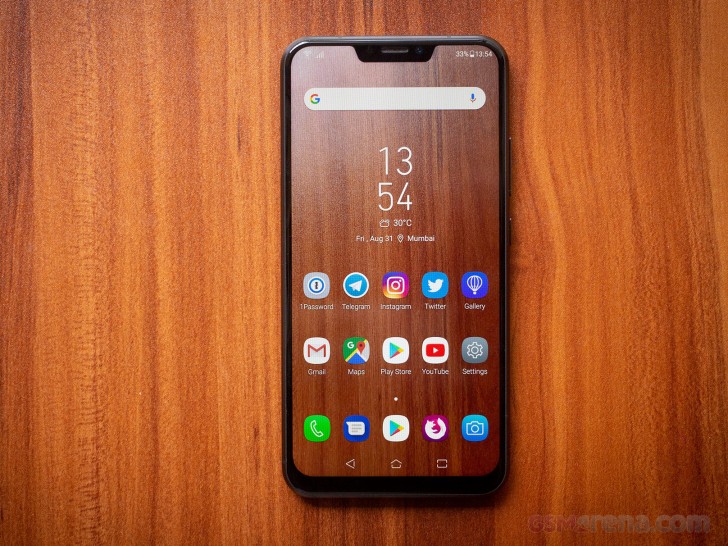 One thing ZenUI is not particularly good at is UI scaling. Since Android Nougat, devices have had a built-in feature to adjust the UI DPI scaling. Most devices tend to ship with one size too large, which makes everything look a bit too large and wastes display space but it's easy enough to fix; just slide the DPI scale down one notch, which usually fixes it. With ZenUI, scaling down one setting makes everything tiny across the OS; even buttons in the camera app become nearly unusably small. It seems like Asus barely tested the UI with different scaling options and just expected everyone to use the default setting.
Lastly, although the ZenFone 5z does support the Widevine L1 DRM required for HD playback on Netflix, Netflix still does not support HD playback on this device.
Performance and benchmarks
In terms of hardware, the ZenFone 5z brings the A-game. It includes the flagship Qualcomm Snapdragon 845 chipset, a choice of 6GB or 8GB LPDDR4X memory and storage options that go up to 256GB. Our review unit had 6GB of memory and 64GB of storage.
Starting with the benchmark scores, the ZenFone 5z performed predictably for a Snapdragon 845 device, which means it was right up there with devices ranging from the humble Poco F1 to all the way up there with the Galaxy Note9, since they all basically have the same chipset and similar storage and memory specifications.
In terms of real-world usage, the ZenFone 5z is extremely impressive. It's one thing to have a flagship chipset and ace benchmark scores but it's another to perform in the real world, but you don't have to worry about the ZenFone 5z. The phone blitzes through all tasks with ease and feels incredibly snappy throughout. App launches are instant and scrolling performance is almost perfectly smooth in every app.
The ZenFone 5z will also mow through every game you throw at it. There's really nothing that fazes it, which is how you'd expect a flagship device to perform.
GeekBench 4.1 (multi-core)
Higher is better
Apple iPhone X
10215
Asus ZenFone 5z
9030
OnePlus 6
9011
Xiaomi Pocophone F1
9003
Samsung Galaxy S9
8830
Xiaomi Mi 8
8494
Xiaomi Mi 8 SE
5908
Oppo F7
5901
Nokia 7 plus
5893
Oppo R15 Pro
5809
Meizu 15
5770
Xiaomi Mi A2
4625
Xiaomi Mi A2 Lite
4388
GeekBench 4.1 (single-core)
Higher is better
Apple iPhone X
4256
Samsung Galaxy S9
3759
Asus ZenFone 5z
2488
OnePlus 6
2450
Xiaomi Pocophone F1
2438
Xiaomi Mi 8
2431
Xiaomi Mi 8 SE
1890
Nokia 7 plus
1634
Xiaomi Mi A2
1617
Oppo R15 Pro
1612
Meizu 15
1551
Oppo F7
1531
Xiaomi Mi A2 Lite
881
AnTuTu 7
Higher is better
Asus ZenFone 5z
266590
Xiaomi Pocophone F1
265314
OnePlus 6
264200
Samsung Galaxy S9
250156
Xiaomi Mi 8
217298
Xiaomi Mi 8 SE
170218
Oppo R15 Pro
146526
Nokia 7 plus
140820
Oppo F7
139414
Xiaomi Mi A2
130927
Meizu 15
128680
Xiaomi Mi A2 Lite
77964
GFX 3.0 Manhattan (1080p offscreen)
Higher is better
Xiaomi Pocophone F1
82
Apple iPhone X
81
Asus ZenFone 5z
79
Samsung Galaxy S9
73
OnePlus 6
71
Xiaomi Mi 8
64
Xiaomi Mi 8 SE
33
Nokia 7 plus
23
Meizu 15
23
Xiaomi Mi A2
22
Oppo R15 Pro
22
Oppo F7
20
Xiaomi Mi A2 Lite
9.9
GFX 3.0 Manhattan (onscreen)
Higher is better
Apple iPhone X
59
Asus ZenFone 5z
59
OnePlus 6
59
Xiaomi Pocophone F1
59
Xiaomi Mi 8
57
Samsung Galaxy S9
45
Xiaomi Mi 8 SE
30
Meizu 15
23
Nokia 7 plus
21
Xiaomi Mi A2
21
Oppo R15 Pro
19
Oppo F7
18
Xiaomi Mi A2 Lite
9.4
GFX 3.1 Manhattan (1080p offscreen)
Higher is better
Asus ZenFone 5z
60
Xiaomi Pocophone F1
60
OnePlus 6
58
Xiaomi Mi 8
53
Apple iPhone X
51
Samsung Galaxy S9
46
Xiaomi Mi 8 SE
23
Nokia 7 plus
15
Meizu 15
15
Xiaomi Mi A2
15
Oppo R15 Pro
15
Oppo F7
12
Xiaomi Mi A2 Lite
6.5
GFX 3.1 Manhattan (onscreen)
Higher is better
Asus ZenFone 5z
55
OnePlus 6
55
Xiaomi Pocophone F1
53
Xiaomi Mi 8
50
Apple iPhone X
44
Samsung Galaxy S9
24
Xiaomi Mi 8 SE
22
Meizu 15
16
Nokia 7 plus
14
Xiaomi Mi A2
14
Oppo R15 Pro
12
Oppo F7
11
Xiaomi Mi A2 Lite
6.1
Basemark X
Higher is better
OnePlus 6
44229
Asus ZenFone 5z
43911
Xiaomi Pocophone F1
43652
Xiaomi Mi 8
43285
Samsung Galaxy S9
42645
Xiaomi Mi 8 SE
27560
Xiaomi Mi A2
21378
Nokia 7 plus
21063
Meizu 15
20786
Oppo R15 Pro
20693
Oppo F7
11873
Basemark OS 2.0
Higher is better
Apple iPhone X
4708
OnePlus 6
4440
Asus ZenFone 5z
4309
Xiaomi Mi 8
3858
Xiaomi Pocophone F1
3713
Samsung Galaxy S9
3382
Xiaomi Mi 8 SE
2658
Meizu 15
2556
Oppo R15 Pro
2438
Nokia 7 plus
2376
Xiaomi Mi A2
2240
Oppo F7
1953