Asus Zenfone 8 beats Galaxy S21 in DxOMark camera review, can't quite match the iPhone 12 mini
If you prefer smaller smartphones, you have probably looked at the Asus Zenfone 8 as an option for your next purchase. Like the iPhone 12 mini it has a wide and ultra wide cameras (with OIS on the main module), but it lacks a telephoto lens. These two received similar scores in DxOMark's camera review too – 120 for the Zenfone and 122 for the iPhone. Or if you prefer to stay in Android land, the Galaxy S21 (which is larger than both) scored 119. The Pixel 5 also got 120.
The score breakdown shows that the Zenfone 8 got a decent Photo Score of 126. This puts it ahead of the Galaxy S21 (123 points), but behind the Pixel 5 (129 points) and the iPhone 12 mini (132 points). The video score of 108 again splits the other two rivals – the S21 got 101, the Pixel received 107, the iPhone is ahead at 112.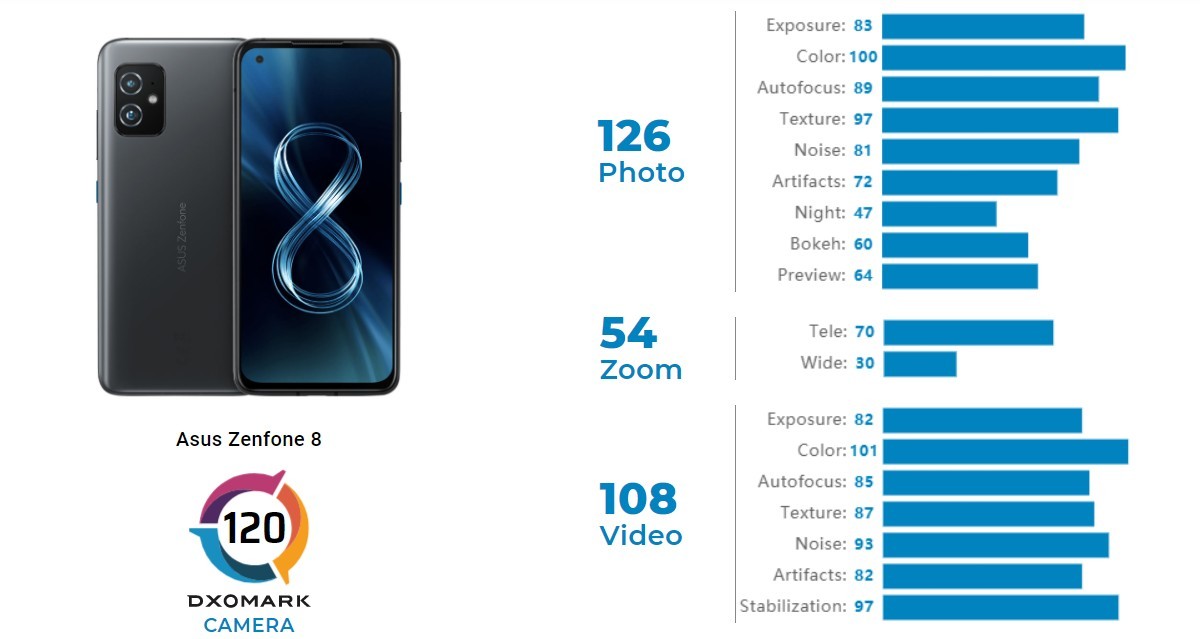 The Zenfone 8 received only 54 points in the zoom section, which looks at the tele and ultra wide modules. The high-resolution 64 MP main sensor does a better job than the 12 MP sensors in the iPhone and Pixel when it comes to digital zoom, however, the Galaxy (which also uses a 64 MP sensor for zooming in) got a much higher score in this category (73 points). Part of that is due to the ultra wide camera on the Zenfone, which could have been better.
For more details on how and why the Asus Zenfone 8 got these scores check out DxOMark's review. And don't miss our own review (you can also watch our video review, embedded below).
We found that the petite flagship offers a great selection of features at a price that undercuts similarly-sized competitors. We were quite happy with the photo and video quality coming out of its camera. And at its current price of €670, it undercuts both the iPhone 12 mini and Galaxy S21 by a decent margin.
R
When you're born with not so good eyes, you assume everyone's eyes are the same as yours. Just like you're spouting sh*t, you assume everyone also do the same. They are "professionals" for a reason. If you know phones enough,...
C
So anyone pays them, cause almost every brand has been in rank, even vivo... Or probably you are Just saying something totally wrong (avoiding writing b****h*t... Probably cause you favourite phone Is beaten by another 😅 It seems much more realist...
ADVERTISEMENTS