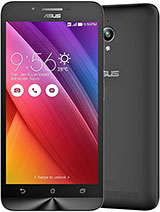 ?
A potential successor and replacement of A501CG. This phone is probably intended to fill the gap between Zenfone 2 ZE500CL and Zenfone C ZC451CG.
b41941
asus is really good at updating their apps and os i never saw a company this good at updates but unfortunately you wont see anyother companies like asus do this thats why i bought zenfone and im glad with it
d
how about the GPU? its quadcore but can it support heavy games(specs)? it has also 8gb internal memory unlike zenfone 5 its 16 gb. what is the difference between zenfone 5 and this phone aside from quadcore??? the price is almost the same i guess with zenfone 5
?
And I thought ASUS would be smart and considerate enough to the consumers and choose Apple as their business model (without being as pricey): releasing less models that each makes more sense to provide better-focused aftersales support (especially updates). Now they seem to be turning into the second Lenovo that follows Samsung's footsteps: releasing a number of different models in each segment (entry, midrange, high-end) that canibalize each other, then end up abandoning support for the models that didn't sell enough. The buyers of the abandoned models suffer, and so would the brand's image. I hope it isn't too late for ASUS, though. They've really affected the dynamics a lot with their competitive pricing since the Zenfone 5. I hope it doesn't stop at just 2.
f
Good.....quad core in same price of zenfone 5.....really well done...ASUS

S986206
Chipz, 02 Jul 2015Seem like all the details surrounding this phone is not in just yet. However looks very promis... moreJust buy original Zenfone 5 it is the same phone.
j
maybe this will be the successor of Zenfone 5 Lite or Zenfone C for sure.
Total of 714 user reviews and opinions for Asus Zenfone Go ZC500TG.