Vanity light
Asus Zenfone Selfie review: Vanity light
Feature-rich 13MP camera on the back
The Asus Zenfone Selfie comes with a 13MP primary (or in this instance, let's just call it rear) camera shooting stills in a 4:3 native ratio up to 4,096 x 3,072 pixels (OK, technically 12.6MP). The sensor is placed behind an f/2.0 lens. It has a laser autofocus system and a dual-tone dual-LED flash to assist in low-light, but lacks optical image stabilization.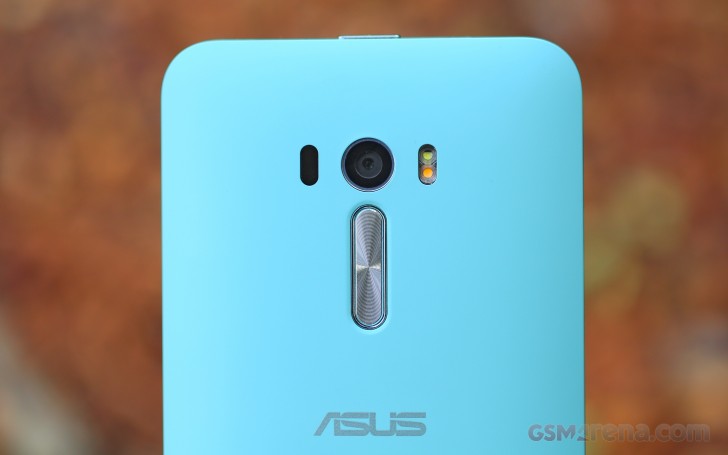 The camera app has the common combined interface for still and video shooting with the familiar compromise - both actions are accessible from the same screen, but you can't frame your videos before hitting record, because 4:3 coverage is rather obviously different from 16:9. Unless you're a fan of 16:9 still images, in which case you'd be fine in terms of framing, but you'd be wasting pixels in your photos.
The volume rocker can be set either as zoom control, or shutter release. The latter works great for both the rear and front cameras when held in portrait orientation, but is awkward in landscape.
The Settings menu offers control over white balance, ISO, exposure compensation, the lot. The list is scrollable through still, video and general options with tabs for quick access. You also have a dedicated flash settings button.
An array of shooting modes are available on top of the Auto Mode, including Night, Panorama and HDR. Depth of field takes two shots and combines them in one image for a closeup with a blurred background (bokeh). Super resolution takes multiple shots and combines them to produce a 50MP image, while Smart remove allows you delete unwanted passerbys from your photos, again based on multiple exposures.
The All smiles mode takes five shots and selects the one with the highest number of smiling faces in it, and Effect applies one of a number of pre-selected filters to your shot, and is visible live in the viewfinder.
There's a comprehensive Manual mode as well, which offers you control over focus distance, shutter speed (all the way up to 32s), ISO (50-800), exposure compensation (-2/+2EV range in third-stop increments), and white balance with color temperature adjustment. An on-screen level is present, and so is a live histogram.
We're actually quite happy with the output of the Zenfone Selfie's rear camera. Detail level is on a nice level for the price segment and even though the images are quite noisy, we do appreciate the laid-back approach to processing, which doesn't create a mess with overeager sharpening and noise reduction.
Dynamic range is rather limited, shadows often end up too dark, without having too much info preserved in the highlights either.
On a more positive note, colors are vivid and have a consumer-friendly vibe to them.
Asus has an Optimization feature, which is on by default, but we kept it off for the above samples as we have bad experience with it on the Zenfone 2. However for the sake of comparison, we shot the samples below with the Optimization set to On. As you'll see there are no visible differences in our test scenario.
On the other hand, switching Optimization to Manual allows you to adjust some pretty advanced stuff regarding the camera's processing algorithms such as Saturation, Contrast, Sharpness, Noise reduction, Backlight, and Detail enhancement.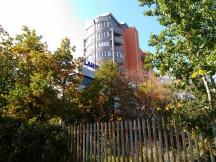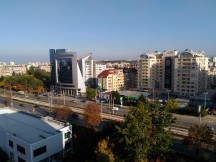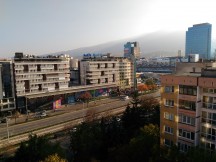 Main camera samples with Optimization set to Auto
As usual, there's an HDR mode on the Zenfone Selfie, and if you're in Auto and the camera determines HDR is the way to go, it will suggest enabling it, but won't intervene all by itself. It does well to light up the shadows acting conservatively and doesn't produce over-the-top unnatural looking reults. Given that the images are quite noisy and burned out in the highlights to begin with, HDR doesn't sound like a bad idea as a general shooting mode.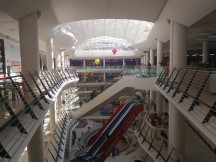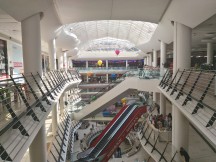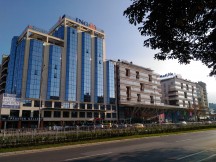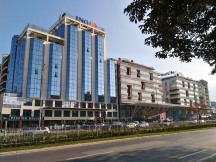 Main camera: HDR mode off/on • off/on
The Zenfone Selfie's rear cam can get extremely close to its subject and still acquire sharp focus, resulting in some very good macro shots. With a distance of about 4cm from the front element of the lens, you'd imagine that lighting your subject would be tricky though, but that can't in any way be a fault of the Zenfone itself.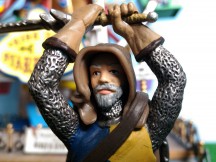 Asus Zenfone Selfie close-up shot
Then there's the Panorama mode. You can shoot in both portrait and landscape orientation and the app recognizes it unlike on other brands, where you need to set it up manually (cough, Sony). The panoramas aren't the best around, but if you refrain from pixel-peeping, they'll do.
Shot in portrait the images are about 1,800 pixels tall, but the actual resolved detail is rather low. There are also some issues with the stitching, manifested by visible bands in the sky. Areas with texture are stitched better, provided they're far enough.


Panorama sample, shot in portrait orientation with the Zenfone Selfie
Naturally, we shot our test posters with the Asus Zenfone Selfie and here's how it fared next to the Zenfone 2 and Samsung Galaxy J7. Of course, our tool allows you to compare it against any other smartphone that we've shot with.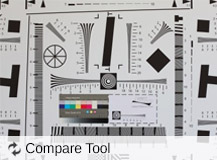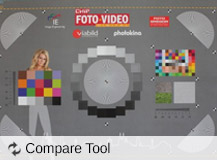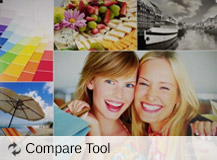 Asus Zenfone Selfie in our photo compare tool
Good 13MP front shooter with a mighty flash
The focus of the Zenfone Selfie is obviously on its front-facing cam. Another 13MP unit, it does have autofocus, though it has been stripped of the laser tech that the rear shooter has. There's a dual-tone dual-LED flash on the left side of the lens, which is a feature exclusive to the Selfie and the HTC Desire Eye - the number of front-facing flashes has been increasing recently, but most are still single-LED jobs.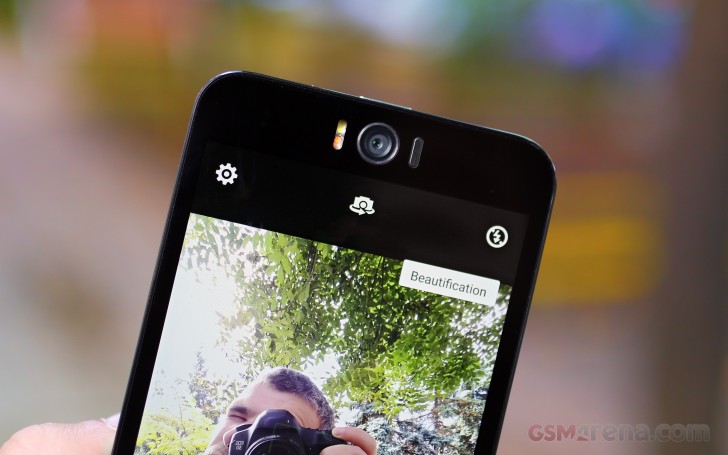 There's a comprehensive Beautification feature, for image enhancement and you can see the effects live, or apply them post-shot. The effects include skin tone adjustment, skin softening and brightening to cover imperfections and the rather peculiar eye enhancement and cheeks thinning. All of these can be set from 0 to 10, except the skin tone where you have a selection of tints to apply to your pale self.
Sliding the virtual shutter button up activates the delayed release feature – 1 to 5 seconds depending on how far up you swipe.
The Selfie panorama mode lets you stitch multiple shots into one wide image, nicely guiding you where to keep still, so the phone can take the next shot. Unfortunately, due to the short distance to the camera, you're more than likely to end up with stitching issues. Also resolution and detail are quite low.
With the smartphone named Selfie, we expected image quality on par with a good rear shooter. Apparently, front cameras aren't quite up there with the rear cameras in terms of quality, but as front cameras go, the Selfie's is very good, just not a match for a proper primary cam.
Much of what was said about the rear camera holds true for this one as well, but the standards for front-facers are simply not as high. At least yet. And with selfie cameras pixel-level detail isn't all that important - in all likelihood these images will end up on social media, compressed and viewed to fit the screen.
Still, when the megapixel card is used as a headline, we'd expect a bit more, and the Zenfone Selfie leaves us wanting. The output is again pretty noisy and dynamic range is quite compressed. But then colors are nice the phone exposes well with what it's got. The level of detail is also quite high, again, compared to regular front-facers.
Beautification yields interesting results, perhaps less so for us that for the phone's target audience. The second sample is shot with the feature off and for the third we had all sliders positioned midway.
Skin softening wipes out most of the texture on the face, brightening kills even more detail in brightly lit areas and the eye enhancement and cheek thinning work together to create an improved version of yourself. At least that's the idea. Cranking the last two all the way up to 10 does at least have some fun value - you can go ahead a produce an almost comic book character look.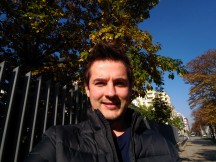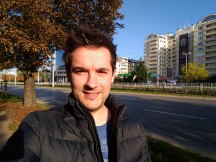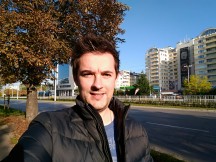 Front camera samples in bright daylight - beautification off • beautification off • beautification on
The flash is quite powerful, so much so that it sometimes suffers from it. It would often blow out subjects (read humans), which kinda defeats its purpose. On other occasions, mostly when you're closer to the phone than arms-length, it produces more adequately exposed images, which is a somewhat odd behavior – you'd expect that the closer to the flash you are, the more overexposed your face would be. Overall, your mileage will vary and you may not get a perfect shot every time, but we guess it will still be appreciated in the dim places.
The shots below illustrate the smartphone's front camera behavior at night - first one has soft warm light seeping out through the office curtains, followed by the same scene but with the flash on, and another one with the flash in near complete darkness.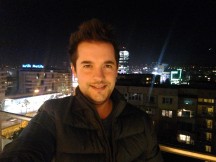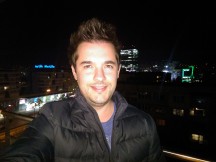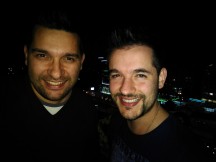 Asus Zenfone Selfie front camera samples at night
Decent 1080p video
The Zenfone Selfie shoots regular speed videos at up to 1080p resolution. There's a time lapse mode where you can select the frame interval at anywhere from 1s to 3s in half-second increments, as well as 5 seconds.
There's also a slow motion mode, but the way Asus understands it, is now how it's supposed to be - at least we don't think that slowing down a regular video to ~6fps counts as slow motion.
The 1080p footage from the Zenfone selfie is captured with a bitrate of 20Mbps and audio is recorded in stereo at 96Kbps. The level of detail is miles better than the mushy Zenfone 2's output - the Selfie is still not on par with the best in business, but shows a long stride in the right direction.
Unfortunately, little can be done about the dynamic range and with videos it's even narrower that still shots - highlights are blown, shadows are pitch black. The tendency to underexpose videos doesn't help either.
We struck luck with some pretty fast-changing conditions for our time lapse and it was nice to see how the Zenfone Selfie handles exposure. At a frame every five seconds, the video below was shot over the course of 80 minutes and spans the entire range from bright sunshine and a clear sky to gloomy overcast fall weather.
Beautiful as it may be, the sample contains even less detail than the regular footage, so you should keep in mind that it won't stand up well to pixel-level scrutiny.
As always, feel free to download an untouched 1080p@30fps video sample straight from our server.
You can also compare the Zenfone Selfie to any of the numerous phones and tablets we've tested, but we've pre-selected the Zenfone 2 and the Samsung Galaxy J7.