The Zenfone 2 is not a phone, but more like a collection of similar phones. Two 5.5" models are already official, but a leak points to an incoming 5" device. And that's not the rumored the MediaTek-powered Zenfone 2.
The Asus Zenfone 2 ZE500CL is still Intel Atom based – Z2560 Clover Trail quad-core at 1.6GHz – and has 2GB of RAM. It will launch with Android 5.0 Lollipop and bring an 8MP camera with 1080p video and a 2MP selfie camera (down from 13MP/5MP).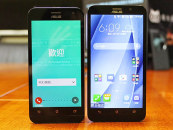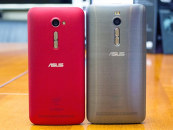 5" Asus Zenfone 2 next to the 5.5" model
The screen has also been cut back, the 5" IPS LCD will have 720p resolution. The smaller screen makes the phone more compact, though it's not the smallest 5-incher around, not the thinnest or lightest either at 10.9mm and 155g respectively.
The Asus Zenfone 2 ZE500CL will come with 16GB of expandable storage, a single microSIM slot with LTE connectivity and a non-removable 2,500mAh battery.
These specs are all unofficial, of course, but we may see it in March at the MWC. With the lower specs it should cost less than the $200 that Asus is asking for the 5.5" model with 1.8GHz CPU and 2GB of RAM (which also has a sharper screen, better cameras and dual-SIM connectivity).
D
All these false leaks. This is from Asus website - http://www.asus.com/Phones/ZenFone_2_ZE551ML/
y
Single sim device have no future in India like xiaomi note 4G. Asus will repent for this decision. Don't think to come in india with single sim bye ASUS. RIP
R
This doesnt look like an official leak. Why will Asus launch the same config when it already have similar device running in the market. I think It will launch the same model which was shown in CES....however the price might not be the same.