It's been seven years since the iPhone launched and smartphone adoption is the US has skyrocketed in the period since. Back then smartphones were in the minority – only innovators (which come even before early adopters) carried around a BlackBerry or maybe a Windows Mobile device. Now smartphones make up 70% of the market, that's faster adoption than the CD player or the boom box enjoyed.
According to analyst Horace Dediu at Asymco, the US market has passed the Early Adopters stage, the Early Majority and is now entering the Late Majority stage. While Innovators and Early Adopters look for novelty and exclusivity, the Late Majority is buying devices for pragmatic purposes after the smartphone had become widely accepted by the Early Majority.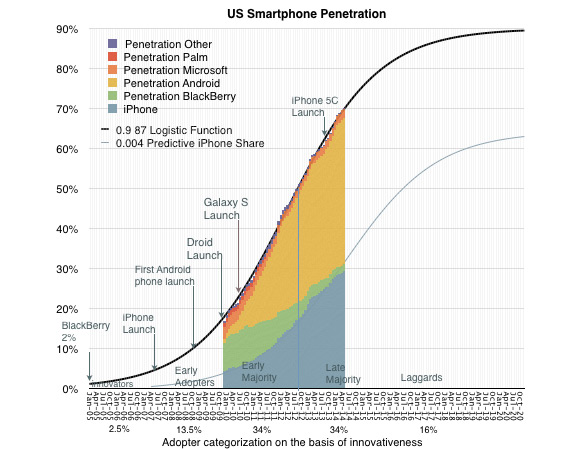 Dediu points out that pricing does not actually play a role in smartphone adoption – the iPhone has had a mostly stable price in the US and its adoption grows despite the arrival of cheap Androids. The iPhone 5c launch marked on the chart indeed shows no noticeable change in course.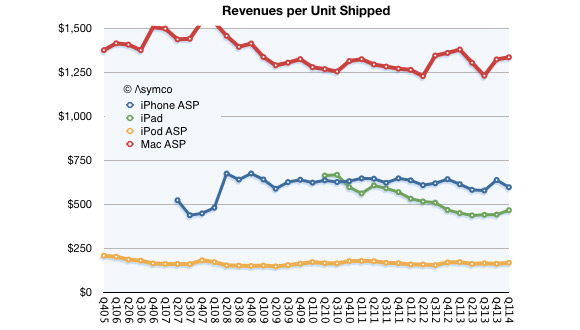 Data seems to point to jumps in smartphone adoption correlating to increased preference for Android phones over iPhones among buyers, yet over the last six months 15.5 million users in the US bought an iPhone compared to the 14.2 million that bought an Android.
Dediu believes there's evidence that Apple's new flagship will do well in the market (hardly an unlikely scenario) and reminds that before the smartphone boom the hottest phone around was the premium Motorola RAZR.
It'd be interesting to see a similar analysis for outside the US – in some regions the high iPhone pricing (with no carrier subsidies) certainly plays a role in Android having a much higher adoption than iPhone.
Read the analysis for a more detailed explanation on the numbers.
D
I'm not saying it's not a good phone, it is. And I agree that for some people, it's perfect because they don't need anything else. But I do have an iPod Touch 4th gen, my wife, my mother and my sister have an iPad 3, and my mother has an iPhon...
?
iPhones are not inferior. IMO, it has great features. More numbers of features means nothing, if the person cannot apply it to their lifestyle, or is meaningless. Its great mobile for communication apps, music, videos, webbrowsing, casual gaming...
D
The fact that people still buy them doesn't mean they are not inferior feature wise. Many people just buy iPhones to be "in", for fashion, or even snobiness, others buy them because they believe Apple's BS about their "revolutiona...