AT&T has announced its new upgrade plan called "AT&T Next". The latest program from the carrier allows you to purchase a brand new smartphone or a tablet once every 12 months.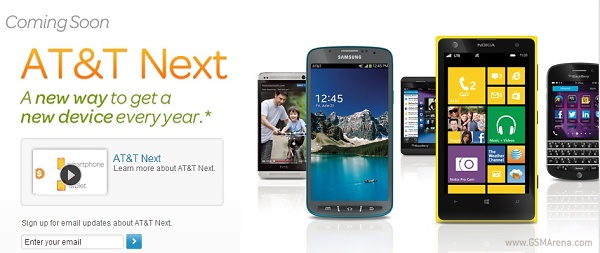 The new device is available with no activation fee, no down payment, no upgrade fee or any financing fees. To be eligible for this offer you have to pay a monthly fee for 20 months and you will have the option to trade in the device once every 12 months. After trading in your old device, the installment cycle for your device ends and a new cycle for a period of 20 months begin.
The plan also allows you to opt out of upgrading and you can pay out the full 20 months fee that varies based on your smartphone or tablet model. Check out the source link below for more information on the terms and conditions.
A
Phones4U in the UK were the first to do this, then O2/tesco copied them and now at&t.
a
US carriers always ripping people off, them suppose "great deal" are nothing but a joke, pay additional for another 20 months to upgrade every 12 months? what a rip off!!!
D
I think you meant to say expensive. Expansive is what AT&T's coverage is vs TMobile.
ADVERTISEMENTS