AT&T's Nexus 6 units are apparently affected by a software bug. This is so bad that the carrier is now telling its stores to return their initial shipments of the smartphone to Motorola in order for it to fix said software glitch.
The info reportedly comes from multiple sources, one of which even shared the screenshot you can see below, which is purported to be from an AT&T system.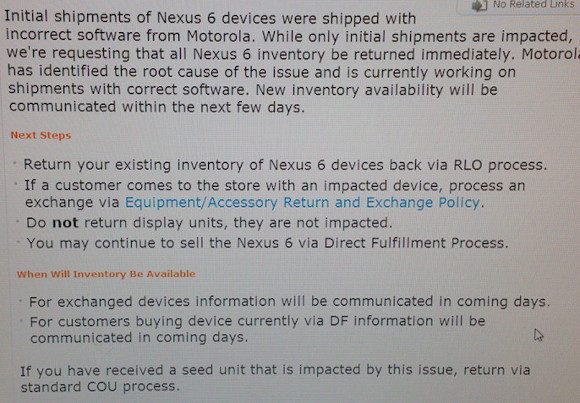 The bug renders a black screen and keeps the Nexus 6 from connecting to the network when it's powered on, thus essentially making it pretty much useless. Luckily, there have been no reports of early owners of the AT&T Nexus 6 to go through this, and Motorola has already identified "the root cause" of the issue. Obviously though, if you have an AT&T Nexus 6 and have had this happen to you, you should contact the carrier immediately.
Shipments with good software are being prepared by the manufacturer, and new inventory availability for AT&T stores will be communicated within the next few days. Again, only "initial shipments" of the Nexus 6 for AT&T have the bug.
It doesn't seem like the bug has made it to any other variations of the first Nexus phablet. AT&T's iteration is a bit special when compared to most, since it comes with a special boot animation and it even features the carrier's logo on its back.
?
I sure have read it. But think beyond the article for the whole story. A bug in manafacturers software is just a way that AT&T has described the lack of some of its own bloatware on the device. Google has obviously tried to keep a part of the AT&...
D
Android. Always garbage. lol @ nexus 6 owners.
?
This is a google device, the company that brought you 6-day week calendar, with only a few devices showing blaxk screen and not connecting to network i say they nade remarkable progress, so big that maybe in 2 years they will make the battery last mo...