Since its launch in 2011 the AT&T's LTE network has been available in 15 cities - Athens, GA; Atlanta; Baltimore; Boston; Charlotte; Chicago; Dallas-Fort Worth; Houston; Indianapolis; Kansas City; Las Vegas; Oklahoma City; San Antonio; San Juan, Puerto Rico; and Washington, D.C.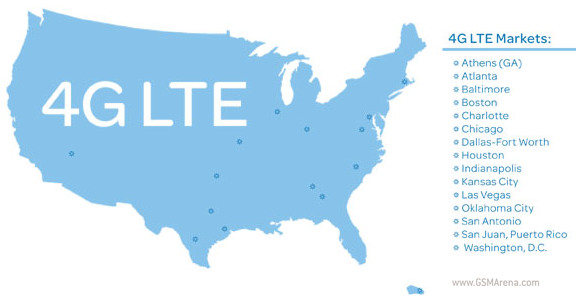 The AT&T LTE coverage before the expansion
It's time for expansion - 11 more cities get LTE coverage today - New York City metro area, Austin, Chapel Hill, Los Angeles, Oakland, Orlando, Phoenix, Raleigh, San Diego, San Francisco and San Jose.


Speed graph comparison
AT&T is hoping to complete its LTE network deployment until the end of 2013.
s
AT&T dropped the ball so to speak this last few years. They should have started their Lte build out like Verizon did instead of continuing upgrading their so called "4G" gsm network. My Inspire hspa+ runs at speeds which are decent but ...
D
san diego had lte long time ago..late
p
It wouldn't make much sense to cover Alaska in the initial stages of coverage. With Anchorage only being 300k, there are more densely populated areas that would serve more people...such as San Juan, Puerto Rico. Not to mention tourist populatio...
ADVERTISEMENTS