If you wish you had a grandfathered unlimited data plan on AT&T now's your chance to wind back the clock. The wireless carrier is bringing back the unlimited option, though not quite the same as it was before – you also have to sign up for a TV service, either U-Verse or DirectTV.
Here's the deal. You get unlimited calls and texts, plus "unlimited" data (which may be throttled after 22GB) for $100 a month. Additional smartphones are $40 a month, except the fourth line, which is free.
You can add secondary devices too, like a tablet for another $40 (or $10 if you're cool with just 1GB/month), select smartwatches for $10, "connected devices" for $10 and phones with just call/texting for $25. All those prices are per month.
New AT&T customers that already have a U-Verse or DirectTV subscription are eligible for up to $500 in credits with a trade-in and can buy a new smartphone with AT&T Next. If you're the opposite – AT&T subscriber, but not a DirectTV one – you can sign up for the TV service for $20 a month for the first year (of a 2-year contract).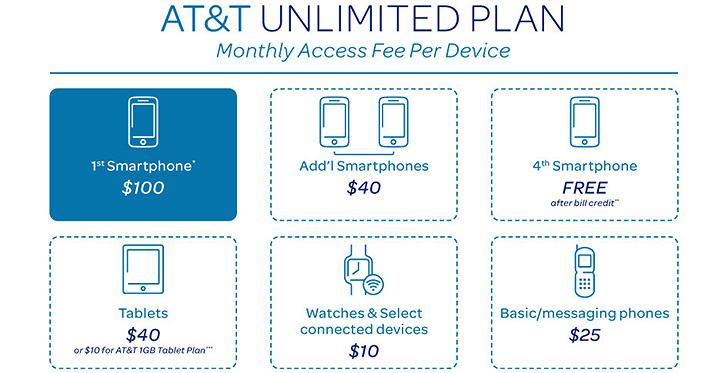 Things are a little messy, hopefully the chart above makes it clear. It doesn't help that the fourth phone isn't quite "free," but you start getting your $40 back as credit. Check out the AT&T press release for more details as the deal can be hard to wrap your head around.
S
Nothing to see for sure. Stop being dumb AT&T
D
I go through T-Mobile, and get unlimited data with no throttling at all, better the this plan that AT&T offers now
D
if the data has a data cap, then it's not unlimited. 22GB is high enough, why not just market it as such instead of lying to costumers?
ADVERTISEMENTS